Greg Louganis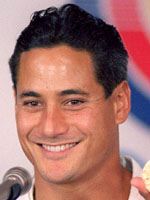 Greg Louganis
Date of birth

1960-01-29
Birthplace

San Diego
Discipline

platform, springboard
Olympic Games (5 medals - 4 gold, 1 silver)
Platform: 1st (1984, 1988), 2nd (1976)
Springboard: 1st (1984, 1988)
World Championships (5 medals - 5 gold)
Platform: 1st (1978, 1982, 1986)
Springboard: 1st (1982, 1986)
Pan American Games (6 medals - 6 gold)
Platform: 1st (1979, 1983, 1987)
Springboard: 1st (1979, 1983, 1987)
20th Century's Greatest Diver
Greg Louganis can simply be described as the total diver.
For a period in the 1980's the American took his sport to the limits of perfection, while also courting unprecedented worldwide admiration.
Double Olympic champion in 1984 in Los Angeles in the 10m high board and in the 3m springboard, Louganis came back four years later to repeat his feats in Seoul.
Four gold medals, to which he added numerous national and world titles, combined to make him the most successful diver of the 20th century.
Yet, despite his later success, Louganis's early years were not filled with the same measure of personal fulfillment.
Born on January 29, 1960 the son of an Irish mother and a Samoan father, he experienced a difficult childhood.
Abandoned at the age of nine months by his 15-year-old mother, a family of Greek origin adopted him.
His time in school proved difficult - effeminate gestures, dyslexia, stammering, half-caste skin colour, and a penchant for dancing and tap combined to make him a target for less understanding class-mates at his school in San Diego.
AIDS debate
At the age of 13, following the discovery that his vertigo disappeared on the springboard, Louganis turned his attention to diving. Under the guidance of Samuel Lee, Olympic champion in the high board (1948 and 1952), he learned the technical side of the sport, his physical qualities providing the means for him to progress quickly.
Three years later the Californian won the platform silver medal in Montreal. In Moscow, he conceded a near-definite gold medal because of the United States' boycott.
But in Los Angeles, his patience came back to reward him two-fold, becoming the first man to record +700 points and the first male diver to win a springboard/platform double since 1928.
In Seoul, he also met success, but only after smashing his head on the springboard in the elimination rounds. He recovered to win the title, complete with four stitches following his accident.
In 1995, it was revealed that, during his successful spell in Seoul, Louganis was carrying the AIDS virus - a revelation that caused lively debate, mainly due to the possibility of contamination.
The diver ended his career in 1989, but in 1994 he took part in the Gay Games, choosing this moment to reveal his homosexuality. He appeared to have lost around fifteen kilos in weight following treatment to combat the disease.
He has also tried his luck in television and theatre.
Copyright 2008 Agence France-Presse.