Edoardo Mangiarotti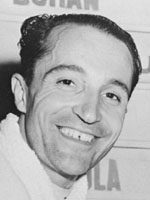 Edoardo Mangiarotti
Date of birth

1919-04-07
Birthplace

Renate
Discipline

Epee, foil
Olympic Games (13 medals - 6 gold, 5 silver, 2 bronze)
Epee: 1st (1952), 3rd (1948, 1956)
Epee Teams: 1st (1936, 1952, 1956, 1960), 2nd (1948)
Foil: 2nd (1952)
Foil Teams: 1st (1956), 2nd (1948, 1952, 1960)
World Championships (26 medals - 13 gold, 8 silver, 5 bronze)
Epee: 1st (1951, 1954), 2nd (1938, 1958)
Epee Teams: 1st (1937, 1949, 1950, 1953, 1954, 1955, 1958), 2nd (1951), 3rd (1938, 1947)
Foil: 2nd (1951, 1953, 1954), 3rd (1947, 1949)
Foil Teams: 1st (1949, 1950, 1954, 1955), 2nd (1951, 1953), 3rd (1958)
Changing hands for fencing success
Without the intervention of his father, Italy's Edoardo Mangiarotti would probably have followed a totally different sports career path from the one which furnished him with 13 Olympic medals - six gold - and as many fencing world championship titles.
His father Giuseppe, a fencing master - he came 4th in the 1908 Games in the team (epee) fencing event - took to teaching his son the rudiments of fencing from the age of seven.
At that time the young disciple was naturally right-handed, though not for long. To help further his ability his father forced him to fence with his left hand - a significant advantage in fencing.
Positive results were not long in coming: at 11 Edoardo won the national foil title, and four years later his father taught him the epee.
With hardly two years experience he was selected for the national team which went on to win gold in the 1936 Olympic Games in Berlin, a feat which makes him the second-youngest fencing champion in Olympic history at 17 years old.
Most Olympic medals
It was not until 24 years after his Olympic debut that Mangiarotti said farewell to the sport, at the 1960 Games in Rome in front of a home crowd: at the age of 41 "Edo" won his fourth Olympic title in the team epee event and a silver in the team foil event.
Edoardo Mangiarotti is by far the fencer with the most Olympic medals (13) and with six titles (epee and foil), he is among the five most decorated fencers, equal with three others and just behind the illustrious Hungarian Aladar Gerevich (7).
At world level, his credentials are equally impressive winning 10 titles (two individual) all in epee between 1937 and 1958.
His older brother, Dario, also went on to forge himself a successful career, since he obtained two gold medals in the team events and one individual gold at the Games. He was also world champion both in individual and in team.
Copyright 2008 Agence France-Presse.