Bob Beamon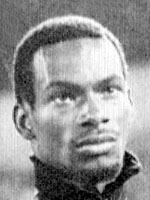 Bob Beamon
Date of birth

1946-08-29
Birthplace

New York
Height

191 cm
Weight

70.0 kg
Discipline

long jump
World Record

1
Olympic Games (1 medal - 1 gold)
Pan American Games (1 medal - 1 silver)
Bob Beamon leaps into the history books
Robert "Bob" Beamon leapt to world prominence with a stunning long-jump gold in the 1968 Mexico Games.
A virtual flight of 8.90m also broke the Olympic and world records, earning the American a deserved place in athletics history.
Born in a poor district of New York, Beamon's start to life was certainly no fairy tale.
He was orphaned before his first birthday, his father having died before he was born and his mother falling victim to tuberculosis when he was only a few months old.
The only escape for this tall, thin boy was sport. Accordingly, he won a grant to go to the University of El Paso, Texas.
An unpolished athlete in the shadow of his compatriot Ralph Boston, but considered a prodigy in his speciality, he had already jumped 7.34m by the age of 15.
Future prospects
Following his historic feat in Mexico, Beamon returned to university, graduating with a sociology degree in 1972.
He toyed with the idea of becoming a professional basketball player, but although talented, he was too fragile in hard combat beneath the baskets.
He never again performed on the international stage to the same level. Ahead of the 1972 games in Munich he had claimed he would become Olympic champion three or four more times, but was only able to jump 7.90m and he retired as a professional without further success.
But his Mexican exploit had earned him glory and financial reward, though unfortunately Beamon proved to be a better athlete than businessman, spending his fortune as quickly as he had won it.
After selling sports goods in California then working as a trainer in a state college, Beamon finally settled down to helping poor kids in New York.
His incredible record was to stand for 23 years, and came under much scrutiny from sports aficionados world-wide. Indeed, many believe the +2m/sec wind reading on the day - a rare occurrence in itself - helped Beamon achieve his amazing feat.
Yet, his jump was legal - a veritable sporting landmark - and was not bettered until the 1991 Tokyo world championships when his compatriot Mike Powell jumped 8.95m.
Copyright 2008 Agence France-Presse.