Ulrike Meyfarth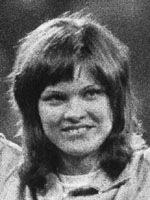 Ulrike Meyfarth
Date of birth

1956-05-04
Birthplace

Francfort-sur-le-Main (Germany)
Height

188 cm
Weight

72.0 kg
Discipline

high jump
World records

3
Olympic Games (2 medals - 2 gold)
World Championships (1 medal - 1 silver)
European Championships (1 medal - 1 gold)
European Indoor Championships (4 medals - 2 gold, 1 silver, 1 bronze)
1st (1982, 1984), 2nd (1976), 3rd (1979)
The youngest champion
Ulrike Mayfarth became the youngest ever individual Olympic champion at age 16 when claiming the high jump gold at the 1972 Munich Games and is doubly famous for overcoming a long lean patch and winning a second Olympic crown 12 years later at Los Angeles.
Born in 1956 into a modest family Meyfarth was hit with the bug to high jump after watching the great Dick Fosbury during the Mexico Games in 1968.
Thanks to the revolutionary "flop" of the American Olympic champion, young Ulrike began to make rapid progress in her chosen event, and was jumping 1.80m by the age of 15.
She achieved her first real sporting exploit in September, 1972 at the Munich Games in front of a delighted home crowd which went wild when the 16-year-old cleared the 1.90m bar on her 2nd attempt during the final, while her two adversaries failed.
Assured of victory, she asked the judges to raise the bar to 1.92m, and promptly used her third attempt to equal the world record as one of the first women to really master the Fosbury technique.
The fall and rise
The West German athlete then stagnated somewhat. After coming from nowhere to reach the summit of her speciality, she suffered mediocre form for almost a decade until 1982 when she won the European title in Athens, setting a new world record of 2.02m in the process.
She improved this record the following year (2.03m) in London before her final Olympic parting shot in Los Angeles, where in the absence of some top rivals due to the boycott, she overcame the giant Italian and reigning Olympic champion Sara Simeoni to take gold with a jump of 2.02m.
It is still widely considered that Meyfarth was one of the greatest champions of her generation. Equally though, her long dip in form also makes her one of the most enigmatic.
She also goes down as one of only two women to win athletics gold twelve years apart. East Germany's Long jumper Heike Drechsler is the only other woman to pull off this feat.
Copyright 2008 Agence France-Presse.