Edwin Moses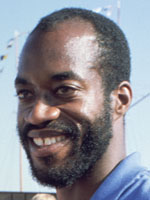 Edwin Moses
Date of birth

1955-08-31
Birthplace

Dayton
Height

186 cm
Weight

72.0 kg
Discipline

400m hurdles
World records

4
Olympic Games (3 medals - 2 gold, 1 bronze)
1st (1976, 1984), 3rd (1988)
World Championships (2 medals - 2 gold)
World Cup (3 medals - 3 gold)
Mr 400m hurdles
Nine years, nine months, nine days. Or to put it another way, 122 races, during which American hurdler Edwin Moses reigned supreme at the top of his discipline for more than two Olympiads.
Proficient enough to merit recognition in the 110m event (13.7 sec), he made an attempt at the 400m version in 1976.
In his second race he recorded a time of 50.1 sec. A few months later Moses was successful in the American selection trials and his Olympic journey began.
In the Montreal Games (1976) Moses took both the gold medal and the world record in a time of 47.63 sec.
On July 3 1980, three weeks from the start of the Moscow Games, Moses set a new world record: 47.13 sec. However President Jimmy Carter decided upon a boycott and thus deprived the defending Olympic champion of defending and retaining a title that was well within his grasp.
Even if he had difficulty in proclaiming the Olympic sermon, Moses made no such blunders on the track four years later in Los Angeles, winning his second title with more than a second lead over his nearest challenger.
On June 4, 1987, his world fell in: his compatriot Danny Harris, the second place finisher in that race, beat him in a meeting in Madrid, bringing his unbelievable unbeaten run to an end.
Without the burden of having to defend his invincibility, he participated in his third Olympiad in Seoul and came back from the South Korean capital with a bronze medal round his neck.
Defending athletes
A strong supporter of athletes and campaigner against doping, Moses is as respected off the track as he was on it.
He also instigated a debate in 1988 calling for athletes to undergo doping tests outside of competition claiming some runners were getting away with cheating.
At 33, it seemed that age had finally caught up with the former Atlanta University student.
With two Olympic gold medals and two world titles in his pocket, Moses was quite justified in hanging up his spikes.
However during the 2003 world championships in Paris, Moses dropped a bombshell by announcing he was making a comeback at the age of 48 and wanted to qualify for the 2004 Olympics in Athens.
He subsequently abandoned the idea, but still leaves the sport as one of the most brilliant and dominant performers of his era.
He is a licensed private pilot and a keen scuba diver as well as being involved with a great deal of charity work supporting such worthy causes as UNICEF amongst others.
Copyright 2008 Agence France-Presse.