Zara Phillips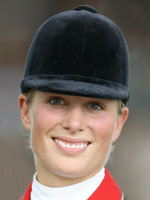 Zara Phillips
Date of birth

1981-05-15
Birthplace

London
Height

177 cm
Weight

63.0 kg
Discipline

Eventing
World Championships (2 medals - 1 gold, 1 silver)
Individual : 1st (2006)
Team : 2nd (2006)
European Championships (3 medals - 3 gold)
Individual: 1st (2005)
Team: 1st (2005, 2007)
Other Honours
Britain's sports personality of the year 2006
Thoroughbred
Granddaughter of the British monarch Queen Elizabeth, Zara Phillips is a European and world eventing champion who enjoys Olympic standard training facilities at her home and has two former Olympians as parents.
Her father Captain Mark Phillips won team gold in Munich 1972 and silver at Seoul in 1988 while her mother Princess Anne was a European champion in 1971 and took part at the Montreal Games of 1976, all in the same event.
The photogenic blonde grew up and lives at the 700 acre royal estate of Gatcombe Park, where her father teaches at a world class set of eventing grounds and stables.
Eventing is a mixture of dressage, mini-showjumping and cross country and it requires great strength, skill and stamina, though all of these are useless without a top quality horse.
She was just 18-years-old when she acquired the wonder-horse Toytown, which was soon to come into its prime, though the real question was whether she herself could mature.
Phillips earned a reputation as a royal rebel in Britain as a result of public love affairs and a pierced tongue, though her mother Princess Anne had also been considered something of a rebel in her day.
Moving in with leading jump jockey Richard Johnson was a radical decision for a royal and her public kiss with him after he had won one of the steeplechase season's top races the Champion Hurdle at Cheltenham made all the front pages.
3-Day Queen
When she left Johnson she took up with English rugby international Mike Tindall, who won the World Cup in 2003, and he is credited with instilling in her the dedication needed to hit the top in sport.
A gold in the 2005 individual and team events at the European championships was the reward for two years of hard training and recompense for missing out on the Athens Games after Toytown injured a leg.
A year later at Aachen, Germany, she stunningly won the 2006 world crown, which she dedicated to close friend Sherelle Duke, who had died eventing just a week earlier.
She was fifth after the dressage round but a flawless run in her favoured and wilder cross-country race saw her enter the final round at the head of the field where a clean round at the show-jumping would assure her gold. Toytown caught a bar at the penultimate obstacle, the triple, but this proved to be good enough to claim the title.
At the 2007 European championships she was third after the dressage and had moved up to second behind eventual winner Nicolas Touzaint after the cross-country, but an error in the show-jumping saw her lose her crown to the Frenchman. A second straight gold in the team event with Britain will have comforted her loss somewhat.
With a down-to-earth accent and unfussy style it is easy to forget she is 11th in line to the British throne and competing in a sport which requires some 700,000 euros per year.
Copyright 2008 Agence France-Presse.