Vanessa Ferrari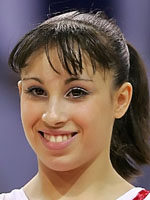 Vanessa Ferrari
Date of birth

1990-11-10
Birthplace

Orzinuovi
Height

140 cm
Weight

33.0 kg
Discipline

all-around, teams, uneven bars, floor
World Championships (4 medals - 1 gold, 3 bronze)
All-around: 1st (2006), 3rd (2007)
Uneven bars: 3rd (2006)
Floor: 3rd (2006)
European Championships (4 medals - 3 gold, 1 silver)
All-around : 1st (2007)
Teams: 1st (2006)
Floor: 1st (2007), 2nd (2006)
Ferrari driving towards Olympic gold
Vanessa Ferrari stood top of the podium and made Italian gymnastics history at the 2006 world championships when she snatched the all around gold medal, albeit in controversial circumstances at the competition in Aarhus, Denmark.
The minuscule then 15-year-old overcame a fall on the beam to overtake her rivals with a dashing routine on the floor and become the first Italian to win a world gymnastics title.
New rules made it possible for her to win, making her the first gymnast to fall in such a manner but still take gold, outraging certain rivals. But it appears the only way is up for the highly gifted teenager, who will now line up as one of the main contenders for Olympic glory at the Beijing gym in 2008.
Her pair of world bronze medals in 2006 on the floor and uneven bars are also evidence she may leave the Chinese capital with a fair slice of glory and her Italian squad are also contenders in the team event after surprising the field in 2006 to win the European crown.
The confident youngster competed at the 2006 European championships after an injury that required four screws in her hand. She won silver on the floor and helped Italy to their first ever team gold with the narrowest of margins over the powerful Romanian team.
The 2007 European championships in the Netherlands saw the Italian in full swing as brilliance on all apparatus saw her cruise to gold. But at the 2007 world championships in Stuttgart she lost her all-around title to rising American star Shawn Johnson. Ferrari fell off the uneven bars, but was so strong elsewhere that she managed to claim a consolatory bronze anyway.
The complete gymnast
Born in Brixia in 1990, she fell in love with the sport after watching gymnastics on television, but it took the devotion of her mother to help her on the road to glory after selflessly making major sacrifices to help her daughter.
She first began to make waves on a major level in 2004 when as a 13-year-old she won the silver at the European juniors before going on to dominate the Mediterranean Games and European Junior Olympic festival, where she was overall champion on both occasions.
A complete gymnast, Ferrari is strong in all disciplines and has the potential to win medals on the vault, beam and uneven bars, although her strongest event is currently the floor.
The women's competition promises to be a wide open affair with the Chinese athletes holding the home advantage but the Americans, Romanians and of course Italians with Ferrari will also have something to say before the dust settles in Beijing.
Results
Copyright 2008 Agence France-Presse.