Donald Thomas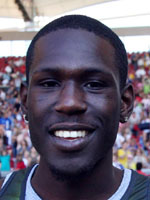 Donald Thomas
Date of birth

1984-07-01
Birthplace

Freeport
Height

190 cm
Weight

75.0 kg
Discipline

High jump
World Championships (1 medal - 1 gold)
The slam dunk flop
In early 2006, Donald Thomas was an unknown college basketball player, but a challenge thrown down by a high jumper friend after the slam dunk of a much taller man led to a fairytale world championship title at Osaka in 2007.
Thomas's meteoric rise began when at Lindenwood University in Illinois where he was on the basketball team. He was studying accounting and marketing there and had not the slightest inclination toward the high jump.
Then came the famous slam dunk followed by collegiate banter over lunch and a dare to try and high jump over 6ft 6in followed by a gang of pals marching out to the athletics track.
The story has it that Thomas, still dressed in basketball shorts and shoes, actually cleared 7ft and was immediately drafted into the college team where at something called the Eastern Illinois Mega Meet he won the high jump and beat the school record in the deal, still wearing inappropriate shorts and shoes.
Born in Freeport, Bahamas, Thomas was good enough that year to take part in the Commonwealth Games in Melbourne, Australia where with a 7ft 3in effort he came fourth with his unconventional jumping style.
Slow track to world title
His coaches had so far been keen to keep him on the slow track as he had much to learn in landing technique and avoiding injury. But the Bahamas, who boast few other top rank high-jumpers, sent him to Osaka in 2007 for the world championships.
With the competition down to six men and in only his second season of serious competition, he stunned the Nagai Stadium and viewers around the world by clearing 2.35 metres at his first attempt, Russia's Yaroslav Rybakov and the Cypriot Kyriakos Ioannou also cleared the same height and the three went on to try 2.37m.
As none of the men cleared the superior height the 23-year-old Thomas was crowned world champion thanks to having cleared 7ft 8in (2.35m) on his first attempt.
"If somebody would have cleared 2.37 I would do the same, believe me. I never doubt in myself," Thomas said. And who would doubt that with another year of experience under his belt he'll go on to claim the Olympic crown too.
Cuban Javier Sotomayor's world record of 2.45 set in Salamanca in 1993 would appear beyond his reach but with such a fairytale rise to fame, who knows - Beijing watch out!
Results
Copyright 2008 Agence France-Presse.