September, 23, 2014
9/23/14
3:21
PM ET
By
The Associated Press
| ESPN.com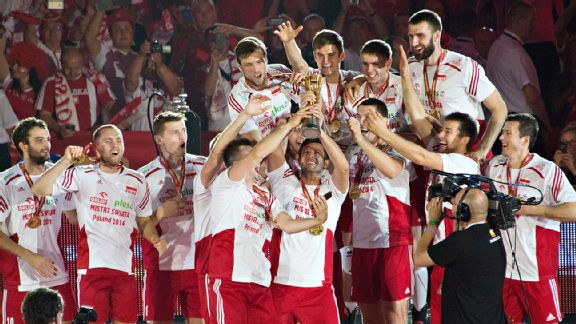 Joe Klamar/AFP/Getty ImagesPoland beat Brazil in this past weekend's final of the FIVB men's world championship.
RIO DE JANEIRO -- Brazil's loss to Poland in the final of the men's volleyball world championship on Sunday was a blow to the South Americans, but should boost the sport in two years at the Rio de Janeiro Olympics.
Poland upset three-time defending champion Brazil 3-1 in Katowice to end an astounding three-week tournament in Poland that drew more than 500,000 fans -- including 62,000 for the tournament's opening match in Warsaw's national stadium.
Poland won its only other men's volleyball title in 1974, and then took Olympic gold in 1976.
"I have no doubt volleyball is going to be a big success at the Olympics," Ary Graca, a Brazilian who heads volleyball's world governing body the FIVB, said in an interview from Poland with The Associated Press.
He suggested it would be among the hottest tickets in Rio.
"I know everybody in Rio," Graca joked. "The politicians are going to asking me for everything."
Brazil is a dominant player in indoor volleyball and beach volleyball, and the sports are probably No. 2 in the country behind football.
The Olympic volleyball venues in Rio are also on schedule. Several others have been facing well-publicized delays.
The Maracanazinho, a 12,000-seat arena located next to the famous Maracana stadium, has already been built and will host indoor volleyball. And beach volleyball will be played at a temporary venue on Copacabana beach.
August, 4, 2012
8/04/12
2:39
PM ET
It's a party at Horse Guards Parade. Kitschy dancers in beachwear, conga lines, the Macarena. Beer. The only things missing are Frankie and Annette.
And no group of fans is embracing this raucous nightly bash disguised as a world-class volleyball tournament like the Gibb family, the parents, brothers, sisters, nieces, in-laws, son and wife of Jake Gibb, one half of the only U.S. men's team remaining in the tournament.
"They're usually a pretty conservative bunch," Gibb said after he and partner Sean Rosenthal won their round of 16 match against Russians Konstantin Semenov and Serguei Prokopiev. Gibb comes from a Mormon family and most of his family members don't drink alcohol or, for the most part, attend sporting events half-naked and wearing sparkly wigs. "I dunno. I guess you get them to London and they go a little bit wacky."
[+] Enlarge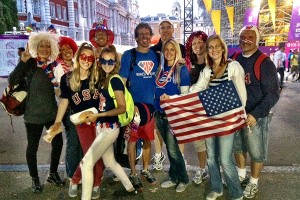 Courtesy Gibb familyThe family of Jake Gibb (this is less than half of those who came to London) has made its presence known at the beach volleyball venue.
Gibb is the youngest of 11 children, and nine of his 10 siblings traveled to London to fill seats in the family section -- although they don't use them much for sitting. Gibb's twin brother, Coleman, who's older by 30 minutes, showed up at Saturday's game wearing jeans; a red, white and blue top hat; and body paint. His brother-in-law Kevin Ditty, who's married to Gibb's sister Marali, was wearing face paint and a volleyball hat. To be clear: That's an actual volleyball worn as a hat.
"People probably think we're drunk," said his sister Larali Miller, who opted for a fluffy red wig and a flag face decal. "But we're just high on excitement."
Larali's the Ticketmaster of the family. Saturday morning, no one in the family had a ticket to that night's match. After she worked her magic, 12 Gibbs were holding party tickets. Jake's wife, Jane, also has been juggling tickets, as well as an 11-month-old son.
"She's going to need a vacation after this," Jake said.
His nieces, Shayla Gibb and Jenna Davis, who wore their USA T-shirts and red-and-white star sunglasses for Saturday night's match, have become stars themselves, JumboTron regulars picked up nightly by the venue's dance cam.
The venue has a dance cam.
"This is similar to what tournaments are like in America, but the energy here is just incredible," said Byron Mickle, Jake's brother-in-law. (He's married to Valerie.) "The crowd, the music, the dancing, the atmosphere is just awesome."
"The crowds here are just way more into it," said brother John Gibb. "When the announcer says, 'Feel free to sing along,' people sing along. When they start a conga line, people participate. They're not too cool to take part, like they would be at home."
Until a month ago, not one member of the Gibb family had a plane ticket, hotel reservation or tickets to the events. But when Jake qualified for his second straight Olympics, the Gibb clan decided it wasn't going to miss seeing him play this time around and the mad scramble to book a two-week family trip for 32 began.
"It's humbling, it's amazing," Jake Gibb said. "A few of them came to Beijing, but this time, they've got wigs on, their chests are painted. And my wife has been a champ, dealing with tickets and our baby boy. She is going to need some TLC when we get home."
And possibly some paint remover.
July, 25, 2012
7/25/12
7:10
AM ET
With so much fuss over the bikinis the women wear in beach volleyball, what about what the men wear? Would it bring more attention to the men's game if, instead of board shorts and tank tops, they wore nothing more than a very tight Speedo?
"I think it would, but I don't think it would be a positive effect,'' 2008 gold medalist Todd Rogers said with a laugh. "It just doesn't look as beautiful. The reality is men are driven more by their vision and women are not, so I just don't think it would help. I've practiced in Brazil where the Brazilians are wearing Speedos and it just doesn't look good. To see a guy's package is just not the same.
"I would fight that tooth and nail, quite frankly.''
OK, maybe the Speedo is a little over the top. But perhaps losing the shirts for a "Top Gun'' effect?
"We argue for that all the time,'' April Ross said. "Men have such amazing bodies, too. They shouldn't be wearing tank tops. Give them shorts and make them go without a shirt.''
The bikinis became a topic when it was announced earlier this year that women can wear sleeved tops or full-body suits at the Olympics if they wish.
"We think it's a great thing for the sport,'' said Ross' partner, Jen Kessy. "We want women of all different religions and from across the world to play our sport. To not be able to play because of the attire is not OK for use. So for them to wear more modest attire is great.
"We're not uncomfortable in our bikinis. We grew up in southern California, and that's what you wear in the summertime, from when you're a little kid until now. That's the most comfortable thing for us to wear. We can stylize our bikinis the way we want; they can be bigger, they can be smaller. It's what we're comfortable wearing. And if it is cold, we can put clothes on.''
And they might have to occasionally. Many matches will be held in the evening, with some scheduled to run close to 11 at night. The weather hasn't been an issue so far this hot, sunny week, but it could be if the climate returns to the cool, wet pattern that has persisted over London much of the summer.
Either way, the American men and women are strong gold-medal candidates. Misty May-Treanor and Kerri Walsh won gold in both 2004 and 2008 before separating as a team briefly, then coming back together for the London Games. They are third in the Olympic rankings behind Brazil's Larissa and Franca and Juliana Silva and China's Xue Chen and Zhang Xi. Kessy and Ross are ranked fourth.
Told that Silva dreams of playing her in the Olympic final, May-Treanor replied, "I have a dream that I beat her in the Olympic finals.''
Rogers and partner Phil Dalhausser won gold in Beijing and are first in the Olympic rankings, with fellow Americans Jake Gibb And Rosenthal No. 4.
The two said they feel less pressure than 2008 because they already have a gold medal and will try to enjoy the entire Olympic experience a little more than in Beijing. "I look at this as a great opportunity to add the cherry on top and the whipped cream and all the extra sprinkles,'' Rogers said. "Having Misty and Kerri be our guides through all this has motivated us, and we've copied what they've done.''
May-Treanor and Walsh are trying to become the first pair to win three consecutive gold medals in beach volleyball in what Misty said will be her final tournament.
"We obviously want to go for No. 3, but you still have to enjoy the process. You have to enjoy every moment you're on the sand,'' she said. "For me, this is my last Olympics, so I'm going to enjoy the journey. I'm going to enjoy every practice. I'm going to take everything in. I'm going to let the blinders open. … So for me, this is the little condiments you're adding. Not sprinkles. This is my hot chocolate.''
Aside from the marathon and road cycling route, beach volleyball has the best venue of the Olympics. Although Olympic Park lacks character and is far to the east of central London, the beach volleyball court is at the Horse Guards Parade grounds near some of the city's most historic and hallowed locations, such as Parliament, Big Ben and No. 10 Downing Street. It should make for a very interesting contrast.
"That's what our sport is all about,'' Ross said. "We like to go to places where it's a little bit shocking for people. That draws them in, and then once they see the athleticism of our sport, they're hooked on it. So I think the clash will bring some people in who want to see it, and that's why they event is so popular. And then hopefully we gain lifetime fans because they truly appreciate.
"We feel so blessed to play there. It's such an historic site, and I think we got the best location of the Olympics.''
July, 24, 2012
7/24/12
8:23
AM ET
LONDON -- U.S. women's volleyball coach Hugh McCutcheon knows the questions are going to come. So, too, does his captain Lindsey Berg. But that doesn't mean they have to, or want to, talk about it.
It was four years ago when McCutcheon's father-in-law was murdered at a popular Beijing tourist site the day after opening ceremonies, four years since McCutcheon then gathered himself and coached the U.S. men to an emotionally charged upset victory against Brazil for the squad's first gold medal in 20 years. This is a new team. A new city. A new Olympic Games. It's time to move on.
Returning to the Olympics won't be some sort of a cathartic experience for the native New Zealander. His focus is elsewhere.
[+] Enlarge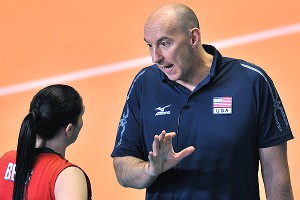 Kazuhiro Nogi/AFP/Getty ImagesHugh McCutcheon has been coaching the U.S. women's volleyball team since December 2008.
"When I say it doesn't matter, obviously it matters," McCutcheon said Tuesday. "But it's not part of this story. That whole side of things is very personal. It was dealt with off of this stage, that's for sure. From a professional point of view, that's the connection. But our stuff from a family point of view isn't on the world stage. The volleyball side of things is, and that's how it should be."
Berg, who played with McCutcheon's wife, Elisabeth, during the 2004 Athens Games, said McCutcheon hasn't brought up the tragedy once since taking the women's job in December 2008.
"The only time it comes up is when the press brings it up," she said. "I understand it's an interesting topic and it's a tragedy, but we don't talk about it. We never have."
The tale of the U.S. women's team is instead about McCutcheon's "mad scientist experiment," in which he has applied many of his coaching principles he learned from coaching men to the women's game. So far, it has worked, as the U.S. women, who won silver in Beijing, enter the Games as the top-ranked team in the world. The squad begins its quest for gold Saturday against Korea. Though the field is deep, McCutcheon and his team enter the tournament focused and confident.
"I feel we're playing the best volleyball right now," he said. "So bring it on."
Berg noted Tuesday that none of her teammates have used the limited free time they've had to tour London. Instead they've gone for extra treatment, therapy or just spent time together in the village as a team.
"It's a business trip for us," Berg said. "Lucky for us, our business is incredible."
McCutcheon said none of his family members will be traveling with him to these Games (though he does have a sister who lives in London) and insists he is truly ecstatic to be back.
"The one thing I can tell you is that I'm really happy to be here," he said. "I'm glad that I'm part of this Olympics. The experiences I've had are unique, but there are not a lot of people in the world who get to know what it's like to be part of the Olympic movement. I'm just so grateful."
London could potentially be McCutcheon's last Olympics. He already has accepted a job to become the head coach for the University of Minnesota women's team after the conclusion of the Games. Now that he and Elisabeth have two children under the age of 2, family is a major factor.
"My goal in life was to be a dad, not a coach," he said. "And with two young kids, I want to make sure I do right by that. I don't want to raise them on Skype."