December, 13, 2012
12/13/12
11:51
AM ET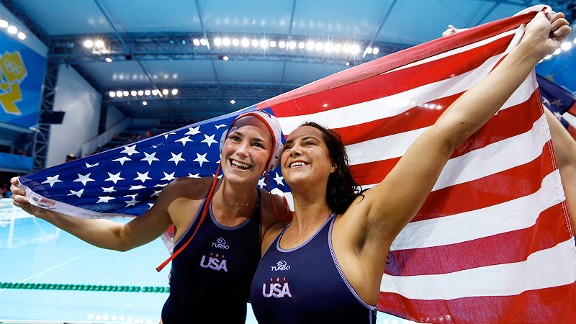 AP Photo/Alastair GrantMaggie Steffens, right, and sister Jessica helped lead the U.S. women's water polo team to its first Olympic gold this past summer.
With every sunrise and sunset, with the change of another season, the moments from the greatest two weeks in Maggie Steffens' young athletic life drift further and further away. Four months after carrying the U.S. women's water polo team to its first gold medal, the 19-year-old is adjusting to life as a college freshman and Olympic champion.
There are days like the one not too long ago, when Steffens shared her gold medal with a mother who immediately wanted to take a picture biting the hardware.
"I was like, 'Uh, no,'" Steffens said. "I brushed it off as no big deal, but inside I was cringing. I mean, really? This isn't some chocolate bar."
And on the day she moved into her Stanford dorm this fall, there were the whispers. She heard them. "There goes the Olympic girl."
"I told them, 'Nope. My name is Maggie,'" she said. "I'm the same Maggie I was before all of this."
[+] Enlarge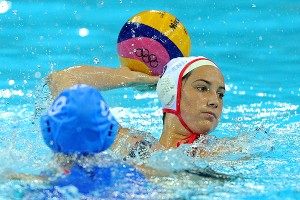 Michael Regan/Getty ImagesMaggie Steffens will play for Stanford's water polo team this year.
She may be the same person, but the way strangers view her is infinitely different. Four years ago in Beijing, the feisty 15-year-old watched from the stands as her older sister, Jessica, and other members of the U.S. team lost in the gold-medal match for the second time in three Olympics. She insisted it wouldn't happen again.
Then in London this past summer, as the youngest member of the U.S. team, Maggie scored an unfathomable 21 goals on 27 shots -- including a 5-for-5 showing in the 8-5 gold-medal victory over Spain -- to win the Olympic crown and make "The Star-Spangled Banner" the song of choice at the tournament's conclusion.
When her world stopped spinning, when Steffens finally returned home to California and had a second to hop in her bed, close her eyes, take a deep breath and try to absorb what had just happened, the memories that most prominently flooded the 19-year-old's head weren't the images everyone would have expected.
Sure, she thought about the goals she scored and the plays she made. Of course she reflected on the moment her gold medal was hung around her neck and the night her and Jessica paraded around the pool deck with the American flag draped behind them. The gut-wrenching semifinal win over Australia is there, too, a night when the Aussies forced overtime with one second left. But the memories that make her smile most are the ones no one knows about.
November, 20, 2012
11/20/12
10:43
AM ET
By
Associated Press
| ESPN.com
HUNTINGTON BEACH, Calif. -- USA Water Polo has made Jovan Vavic the interim national team head coach.
CEO Christopher Ramsey made the announcement Tuesday that Vavic would take over, while still handling his regular duties as head coach at Southern California. The plan is for Vavic to lead the team through qualification for next summer's world championships in Barcelona, Spain, then the position will be re-evaluated.
The American men finished a disappointing eighth at the London Olympics in August, closing play with five straight losses after going into the Olympics with hopes of gold after winning silver in Beijing.
Vavic has led the Trojans to 10 NCAA water polo championships, including four consecutive men's titles. A ten-time national coach of the year, Vavic has compiled a career .859 winning percentage coaching the USC men.
June, 25, 2012
6/25/12
5:09
AM ET
By
Peter Hudnut
| ESPN.com
Between now and the conclusion of the London Olympics, U.S. men's water polo player Peter Hudnut will be blogging periodically for ESPN.com. Below is his first entry, and you can read more about his story here.
My name is Peter Hudnut and I will be sharing our team's journey from now through the Olympic Games, as our penultimate chapter leading up to London began on June 5 with the official naming of the 14 players who will comprise the Olympic team. Before sharing with you our recent historic wins over Croatia and Hungary and the two members of our family that we lost in our most recent round of difficult cuts, a little background on myself.
I was born into a wonderful family of educators with my parents, Tom and Deedie and my siblings, Sarah and Spencer. I was born in Washington, D.C., but our family moved a few times before finally landing in Los Angeles in 1987. Our parents were incredibly supportive of all of our dreams, adventures, and misadventures. This proved critical for me since I announced at the age of 9 that I would one day become an Olympian. (I will go into that story more in subsequent posts!) I started playing water polo in seventh grade at Harvard-Westlake School, where my father works, and that was it! I was hooked on the sport since Day One.
For those unfamiliar with water polo, it is the most challenging team sport in the world. The physical and mental demands, as well as the basic game structure, make it one of the few sports in which one superstar cannot completely control or win a game. For example, you will very rarely see a player take the ball end to end, or completely out-maneuver the entire other team, etc. Water polo is also played in a number of planes; the horizontal plane requires us to be near Olympic-level swimmers to push counter-attacks or recover to defense; the vertical plane requires us to self-propel our bodies out of the water -- with no ground to push off of -- in order to shoot a ball 50 mph all while wrestling in a judo-meets-jiu-jitsu style for position, which sometimes feels more like survival.
But I digress. I was brought into the national team program my senior year of high school as B Team scrimmage bate in 1999. I have been a member of the program ever since, with a brief stint in retirement while I attended graduate school at Stanford. I was named an alternate on the 2004 Olympic team and finally played in the 2008 Games, where we took home a silver medal.
Enough about me for now. I want to talk to you about two members of our family, our tribe, who recently ended their journeys to this summer's Games: Brian Alexander and Andy Stevens. Brian is a fantastic player who had a great career at UC-Santa Barbara, as well as a professional career in various parts of Spain. He is a great offensive threat and, although his journey has ended this year, his career in international water polo could and should go on through 2016. He has too many nicknames to list here, but most call him "Thor" due to his size and strength. He and his wife, Ericka, live in La Jolla, where she just opened a boutique clothing store. "Thor" is a great man of character and integrity and is missed.
Andy is our youngest national team player and a great -- albeit unconventional -- goalie. I say unconventional because he has an incredible ability to block shots he shouldn't be able to reach and his style is truly unique. Andy, like Brian, is incredibly kind and giving to the team. His enthusiasm and youth will ensure further pursuits, both with the national team and a professional career in Europe.
I think it's important to remind people that we do not play for money, fame or livelihood; we all play for our families, country, the gold medal and each other. We play because we don't know any better. Like an internal pull to a significant other, you aren't always able to find the best explanation of "why" -- it just feels right. This is what makes saying goodbye to two teammates so difficult.
On a brighter note, their final days with the team came with matches against Croatia and Hungary in a four-game series. Both are top-ranked teams and always incredible competition and training for us. It was a historic week -- we were victors in three of the four games. We hadn't won against Croatia since the 2008 Games and our last victory against three-time defending gold-medal champion Hungary was in 2004. (Note: We have never beaten the Hungarians twice in a row!) The sold-out crowd provided an energy I have never felt playing in the States -- a truly great starting point for the summer.
Alhough we have a lot of work to do. As Robert Frost penned, "Miles to go before I sleep, and miles to go before I sleep."
Thank you for indulging me in my first-ever blog. I will have more detail and fewer words from here on out. I hope you join us on our journey.
Best,

Pete
May, 17, 2012
5/17/12
11:54
AM ET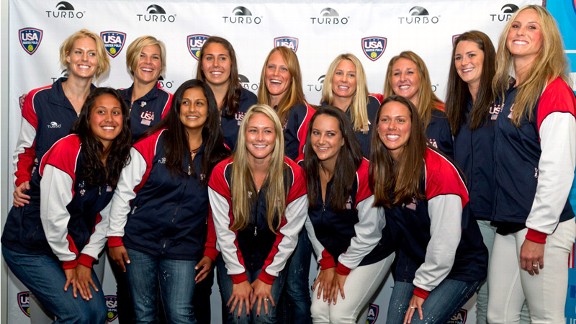 AP Photo/Damian Dovarganes
LOS ANGELES -- Twelve years ago, Heather Petri heard her name announced as a member of the inaugural U.S. women's Olympic water polo team. On Thursday afternoon at the Los Angeles headquarters of the LA84 Foundation, Petri, now 33, heard her name announced for the fourth consecutive time, making her one of two women on the 2012 squad who is heading to London to compete in her fourth-straight Olympic Games.
"The excitement of finding out hasn't worn off," Petri said. "I still get butterflies. I still felt giddy when Coach [Adam Krikorian] told me I'd made the team. I don't ever want to lose that feeling."
Before the Olympic team announcement, LA84 Foundation President and IOC member Anita DeFrantz spoke about her own experience finding out she made the 1976 Olympic rowing team.
"It was so barbaric back then," she said. "They wrote our names on a piece of paper that was tacked to the boathouse. Then we had to select someone willing to go and read the names. This is way cool. It's an honor to look in the eyes of the members of the water polo team as you wear your uniforms for the first time. That's a big deal."
DeFrantz then introduced head coach Krikorian, who took over the program in 2009, less than a year after the team's silver-medal performance in Beijing. He spoke about the emotional week that preceded the announcement and how hard it was to cut the team from 17 to 13. Then he announced each team member's name and asked the women to join him on stage. On the team are eight returning Olympians and three current college students. Petri is the oldest member of the team, while 18-year-old defender Maggie Steffens, sister of defender Jessica Steffens, is the youngest.
"We have such a good blend of young energy and experienced team members who know what the next two months will bring," said Petri, who plans to retire from competitive water polo, along with four-time Olympian Brenda Villa, after London. "In 2000, I didn't understand what I was getting into and the year just flew by me. Now I can soak it all in, take joy in the smallest things and pass along my knowledge to the younger members of the team."
Over the past three years, the U.S. women's team competed in seven major international tournaments and won six of them. The one blemish on its otherwise perfect recent résumé is a sixth-place finish at the 2011 FINA World Championships in Shanghai, which accounts for its current ranking of sixth in the world. "Realistically, I'd say we're more like second or third in the world," Krikorian said. "Australia has proven to have the best competitive record, but Russia and Italy are up there, too."
This year, international competition is so stiff that neither the Netherlands (the 2008 Olympic gold medalists) nor Greece (the team currently ranked No. 1 in the world) qualified for London.
"In the past, it would be easy to target one or two teams as our biggest competition," Krikorian said. "But this year, any one of those eight teams could win. We are the best defensive team in the world. And when we're in sync, we're very tough to beat."
The U.S. team also has as much depth at each position as it ever has.
"With most teams, it's easy to pick out the few superstars and prepare for them," Krikorian said. "You can't do that with us. We are very hard to prepare for because we have 13 women they need to prepare for, every game."
And now, their country knows their names.
July, 28, 2011
7/28/11
4:51
AM ET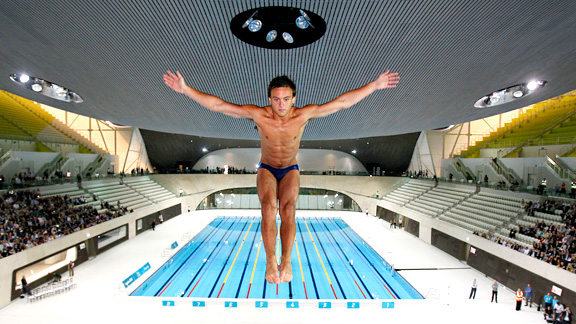 Kirsty Wigglesworth/Getty ImagesTom Daley performs the first dive into the pool, knifing cleanly into the water off the 10-meter board with an inward 1.5 somersault pike.
London organizers marked the completion of the Aquatic Center by having 17-year-old Tom Daley take the first dive in the venue, days after he qualified for his second Olympics.
"It's a pretty big moment for us," organizing committee chairman Sebastian Coe said. "Though a mountain of work is still needed to prepare [the venues], we have an extraordinary platform to build on ... I don't think we are sitting here fearful of anything; we have everything under control."
The 17,500-seat venue, which will be used for swimming, synchronized swimming and water polo events, was expected to be among the first major projects to be finished and one of the boldest architectural statements on the 560-acre east London site.