May, 13, 2012
5/13/12
1:35
PM ET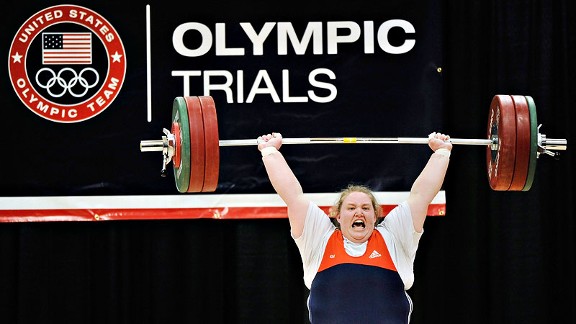 Jamie Sabau/Getty Images
DALLAS -- Four months before trials, Holley Mangold's mother knew her daughter would be heading to London this summer for the Olympics. It had nothing to do with her belief in her daughter's abilities as a competitive weightlifter in the superheavyweight division, but rather her competitiveness in a game of Skee-Ball.
Therese Mangold was floored one night last November when her and Holley butted heads over a friendly Skee-Ball match at an Ohio Dave n' Busters. After mother and daughter tied, Holley snapped, insisting they play again. In that second match, Holley doubled her mom's score.
"My mom was like, 'I can't believe you just did that to your mother," Holley said. "And I'm like, 'Mom, I'm not going to lose to you. And that day she said, 'I knew trials would be fine.' She would say that to me every night. 'Skee-ball -- I know you're going to be great.'"
Originally a prospect for the 2016 Games, Mangold improved her lift totals by more than 70 pounds in the last year and qualified for the U.S. team by finishing second at the trials with a clean-and-jerk lift of 145 kg and a snatch lift of 110 kg. Her performance would have placed her ninth at last year's world championships.
The Skee-Ball tale was just one of many entertaining stories and one-liners that Mangold, the younger sister of Jets center Nick Mangold, shared during the Olympic Media Summit here Sunday. If Mangold finds success in London, she has the personality to become a 5-foot-8, 357-pound media darling at the Games.
She talked about everything from her nightly order at Chipotle (a burrito bowl with a tortilla on the bottom, double rice, double beans and double fajitas, but regular meat because she doesn't want to pay extra), to how cool it was that her brother got to play with Brett Favre. "I really liked telling people that Brett Favre keeps his hands under my brother's butt," she said.
She discussed how she's always been comfortable with her oversized frame and never struggled with issues of body image. And she confessed that every minute of her free time is spent playing Mario Kart.
"Real Mario Kart," she said. "Nintendo 64. Not that new stuff."
Even when the topic was serious, Mangold was entertaining. She admitted she is lifting with a torn meniscus in each knee and torn labrum in her right shoulder. And then she laughed about it.
"I have a beautiful cyst growing out of my torn meniscus," she said. "It looks pretty creepy. There's this giant bump coming out of the side of my knee. But luckily you don't really need a meniscus. You do need a labrum, but it only hurts when I do the lift wrong. So as long as I don't do it wrong, well, I'm good."