Ophélie David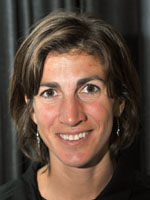 Ophélie David
Date of birth

1976-07-06
Birthplace

Cucq
Height

172 cm
Weight

62.0 kg
Discipline

Ski-cross
World Championships (2 medals - 1 gold, 1 bronze)
Ski-cross : 1st (2007), 3rd (2005)
World Cup
Overall standings: 1st (2006, 2008, 2009), 2nd (2005),
Ski-cross : 1st (2004, 2005, 2006, 2007, 2008, 2009)
21 victoires, all in ski-cross (at 05/01/2010)
David the Goliath
Unrivalled giant of the ski-cross scene with six consecutive world cup crowns since 2004 France's Ophelie David will be squarely in the spotlight as her discipline makes its debut at Vancouver.
From a humble start having been born nowhere near mountains in the northern region of Pas-de-Calais she moved to the French Alps, to the celebrated mountain of Alpe-d'Huez (known as a gruelling Tour de France cycle race stage) in fact, where she was soon to show great prowess on the slopes.
But due to personal differences the door to the French ski team remained firmly closed to her. As the daughter of a Hungarian basketballer though she turned to the Magyar team. So at just 17 she represented Hungary at the 1994 Olympics at Lillehammer and then at the world championships of 1996 where she managed 16th in the combined.
Back then she had to organise almost everything herself, waxed her own skis and di housework to pay for her classes.
The Cypress Hill challenge
Soon afterwards David chose to join the Pro Tour in the United States, which was on its last legs but where the winnings were high.
She took a short break to give birth to her daughter Lilou and then in the late 90's took up ski-cross, one of the new disciplines of the freestyle boom.
David says she loves the adrenalin of ski-cross because of the rough and tumble of direct confrontation at 90 km/h.
She won a first world cup event back in January 2004 and by the time Vancouver had swung into view she had won a fourth consecutive X-Games ski-cross title at Aspen, three overall World Cups in 2006, 2008 and 2009 and a whopping six ski-cross World Cup titles.
A 2007 world championships gold at Madonna di Campiglio followed a bronze medal performance two years previously at Ruka in Finland.
At 33-years-old David is a Goliath of the game, and if she can avoid any blips looks a great bet for the top step of the podium at Cypress Mountain.
A blip at just this location saw her place just 7th at the 2009 World championships at Inawashiro, Japon, a nervy performance that will doubtless haunt her dreams. Incidentally Cypress Mountain, Vancouver is the scene of another of her dramatic failures, finishing fourth in her only appearance on the Olympic piste.
Copyright 2008 Agence France-Presse.