Dick Button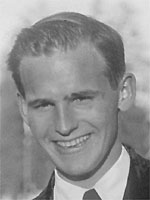 Dick Button
Date of birth

1929-07-18
Birthplace

Englewood
Olympic Games (2 medals - 2 gold)
World Championships (6 medals - 5 gold, 1 silver)
Men: 1st (1948, 1949, 1950, 1951, 1952), 2nd (1947)
European Championships (1 medal -1 gold)
Button the pioneer with first triple jump
When the brilliant young American Dick Button launched himself into the first double axel ever seen in competition at the St. Moritz Games in 1948 there was a palpable sense that the sport would never be the same again.
Four years later, Button confirmed the arrival of the new era in spectacular fashion with the first triple jump in the Olympic arena, a breathtaking manoeuvre that set new standards of excellence and daring for skaters all over the world.
These jumps confirmed Button as the driving force behind the changes and underlined his hugely influential presence in the world arena during his four years at the very highest levels of his sport.
The American was blessed with that rare combination of athletic prowess and intellectual talent.
That double axel at St. Moritz which helped him become the first American to take figure skating gold and the hours of training that produced it, had to be squeezed in between the 18-year-old's heavy schedule as a student at the prestigious Harvard university.
Defeated on just one occasion
When he performed his triple loop in Oslo in 1952 to take his second Olympic title he also had to find the time to complete his thesis, entitled "International Socialism and the Schuman Plan".
Button's ground-breaking jumps were combined with brilliant overall ability that brought him five world championship golds and a European title in addition to his two Olympic victories.
He could have won more European honours had the officials not decided to ban non-Europeans from the competition.
Button's voracious appetite for perfection and the hard work necessary to achieve it meant that he excelled in the compulsories and innovated in the freestyle.
He was beaten only once, by the Swiss Hans Gerschwiler at the world championships in 1947.
He toured with various professional companies and later applied his talents to law, acting and the media, becoming a popular commentator and television producer.
The influential International Figure Skating Magazine paid tribute to Button's huge impact on the sport by naming him skater of the century.
Copyright 2008 Agence France-Presse.