Marielle Goitschel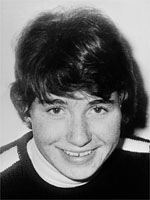 Marielle Goitschel
Date of birth

1945-09-28
Birthplace

Sainte-Maxime
Height

170 cm
Weight

65.0 kg
Olympic Games (3 medals - 2 gold, 1 silver)
Downhill: 8th (1968)
Giant: 1st (1964), 7th( 1968)
Slalom: 1st (1968), 2nd (1964)
World Championships (11 medals - 7 gold, 4 silver)
Downhill: 1st (1966)
Giant: 1st (1964, 1966)
Slalom: 1st (1968), 2nd (1962, 1964, 1966)
Combined: 1st (1962, 1964, 1966), 2nd( 1968)
NOTE

From 1956 to 1980, the results of the downhill, giant slalom and slalom at the Olympic Games counted also for the World Championships. The combined event which was not included in the Olympic medal tally was only considered as a world title.
Magic Marielle adds charm to sisterly success
The younger of two hugely talented sisters Marielle Goitschel dominated women's downhill skiing in the 1960's, winning gold medals in consecutive Olympics in 1964 (giant) and 1968 (slalom).
Despite her sister Christine's triumph of becoming the first French woman to win an Olympic gold medal, it was Marielle who ultimately achieved greater fame thanks not only to her exploits on the slopes but also her idiosyncratic character.
The relentless battle she had with Christine in two major events at Innsbruck in 1964 remains one of the highlights of the Games.
Marielle rarely stood on ceremony, whether it was in the presence of French president Charles de Gaulle, (who presented her with the prestigious Legion d'Honneur medal), Georges Pompidou (French prime minister 1962-68 and later president) or the sports minister at the time, Maurice Herzog.
After her victory in the giant slalom at Innsbruck in 1964 she turned to Herzog with a cheeky grin and said "I hope you're happy", using the familiar 'tu' form instead of the more polite 'vous'.
Marielle had already proved herself by the time the Innsbruck games began, winning the combined event and coming second in the slalom at the world championships at Chamonix in 1962.
After her triumphs in Innsbruck two years later she became the French team leader and went on to secure gold in the giant slalom at the 1966 world championships.
At that race in Portillo, Chile, she snatched gold from the Swiss Heidi Zimmermann and compatriot Florence Steurer.
World champion 30 years later
Curiously, nearly 30 years after finishing second in the downhill at the 1966 world championships in Portillo, the International Ski Federation revised the result of the race, giving Goitschel the gold medal.
The circumstances were bizarre. Austria's Erika Schinegger, who won the race, failed a sex test at the 1968 Grenoble Olympics when it was discovered that she had the sex organs of a man, which had grown inside instead of outside her body.
Aside from her alarming tendency to speak her mind, Goitschel was also fond of hoaxes, including a spoof announcement that she and triple Olympic champion Jean-Claude Killy were to be married.
Goitschel later retired to her home village of Val d'Isere with her son, Raphael, where she runs a shop selling winter sports equipment.
Copyright 2008 Agence France-Presse.