Jean-Claude Killy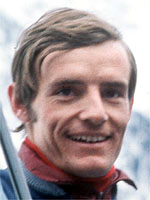 Jean-Claude Killy
Date of birth

1943-08-30
Birthplace

Saint-Cloud
Height

178 cm
Weight

75.0 kg
Olympic Games (3 medals - 3 gold)
Downhill: 1st (1968)
Giant: 1st (1968)
Slalom: 1st (1968), 5th (1964)
World Championships (6 medals - 6 gold)
Downhill: 1st (1966, 1968)
Giant: 1st (1968)
Slalom: 1st (1968)
Combined: 1st (1966, 1968)
World Cup
Overall ranking : 1st (1967, 1968)
NOTE

From 1956 to 1980, the results of the downhill, giant slalom and slalom at the Olympic Games counted also for the World Championships. The combined event which was not included in the Olympic medal tally was only considered as a world title.
The giant of Grenoble
Jean-Claude Killy shot to instant world recognition at the 1968 Winter Olympics in Grenoble when he won a hat-trick of gold medals in three different disciplines - the downhill, giant slalom and slalom.
It was a feat which equalled that of the great Austrian Toni Sailer, 12 years earlier at Games in Cortina d'Ampezzo.
At the end of the Second World War his parents decided leave Paris, where Killy was born, and head for the mountains, choosing the legendary Val d'Isere region as their home.
Killy took to the snow like a duck to water and it wasn't long before the physical and mental abilities necessary for any world-beater began to shine through.
Despite his domination in the inaugural World Cup title in 1967, Killy had to work hard for his medals at Grenoble and in the downhill scraped home just 8/100th of a second ahead of compatriot Guy Perillat.
The giant slalom victory was more comfortable as he outclassed the field with Swiss racer Willy Favre - his closest rival taking silver.
Heavy fog nearly deprived Killy of his third gold as Austrian Karl Schranz was initially awarded the victory in the slalom.
However, after hours of deliberation it was determined that Schranz had missed some of the gates and he was consequently disqualified.
Killy moved up from second place to take gold and complete a brilliant treble.
A French and sporting institution
"Toutoune", as he was affectionately known by his teammates, became a national hero.
After his fantastic success at the 1968 Games, and guided by his agent Mark McCormack, Killy embarked on a tour of the United States promoting a string of companies, airlines and car manufacturers.
He then threw himself into the world of sports clothing, and despite an initial setback was so successful he was awarded a special French export award.
Sport was still the driving force in his life, however, and he played important roles in both cycling and the Winter Olympics.
As organising vice-president, he was the driving force behind Albertville's successful bid to host the 1992 Winter Olympics in the French Alps.
In 1995 he became a member of the International Olympic Committee, and also took a leading role in the organisation of the Tour de France cycling race.
After resigning from this post at the end of 2000, he joined the board of Coca Cola France and beacame president of the organising committee for the 2009 alpine skiing world championships set to be staged at Val d'Isere.
Copyright 2008 Agence France-Presse.