Vladislav Tretiak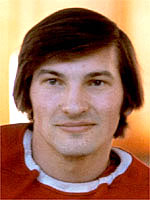 Vladislav Tretiak
Date of birth

1952-04-25
Birthplace

Dimitrov (Russia)
Height

182 cm
Weight

78.0 kg
Position

Goal tender
Team

CSKA Moscow (1969-1984)
Olympic Games (4 medals - 3 gold, 1 silver)
Winner (1972, 1976, 1984), finalist (1980)
World Championships (13 medals - 10 gold, 2 silver, 1 bronze)
Winner (1970, 1971, 1973, 1974, 1975, 1978, 1979, 1981, 1982, 1983), finalist (1972, 1976), 3rd (1977)
European Championships (13 medals - 9 gold, 2 silver, 2 bronze)
Winner (1970, 1973, 1974, 1975, 1978, 1979, 1981, 1982, 1983), finalist (1971, 1972), 3rd (1976, 1977)
Coaching Career
Chicago Blackhawks - goalkeeping coach
Olympic Games: finalist (1994)
Others activities
President of the Russian Ice Hockey Federation (since april 2005)
Triumph for Tretiak
One of the greatest goaltenders ever, Vladislav Tretiak was the backbone of a Soviet ice hockey team that won three Olympic titles and ten world championships between 1972 and 1984.
Already a hero at home, the Moscovite had no trouble winning the hearts of the extremely knowledgeable North American hockey fraternity when he emerged as a star of the so-called Summit Series in 1972.
Canada and the Soviets took each other on in an eight game tournament played on both continents, and only a last-gasp goal from Canada's Paul Henderson in the eighth game in Moscow prevented the Soviet's winning the series.
By then, Tretiak and the Soviet hockey players had won huge respect around the world.
Red Army
Tretiak's story began when as an eight-year-old he began training at the children's division of the country's famous and highly successful Red Army club.
Clearly a tremendous prospect, he was in the first-team squad by the time he was 16, helping the team to a hat-full of national titles during a 16-season career in which he played 482 matches.
Selected for the national squad in 1970 as an 18-year-old, he won his first world and European titles at his first attempt before taking part in the Sapporo Olympics two years later, where the Soviets won the gold medal after a 5-2 win over Czechoslovakia.
Then came the Summit Series against Canada when Tretiak's exploits were beamed all over North America as his team stunned the home side 7-3 in the opening game.
Breaking down frontiers
Tretiak could easily have won a fourth Olympic title had it not been for a strange incident at Lake Placid in 1980, when he was dropped from the key game against the United States after letting in a controversial goal.
The Soviet's crashed to a famous defeat.
Canadian legend Wayne Gretzky once said: "He has broken down frontiers by refusing to let political barriers interfere with the blending of cultures and has always stood by his team and country".
As well as his ten world titles, Tretiak added nine European crowns and the 1981 Canada Cup trophy before retiring in 1984.
Five years later he became the first ever non-North American player to be elected to the Hockey Hall of Fame.
He currently works as a coach for the Russian national squad and the Chicago Blackhawks of the National Hockey League.
Copyright 2008 Agence France-Presse.