Eric Heiden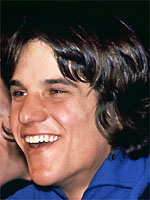 Eric Heiden
Date of birth

1958-06-14
Birthplace

Madison
Height

184 cm
Weight

86.0 kg
Olympic Games (5 medals - 5 gold)
500m: 1st (1980)
1000m: 1st (1980)
1500m: 1st (1980)
5000m: 1st (1980)
10,000m: 1st (1980)
World Championships (21 medals - 17 gold, 2 silver, 2 bronze)
All-around: 1st (1977, 1978, 1979), 2nd (1980)
500m: 1st (1976, 1977, 1978, 1979, 1980)
1500m: 1st (1978, 1979), 2nd (1980), 3rd (1977)
5000m: 1st (1978, 1979)
10,000m: 1st (1979), 3rd (1977)
Sprint: 1st (1977, 1978, 1979, 1980)
Lord of the rinks
Eric Heiden, the unassuming doctor's son from the American midwest, made history during nine days of madness in 1980 when he became the first skater to win all the individual speed skating events at the same Winter Games.
He added a world record in the 10,000m to the five gold medals won at Lake Placid, reinforcing the general view that the American was one of the greatest speed skaters in history.
But Heiden, who cut an imposing figure on and off the ice at six-feet-one inch and 86 kilos, was modest about his status of national hero.
"I didn't get into skating to be famous," he said. "It's not a sport you get famous at. If I wanted to be famous, I would have stuck with hockey."
After playing ice hockey and football as a child, Heiden began speed skating seriously at 14.
Just three years later he had become good enough to take seventh place in the 1500m at the 1976 Innsbruck Games. In 1977 he became the first American to win the overall title at the World Championships, a feat he repeated in each of the next two seasons.
Equalled by Phelps in 2008
His achievement at Lake Placid was only equalled 28-years later when swimmer Michael Phelps also won five individual gold, at Beijing where the American also won three relays.
Heiden almost missed out on his final gold.
The evening before his final race he watched his country's epic ice-hockey match against the Soviet Union.
The next morning, after sleeping through his wake-up call, he was finally roused by worried friends, who got him to the rink just in time to set a world record in 10,000m.
Heiden retired from speed skating after the 1980 season, but not before taking US president Jimmy Carter to task for his proposed boycott of the Moscow Olympics following the Soviet invasion of Afghanistan.
He flirted briefly with competitive cycling, winning the US Pro championship in 1985, but his only participation in the Tour de France in 1986 ended with a hair-raising crash.
Heiden eventually followed his father into medicine, becoming an orthopaedic surgeon, and made his comeback at the 2002 Salt Lake City Olympics, this time as a team doctor.
He also had spells as team physician for the NBA Sacramento Kings as well as the Sacramento Monarchs of the WNBA while his sister Beth was an successful speedskater and cross-country skier.
Copyright 2008 Agence France-Presse.