Christopher Dean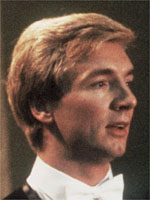 Christopher Dean
Date of birth

1958-07-27
Birthplace

Nottingham (England)
Height

177 cm
Weight

70.0 kg
Partner

Jayne Torvill
Olympic Games (2 medals - 1 gold, 1 bronze)
Ice dance: 1st (1984), 3rd (1994)
World Championships (4 medals - 4 gold)
Ice dance: 1st (1981, 1982, 1983, 1984)
European Championships (4 medals - 4 gold)
Ice dance: 1st (1981, 1982, 1984, 1994)
Torvill and Dean for eternity
Of all the great names associated with ice dance few inspire more reverence than that of ice dancer and choreographer Christopher Dean.
The man from Nottingham in the English Midlands will perhaps best be remembered for his ground-breaking performance at the 1984 Winter Games in Sarajevo with partner Jayne Torvill, when the pair triumphed with near perfect scores.
His influence can perhaps best be illustrated by the impact that he and his partner had on the Soviet dynasty which had reigned imperiously over the discipline for the previous decade and more.
In short, from the moment Torvill and Dean won their first European title at Innsbruck in 1981, there was no more dynasty.
Russian classicism, a product of the Bolshoi and Kirov ballet traditions, was blown away by a storm of originality and invention whipped up by the Englishman that turned the entire ice dance edifice on its head.
Mack and Mabel in 1982, Barnum in 1983... Dean's choreographical magic sent the couple off on mesmerizing explorations of the rink in a whirl of perfectly calculated movement, all speed and synchronization, emotion and grace.
Time stands still in Sarajevo
But the couple saved their greatest performance for Sarajevo.
After a performance inspired by Ravel's Bolero and executed with rare emotion and skill, the pair were awarded nine perfect 6.0 scores by the judges, who had clearly realised that they had witnessed a performance of rare artistic perfection.
And yet, when the couple first came together in 1975, there was no real evidence to suggest that they would leave such an indelible mark on the sporting world.
Dean was a trainee policeman and Torvill worked for an insurance company and had it not been for a grant of 14,000 pounds (19,800 dollars) from Nottingham City Council that gave the couple some measure of financial leeway, the fairy tale could easily have been substituted for a run-of-the-mill story of yet another couple that almost made good.
Instead, there was Sarajevo, and more besides. The couple turned professional after 1984, with Dean concentrating on his gifts as a choreographer with the French pair, Paul and Isabelle Duchesnay and helping them to a silver medal at the Albertville Games in 1992.
Dean was briefly married to Isabelle, but the relationship did not last long and in 1993 he was married for a second time to the American former figure skater, Jill Trenary.
In 1993 Dean persuaded Torvill to return to the amateur circuit with him and in 1994 they won the European championships for the fourth time before taking the bronze medal at the Lillehammer Games with a performance many in the crowd thought deserved a greater reward.
Later Dean worked with other top skaters like Michelle Kwan, Ilia Kulik, Marina Anissina and Gwendal Peizerat.
Since 2006 Dean and Torvill have enjoyed renewed success with a massively popular tv show where they teach celebrities to skate, a show garnering up to 12 million viewers per episode in the UK.
Copyright 2008 Agence France-Presse.