Gunde Svan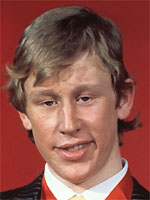 Gunde Svan
Date of birth

1962-01-12
Birthplace

Skamhed
Height

187 cm
Weight

75.0 kg
Olympic Games (6 medals - 4 gold, 1 silver, 1 bronze)
15 km classical: 1st (1984)
30 km classical: 10th (1988)
50 km classical: 2nd (1984)
30 km freestyle: 3rd (1984)
50 km freestyle: 1st (1988)
Relay (4x10 km): 1st (1984, 1988)
World Championships (11 medals - 7 gold, 3 silver, 1 bronze)
30 km classical: 1st (1985, 1991)
50 km classical: 1st (1985)
50 km freestyle: 1st (1989), 2nd (1991)
15 km freestyle: 1st (1989), 2nd (1991)
Relay (4x10 km): 1st (1987, 1989), 2nd (1991), 3rd (1985)
World Cup
Overall standings: 1st (1984, 1985, 1986, 1988, 1989), 2nd (1983, 1990), 3rd (1987)
30 victories
Sarajevo success for Svan
Swedish cross-country racer Gunde Svan made a valiant attempt to emulate his compatriot Sixten Jernberg at the 1984 Sarajevo Games when he set his sights on five gold medals.
He finished the Games with four, which included two gold medals (15km and relay), guaranteeing him hero status in his homeland.
Born only a 100km from the Norwegian border in the village of Skamhed, Svan was already taking part in competitions when he was three.
Swedish under-16 champion in 1978, his early progress persuaded Svan's parents to register him with the prestigious cross-country training academy at Torsby.
After winning the junior title aged 18 selectors decided to promote him to the Swedish national senior division.
During his second World Cup campaign in 1982, Svan was already producing consistently top-class performances, and he finished second in the race for the overall title behind Soviet racer Alexandre Zavialov. It was a competition he was to win five times.
"Traditional and patriotic"
He has often said that his most satisfying moment was not his strong individual performances at Sarajevo but the relay gold he won alongside Benny Kohlberg, Jan Ottoson and Thomas Wassberg.
His fine form continued at his first world championships in 1985, where at Seefeld in Austria he went home with the 30km and 50km gold medals.
The Swede once declared himself "traditional and patriotic"; he was opposed to the newer skiing styles infiltrating the sport and once said that the greatest day of his life was when he first wore the colours of Sweden in competition.
He raced to more success at the 1988 Calgary Games, winning the 50km race, (the "marathon on snow") using the newly introduced freestyle technique.
His performance earned him the nickname "king of the skaters".
His courage was acknowledged for another reason. In 1989 at Holmenkollen, he finished the race with a fractured arm, 30 minutes behind the winner and in second-to-last place.
It was a performance that endeared him to the Norwegian public (who know a skiing hero when they see one) as well as neutral fans around the world.
His last world championships were at Val di Fiemme in 1991, where he increased his medal count to 11 with victory in the 30km race, and three silver medals in other events. He retired in 1992.
A keen motor racing fan, Svan competed as a co-pilot to world rally champion Stig Blomqvist and was a useful driver himself.
Copyright 2008 Agence France-Presse.