Bonnie Blair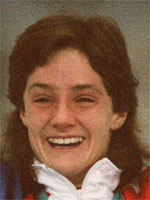 Bonnie Blair
Date of birth

1964-03-18
Birthplace

Nouveau
Height

163 cm
Weight

59.0 kg
Olympic Games (6 medals - 5 gold, 1 bronze)
500m: 1st (1988, 1992, 1994)
1000m: 1st (1992, 1994), 3rd (1988)
World Championships (9 medals - 3 gold, 4 silver, 2 bronze)
Sprint: 1st (1989, 1994, 1995), 2nd (1987, 1990, 1992, 1993), 3rd (1986, 1988)
Top of the world
Bonnie Blair is the most successful American female athlete ever, having won five individual speed skating gold medals at Olympic Games' between 1988 and 1994.
She began her sporting career in short track, and it was there that she acquired the explosive speed, determination and aggression that became her trademark.
Blair quit short track at 16 to move to the speed skating oval and immediately began to make her mark despite her size (1.63m), which many other athletes would have considered a handicap.
After two years of hard training the American decided her next best move would be to join the European circuit; easier said than done because of the high costs involved.
However, the people of Champaign, the town in Illinois where she lived, came together to help raise the money needed by Blair to cross the Atlantic, and after the local police force and a Milwaukee Bucks basketball star had all chipped in, she was on her way.
Blair was soon repaying the faith her local community had shown in her and within two years, at the age of 20, she had gained a slot in the line-up for the 500m at the Sarajevo Games, where she came a creditable eighth.
She continued to progress, and in 1987 came runner-up in the sprint world championships.
Olympic success begins at Calgary
The Winter Games at Calgary in 1988 began with Blair hitting the peak of her strength and form, and the American at last fulfilled her great promise with gold in the 500m and bronze in the 1000m.
Thereafter, she made those distances virtually her personal property, winning in each event at the Albertville Games in 1992 and Lillehammer in 1994 to take her gold medal tally to an extraordinary five.
Wherever she went, Blair was followed by her faithful "tribe", a group of around fifty fervent supporters who cheered her on in every race from the stands.
Shortly after the Lillehammer triumph the diminutive yet powerful American underlined her domination of her chosen events by becoming the first woman to creep under the 39 seconds mark in the 500m (38.99sec).
Then, on March 18, 1995, her 31st birthday, she smashed the United States 1000m record in what turned out to be her final competitive race.
Blair married short track athlete Dave Cruikshank and the couple have two children. She divides her time between her family and commentating at events for a television company.
Copyright 2008 Agence France-Presse.