Alberto Tomba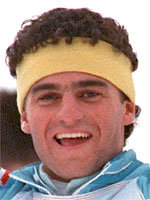 Alberto Tomba
Date of birth

1966-12-19
Birthplace

San Lazzaro di Savena
Height

182 cm
Weight

92.0 kg
Olympic Games (5 medals - 3 gold, 2 silver)
Giant: 1st (1988, 1992)
Slalom: 1st (1988), 2nd (1992, 1994)
World Championships (4 medals - 2 gold, 2 bronze)
Giant: 1st (1996), 3rd (1987)
Slalom: 1st (1996), 3rd (1997)
World Cup
Overall ranking : 1st (1995), 2nd (1988, 1991, 1992), 3rd (1989, 1994), 5th (1993, 1996)

Giant: 1st (1988, 1991, 1992, 1995), 2nd (1993)
Slalom: 1st (1988, 1992, 1994, 1995), 2nd (1989, 1990, 1993, 1996)

50 victories
Tomba the showman
Alberto Tomba was one of the most colourful and brilliant alpine skiers in the history of the sport, capable of thrilling thousands of fans one moment and charming the socks off them the next.
In a five-year period between 1988 and 1995 he won not only all the most prestigious winter sports medals on offer at all the major competitions, but also the hearts of many who could not resist his energy and playboy image.
He once symbolically threw himself at the feet of figure skater Katerina Witt, proclaiming his love for her and offering her one of his two Olympic medals; in short, his energy and attitude gave his sport the spark it needed.
Life was relatively easy for our hero from the start and he grew up enjoying the very special attention of a private ski tutor, no less a figure than Alberto Siopas, a former Italian downhill star.
Tomba was able to manoeuvre himself round the poles with surprising skill for a big man, channelling all the power generated by his height and weight into a relentless rhythm.
After two years gaining experience on the World Cup circuit he created a sensation in the 1988 season by winning seven races and two Olympic gold medals (in the slalom and giant slalom).
Pasta di mama mia
If the Italian was hot at world championships, he was on fire at the Olympics, and despite minor weight problems (encouraged, according to him, by his inability to refuse his mother's steaming plates of pasta), he again won gold at Albertville in 1992.
Despite only managing silver at Lillehammer two years later, Tomba proved in the following season that his career was far from over by winning the overall World Cup title with a total of 11 victories, including seven slaloms in a row.
The Italian joyfully continued to cause his rivals all sorts of problems, notably at the world championships, where he won gold medals in 1996 and 1997.
But by then his touch on the Olympic stage had deserted him, and he was never in contention at Nagano in 1998.
After 12 glorious years, the great man finally announced his retirement in October 1998.
In January 2002 he was acquitted of tax fraud by a tribunal in Italy. However Tomba's father Franco was handed a 16-month suspended sentence for tax evasion.
Alberto Tomba still remains in favour in Italy, though, as his active participation in Turin's successful bid for the 2006 Olympic Winter Games showed.
Copyright 2008 Agence France-Presse.