Pavel Bure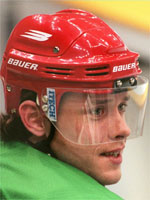 Pavel Bure
Date of birth

1971-03-31
Birthplace

Moscow (USSR)
Height

178 cm
Weight

86.0 kg
Position

Winger
Teams

CSKA Moscow (1987-91), Vancouver Canucks (Can/1991-94), Landshut (Ger/Oct. - Nov. 1994), Spartak Moscow (CIS/Dec. 1994), Vancouver Canucks (Can/Jan. 1995-Jan. 1999), Florida Panthers (USA/Jan. 1999-March 2002), New York Rangers (2001-2003)
Olympic Games (2 medals - 1 silver, 1 bronze)
Finalist (1998), 3rd (2002)
World Championships (2 medals - 1 gold, 1 bronze)
Winner (1990), 3rd (1991)
Stanley Cup
European Champion's Cup (2 medals - 2 gold)
The Russian Rocket
Instantly recognisable by his fast, choppy strides and blistering slap-shot, Pavel Bure (better known as the Russian Rocket) was undoubtedly one of the most exciting ice-hockey players to ever play the game.
Unfortunatly he was forced into premature retirement by seroius knee injuries in March 2003.
Critics would point to Bure's relatively short size (1.78m) as a weakness, but the determined Russian has compensated by developing incredible strength.
Born in Moscow he joined the respected Red Army team when he was 16 and began circulating among some of the country's most elite players.
He soon caught the eye of national selectors and the veteran coach Viktor Tikhonov took the inspired decision of linking up Bure with talented youngsters Sergei Fedorov and Alexander Mogilny in a high-powered forward line.
The move soon paid dividends as the Soviet team led by Bure won the 1989 world junior championships.
His contribution to the national team was instrumental in the Soviet Union's triumph in the 1990 world championships, and soon his reputation had carried across the Atlantic and attracted interest from some of the finest clubs in North America.
The Vancouver Canucks won the race for his signature and brought Bure's considerable talents to the hockey showcase that is the National Hockey League.
His popularity amongst fans grew to fever pitch and his stunning total of 60 goals in consecutive campaigns made him only the sixth player to achieve that milestone.
The unfancied Canucks then had a fairytale run to the Stanley Cup finals in 1994 and came within one victory of the prestigious Stanley Cup before the New York Rangers ended the dream in the last game.
Salt Lake goes begging
The relationship between Bure and the Canucks began to sour and in 1998 he was traded to the Florida Panthers.
In the same year he helped the Russian team to the silver medal at the Nagano Games.
Bure's five goal, five-star performance in the semi-finals was overshadowed by a scrappy 1-0 defeat in the final against the Czech Republic.
Bure had his last chance to lift the Olympic title at the Salt Lake Games in 2002 but Russia were eliminated by the Americans in a hard fought semi-final clash before defeating Belarus to win bronze.
Just before the Games, he was on the move again, signed by the New York Rangers to try and revive the club's flagging fortunes. A few months later he had to retire.
At one time, romantically linked to tennis sex pot and compatriot Anna Kournikova, he was active at the Turin Games in 2006 but this time as manager of the Russian team.
Copyright 2008 Agence France-Presse.