Anni Friesinger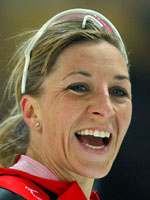 Anni Friesinger
Date of birth

1977-01-11
Birthplace

Inzell
Height

170 cm
Weight

61.0 kg
Olympic Games (4 medals - 2 gold, 2 bronze)
1000m: 3rd (2006)
1500m: 1st (2002)
3000m: 3rd (1998)
Team pursuit: 1st (2006)
World Championships (30 medals - 16 gold, 12 silver, 2 bronze)
All-around: 1st (2001, 2002, 2005), 2nd (2007), 3rd (1998)
Sprint: 1st (2007), 2nd (2004, 2008)
1000m: 1st (2003, 2004, 2008), 2nd (2005, 2007, 2009)
1500m: 1st (1998, 2001, 2003, 2004, 2008, 2009), 2nd (1997, 2000, 2005)
3000m: 1st (2003), 2nd (1997, 2001, 2004), 3rd (1998)
5000m: 1st (2005)
Team pursuit: 1st (2005)
European Championships (6 medals - 5 gold, 1 silver)
All-around title: 1st (2000, 2002, 2003, 2004, 2005), 2nd (1998)
World Cup
1000m: 1st (2006, 2008), 3rd (2007)
1500m: 1st (2001, 2002, 2004, 2006), 2nd (2007), 3rd (2000, 2005)
3000m/5000m: 1st (2002), 3rd (1998, 2000, 2001, 2004)
German soldier puts gold in war chest
Perhaps as well known for her attitude, looks and full figure as her 16 world championships gold medals, Anni Friesinger, the best known speed skater on the circuit, must secretly be desperate to improve her Olympic tally at what should be her last Games in 2010.
Because the buxom blonde with the knock-out smile has just two Olympic gold medals and one of those was the team pursuit at Turin, her sole individual title on the greatest stage of all coming at Salt Lake 2002 in the 1500m.
But at 33, the German army officer goes out to Vancouver for a final bite of the cherry as world champion over both 1000m and 1500m and it will take a great performance to beat the imposing veteran.
Born in Inzell, in Bavaria, close to the border with Austria, Friesinger grew up in a region that could hardly be more propitious for the nurturing of young speed skating talent.
The great Dutch skater Ard Schenk smashed world record after world record on the Inzell rink, and Friesinger was soon drawing inspiration from his example.
After a brilliant career at junior level, she stepped up to the seniors at just 19, picking up two silver medals at the 1997 world championships in Warsaw behind compatriot Gunda Nieman.
Stretching it
The German describes herself as open and spontaneous, traits which may have influenced her decision to appear naked in Stern magazine.
Her Olympic journey began at Nagano in 1998 where a bronze medal in the 3000m hinted at great things to come. That year also saw her lift a first world title at Calgary, where she claimed the first of her six speciality 1500m world crowns.
Throughout the decade, she has won world titles in all-around, sprint, 1000m, 1500m, 3000m, 5000m and team pursuit. She has also bagged five all-around European titles and seven World Cup crowns, making her an outright star.
But despite all that Friesinger has failed to live up to the Olympic promise expected of her when she took the 1500m title at Salt Lake in a then world record time.
In fact 2003 marks the high point of her career so far with a world championships triple of 1000m, 1500m and 3000m. Going out to the Turin Games she was a marked woman and reaped a meagre harvest of a bronze in the 1000m and that team gold.
One suspects Friesinger is stretching it a bit going for gold in Vancouver but she cannot be ignored and will certainly be once again in the media spotlight in Canada.
Results
Speedskating - Women's 1,000m
14
Women's 1,000m
1:17.71
Speedskating - Women's 1,500m
9
Women's 1,500m
1:58.67
Speedskating - Women's Team Pursuit
Women's Team Pursuit Final
Women's Team Pursuit, Semifinals
1
Women's Team Pursuit, Semifinals, Heat 2
3:03.55
1
Women's Team Pursuit, Quarterfinals
Q
1
Women's Team Pursuit, Quarterfinals, Heat 3
3:01.95
Copyright 2008 Agence France-Presse.