Hannu Manninen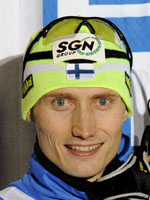 Hannu Manninen
Date of birth

1978-04-17
Birthplace

Rovaniemi
Height

188 cm
Weight

83.0 kg
Olympic Games (3 medals - 1 gold, 1 silver, 1 bronze)
Sprint (7,5 km) : 7th (2002)
15 km (Gundersen) : 9th (2006)
Team event: 1st (2002), 2nd (1998), 3rd (2006)
World Championships (6 medals - GOLD : 3 - SILVER : 1 - BRONZE : 2)
Sprint (7,5 km): 1st (2007)
Team event: 1st (1999, 2007), 2nd (1997), 3rd (2001, 2003)
World Cup
Overall title: 1st (2004, 2005, 2006, 2007), 2nd (1999)
46 victories (up to 29/11/2009)
Manninen on a mission
Widely considered as one of Nordic combined's greatest ever stars and quadruple World Cup winner between 2004-2007 Finland's Hannu Manninen never won an individual Olympic gold and has come back from two years in retirement in an attempt to rectify this glaring gap.
Born in Rovaniemi in April 1978, Manninen was 10 when he first took a crack at ski jumping and his strong talents as a cross-country skier made the switch to Nordic combined seem natural.
Called up to the national junior team in 1990, he went through the 1992 season undefeated before making the step up to the senior circuit in 1993.
At the age of 15 years and ten months, he became the youngest Finn to take part at the Winter Games, coming home 38th in the individual event at the 1994 Games in Lillehammer.
His rise continued in 1997 later with a world team silver where he also finished a respectable 6th in the individual event.
Appeared at his second Olympiad in 1998 at Nagano and picked up another silver in the team event but slipped up in the individual event where a poor jump saw the Finn slide down the rankings.
Back on the World Cup circuit, he finished fourth and fifth overall in 1997 and 1998 respectively before winning his first world title in 1999 helping Finland to team gold.
Seven steps to heaven
His 1999-2000 campaign was hit by his military service and some mediocre jumping performances but he still managed team bronze and fourth in the individual at the 2001 world championships at Lahti.
The Finn had a bad time in the individual events at the Salt Lake Games in 2002 missing the podium completely but he found consolation with an Olympic title, once again at the heart of the national team.
An average season in 2003 was put down to a fractured shoulder picked up in a motorcycle accident but he hit the jackpot in 2004 when he won his first overall World Cup title.
He continued his hot form into the 2004-05 season winning six World Cup events on the trot to retain his overall title.
Seven consecutive World Cup victories and a total of 11 over the 2005-06 season signalled the Finn was at the pinnacle of his powers and he was to retain the World Cup yet again in 2007.
That season he also won a first world championship individual title, claiming the sprint at Sapporo 2007.
The following year however was decidedly down key, 14th place in the World Cup being a pale shadow of previous form, he hung up his skis to pursue his pilot's license.
But as with oh so many others, when the drums began to beat for Vancouver Manninen was unable to resist the call, a chance in fact to win that elusive individual Olympic title.
Copyright 2008 Agence France-Presse.