Anja Paerson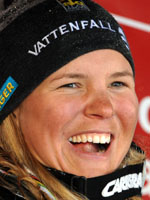 Anja Paerson
Date of birth

1981-04-25
Birthplace

Taernaeby
Height

170 cm
Weight

81.0 kg
Olympic Games (5 medals - 1 gold, 1 silver, 3 bronze)
Downhill: 3rd (2006)
Giant: 2nd (2002), 6th (2006)
Slalom: 1st (2006), 3rd (2002)
Combined : 3rd (2006)
World Championships (11 medals - 7 gold, 2 silver, 2 bronze)
Downill : 1st (2007)
Super-G: 1st (2005, 2007)
Giant: 1st (2003, 2005), 3rd (2001)
Slalom: 1st (2001), 3rd (2007)
Super-Combined: 1st (2007)
Combined: 2nd (2005)
Team : 2nd (2007)
World Cup
Overall ranking : 1st (2004, 2005), 2nd (2006), 3rd (2003, 2009), 4th (2008), 5th (2002, 2007)

Giant: 1st (2003, 2004, 2006), 2nd (2001, 2005), 3rd (2002)
Slalom: 1st (2004), 2nd (2003), 3rd (1999, 2000, 2002, 2006)
Combined: 2nd (2005)
Super-combined: 1st (2009), 3rd (2008)

40 victories (up to 18/01/2009)

5 downhills
4 super-G
11 giants
17 slaloms
1 KO slalom
2 super-combined
Whistling in the dark
All eyes will be on glamour girls Lindsey Vonn and Lara Gut on the Alpine slopes at Whistler, which will please seven-time world champion Anja Paerson, for the shy Swede tends to shun the limelight.
Critics would say the technical Whistler runs will not suit her heavy build and that at 28, her greatest days are behind her, but with 40 World Cup wins to her name, the defending Olympic slalom champion cannot be counted out.
Born and raised at Tarnaby, near the Norwegian border, Paerson says that there was nothing else to do but ski and that from the start she was voraciously competitive.
Legendary Swedish skier Ingemar Stenmark, winner of 86 World Cup events, also grew up in Tarnaby.
Anja was coached by her father, Anders, and specialised in the slalom, a discipline which has yielded rich fruit in 17 World Cup wins up to the end of the 2009 season, a world championship gold and an Olympic title.
That world title came in 2001 at St. Anton, when after an excellent first run, she held on to win the slalom gold, her first major triumph setting her in good stead as she headed out to Salt Lake at 20-years-old.
In Utah, she claimed a bronze in the slalom and a silver in the giant slalom, paving the way for an eventful and highly successful career.
By the time the next Games came around at Turin, Paerson, a keen guitarist and soccer fan, had expanded her terrain to include speed events and had claimed the World Cup overall title in both 2004 and 2005.
It's all downhill from here
But a lack of self-confidence when confronted with the all-conquering Croat Janica Kostelic, was there for all to see out in Italy.
She did however make up for bronze medals in the downhill and combined by claiming her first Olympic title in her beloved slalom.
But Paerson's finest moment to date, by her own admission, was ahead of her at the 2007 world championships hosted in her home country.
At Are, she claimed three gold, a silver and a bronze: the titles coming in the super-G, super-combined and the downhill, which she describes as the crowning glory of her career.
Since then Paerson's star has failed to shine quite so brightly. Coming fourth overall in the World Cup in 2008 and third in 2009 is statistical proof that she remains well placed, but she still needs to hone her cutting edge to get back to the top.
More worrying perhaps, after dominating the 2007 edition, she suffered something of a horror show at the 2009 world championships, failing to finish the super-G with a missed gate and she also sat out the slalom.
On top of that, she could only place 12th in the downhill, two full seconds off the pace of Vonn, Gut and Nadia Fanchini.
Her success at Vancouver will depend on her form but her championship experience will be a strong weapon and more Olympic medals are not beyond this Swedish star.
Copyright 2008 Agence France-Presse.