Yevgeny Plushenko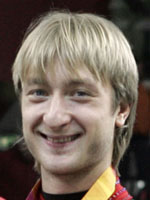 Yevgeny Plushenko
Date of birth

1982-11-03
Birthplace

Solnechni (USSR)
Height

177 cm
Weight

72.0 kg
Coach

Mikhail Makoveev, then Alexei Mishin (since 1993)
Choreographers

Evgueni Serezhnikov, then Edvald Smirnov et David Audish
Olympic Games (2 medals - 1 gold, 1 silver)
Men: 1st (2006), 2nd (2002)
World Championships (5 medals - 3 gold, 1 silver, 1 bronze)
Men: 1st (2001, 2003, 2004), 2nd (1999), 3rd (1998)
European Championships (8 medals - 5 gold, 3 silver)
Men: 1st (2000, 2001, 2003, 2005, 2006), 2nd (1998, 1999, 2004)
Czar seeks second crown
Yevgeny Plushenko has won it all. The Russian phenomenon's sublime victory by a clear margin at the 2006 Turin Games was preceded by three world crowns and five European titles which was then followed by a three-year break.
During his prolonged absence no-one has emerged as a true threat for the Olympic title, but question marks remain whether at the still relatively tender age of 27 Plushenko can get back to his breathtaking best.
Under the relentless scrutiny of his long-term coach Alexei Mishin, Plushenko's challenge is not only to retain the Olympic crown but to once again reach such an exalted level of excellence as to be one of the defining stars of the Games.
Born in the Khabarovsk in eastern Russia, Plushenko's astonishing natural ability was noticed early on and by the time he was 11 he was training hard under coach Mikhail Makoveev in Volgograd.
He later moved to St Petersburg, where Makoveev introduced the young Russian to the more experienced Mishin, who paid the youngster's room and board. At 13 he had mastered the triple-jump, was working on the quadruple and was soon able to bring his parents to the big city.
Mishin however, who had coached 1994 Olympic champion Alexei Urmanov, also had Russian star Alexei Yagudin under his tutelage.
Ice-cool nerves
There was little love lost between the two and Yagudin decided to move on. When the two went head-to-head for the title at Salt Lake in 2002 it was a massive story in Russia as Yagudin came out on top with the title and Plushenko coming second.
Plushenko was still only 19 and with a world title and two European crowns under his belt going out to Salt Lake, but the superior program and experience of the older skater carried the day.
The slender blonde with the ice-cool nerves has technical skills combined with eye-catching grace and in his hey-day was noted for original toe-loop combinations while amongst his peers he was the sole man on the scene at ease with the tricky Biellman pirouette.
He was to bounce back from Salt Lake with the 2003 European title at Malmo and the 2004 world title at Washington. Brian Joubert then pipped him for the 2004 European crown but he kept up the pressure by claiming the 2005 world and European title.
But in 2005 Plushenko underwent double hip-surgery in view of going one better than silver at Turin, where he delivered a master class to claim the Olympic title.
His proposed sabbatical year in the wake of that title lasted three years and some would say that his tardy comeback is cutting it fine if he is to emulate American Dick Button, the last man to retain the men's ice title in 1952.
Copyright 2008 Agence France-Presse.