Gregor Stahli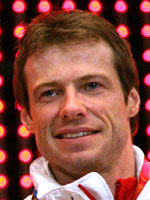 Gregor Stahli
Date of birth

1968-02-28
Birthplace

Zurich
Height

180 cm
Weight

76.0 kg
Olympic Games (2 bronze medals)
World Championships (8 medals - 3 gold, 3 silver, 2 bronze)
1st (1994, 2007, 2009), 2nd (1992, 2000, 2005), 3rd (1990, 1993)
European Championships (4 medals - 1 gold, 2 silver, 1 bronze)
1st (2006), 2nd (2003, 2004), 3rd (2009)
World Cup
Overall ranking: 1st (2002), 2nd (1992, 2006), 3rd (1993)
Mr. Skeleton
Switzerland's Gregor Stahli is one of the emblems of skeleton, a sport raced headfirst down an icy track on a luge that was first brought into practice at Saint Moritz, Switzerland towards the end of the 1880's.
Stahli's rise to his position as the most decorated world champion in the sport's history is no surprise considering his father Burgmar Stahli's popularity in the skeleton during the 70's.
Now his proud father will look on with great interest as his prodigy goes to the Vancouver Olympics in 2010 as one of the hot favourites for the greatest prize in sport.
It would be a fitting finale for the over-40 racer to add the one missing title absent from his long list of honours.
Stahli picked up bronze at Salt Lake in 2002 and Turin four years late but he is a three-time world champion after taking gold in 1994, 2007 and 2009.
But he still has unfinished business despite his most recent global title at Lake Placid when at 41, he took gold 19 years after a debut bronze back in 1990.
One of his greatest threats lies in the form of Russia's Alexander Tretiakov who won the 2009 overall World Cup title but could only finish third at the worlds' while Stahli settled for fifth in the season standings.
Temporary retirement
On top of his three world gold medals, "Mr. Skeleton" was also runner-up in 1992, 2000 and 2005 as well as taking bronze in 1990 and 1993.
He was European champion just once in 2006 while taking a pair of silver medals in 2003 and 2004 and bronze in 2009 as well as the World Cup title in 2002.
Stahli made his competitive debut in 1989 and one year later took his first major medal, a bronze at the world championships at Konigssee.
However after racing to his first world title in 1994, he opted to take a break from the sport in order to concentrate on studying business at an institute in Saint Gallen.
Then came a pivotal decision in 1999 when the IOC decided to reinstate the skeleton as an Olympic sport after an absence of 54 years. Stahlie had found new inspiration and one year later was second at the world championships and second overall in the World Cup standings.
Then came a second hiatus when he left the track again during the 2007-08 season before deciding to take a final crack at the Olympic title in Vancouver where he will be familiar with the track at Whistler.
He took second in a World Cup race in February 2009 on the Olympic track and now hopes to go one step further by taking the gold medal his illustrious career deserves.
Copyright 2008 Agence France-Presse.