Stephane Lambiel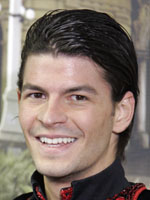 Stephane Lambiel
Date of birth

1985-04-02
Birthplace

Saxon
Height

175 cm
Weight

67.0 kg
Coach

Peter Grutter (1994-2004), Cedric Monod (2004-2005), Peter Grutter (since 2005)
Choreographer

Salome Brunner
Olympic Games (1 medal - 1 silver)
World Championships (3 medals - 2 gold, 1 bronze)
1st (2005, 2006), 3rd (2007)
European Championships (3 medals - 3 silver )
World at his feet
Stephane Lambiel is perhaps Switzerland's greatest ever skater and his comeback to take silver at the 2010 European championships after a year's lay-off positions him nicely for Vancouver.
His adventure began in Moscow in March 2005 when he took the world championship title at just 19 with Turin swinging into view, his dashing style and panache making the rangy Swiss a crowd-puller.
He had been far from favourite in Moscow with local talent Yevgeni Plushenko and France's Brian Joubert, as gold and silver medallists of 2004 expected to beat him. But the Russian dropped out through injury and the Frenchman blew his free routine. The Swiss himself made a couple of errors but thrilled the judges with some well executed quadruples and clinched first place.
Lambiel had never before even got into a medal winning position, adding a fairytale aspect to his sudden rise.
In the absence of Plushenko he also took the European title of 2006 a month ahead of the Games, where the Russian however was in masterful mood.
Plushenko was so good at Turin he won the gold with ease, leaving Lambiel to settle for silver. A world championship title the following season did confirm though that Lambiel was a major player.
Second step
He took up skating aged 7 along with his sister Sylvia and began training with Peter Grutter at the age of 9. As a schoolboy he divided his time between Saxon, the Valais village where he lived, Saint-Maurice where he went to school and Geneva where he put in skating practice.
"He travelled more than a 1000 km per week to come and train with me," his coach remembers.
His progress was swift and he was able to perform triple toe-loop jumps at the age of 10, when he was already graceful and perfecting his spins and other moves.
By the time the Salt Lake Games in 2002 came around, he had been Swiss champion in consecutive seasons and had placed 17th at the European championships, still only 17 he did well out in America placing 15th.
After an agitated start to the 2004-2005 winter season where he had an injury and a temporary separation from his coach, he changed his entire free program just weeks ahead of the Moscow event.
It was an audacious gamble that paid off as the youngster took control over all aspects of his routine, from music, to choreography and costumes.
Lambiel will be renewing his rivalry with Plushenko at Vancouver, the latest chapter of which was the 2010 European championships at Taillin, where the Russian defied anyone to beat him, and was as good as his brave words after a four year lay-off.
If the Russian makes the slightest slip at Vancouver, Lambiel would appear to head the queue to take up his mantle.
Copyright 2008 Agence France-Presse.