Olivier Schoenfelder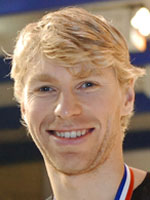 Olivier Schoenfelder
Date of birth

1977-11-30
Birthplace

Belfort
Height

183 cm
Weight

75.0 kg
Partner

Isabelle Delobel
Coaches

Lydie Bontemps (1990-1999), Tatiana Tarasova (2000-2002), Muriel Boucher-Zazoui (1999-2000 and since 2002)
Choreographer

Pasquale Camerlengo
World Championships (1 medal - 1 gold)
European Championships (3 medals - 1 gold, 1 silver, 1 bronze)
Ice dance: 1st (2007), 2nd (2008), 3rd (2005)
A dream for two
She is brunette, he is blonde. She is explosive, he is calm. But they say opposites attract and the French ice dancing duo of Isabelle Delobel and Olivier Schoenfelder certainly attract audiences, having won the 2008 world title and now targetting Olympic gold at Vancouver 2010.
For Olivier, his inspiration was given life as an 8-year-old when he watched a gala featuring the future 1991 world champions Isabelle and Paul Duchesnay and he first formed a couple with Emeline Girod until 1987.
Destiny would take them both to Lyon in 1990 for a training programme put on by Irina Moiseeva and Andrei Minenkov, the mythical Russian dance pair and they cemented a decision to form a team thanks for encouragement from Lydia Bontemps.
The teenagers quit their family homes and lived between Saone and Rhone. She was 12, he was 13.
Their progress was swift and they won the silver medal at the world juniors in 1996 before going on to again finish runners-up at the French championships in 2000 behind future Olympic champions Marina Anissina and Gwendal Peizerat.
Then after nine fruitful years under the guidance of Bontemps, they switched to the guidance of Muriel Boucher-Zazoui who trained Anissina and Peizerat before switching for two years to the legendary Russian coaching maestro Tatiana Tarasova.
Olympic frustration
They competed at the Olympics for the first time at Salt Lake in 2002 and finished 16th, while Anissina and Peizerat took gold and then retired.
That opened the path for Delobel-Schoenfelder as Muriel Boucher-Zazoui dedicated all her time and efforts to mould the next French hopes in ice-dancing.
Steady progress over the next four years led them to the Turin Games in 2006 with renewed hopes of a medal but it wasn't to be as they finished in the cruellest position of fourth.
They also agonisingly finished fourth twice at the Europeans and twice at the worlds between 2004 and 2007.
However they got the breakthrough their hard work and talent deserved first in 2007 when they became European champions in Warsaw and then took the world title one year later at Gothenburg.
That gave them the renewed hope and optimism to carry on and compete at the upcoming Vancouver Games in 2010 where gold is definitely within their grasp.
The penultimate season before the Games began with three wins in 2008 at Skate America while they also took the Bompard Trophy and Grand Prix Final at Goyang in South Korea.
However Delobel suffered a problematic shoulder injury that needed surgery in January 2009 and deprived them a chance to defend their world crown in Los Angeles. However they are determined to be ready for the Games in Canada.
Olivier also wants to finish their amateur career on a high before spending more time with the other Isabelle (Pecheur), his wife since 2005 and their son Gabrielle who was born in 2006.
Copyright 2008 Agence France-Presse.