Aliona Savchenko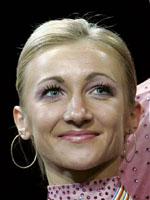 Aliona Savchenko
Date of birth

1984-01-19
Birthplace

Kiev (Ukraine)
Height

153 cm
Weight

46.0 kg
Partner

Robin Szolkowy
Former partners

Dmitri Boenko, Stanislav Morozov
Coach

Ingo Steuer
World Championships (3 medals - 2 gold, 1 bronze)
Pairs: 1st (2008, 2009), 3rd (2007)
European Championships (4 medals - 3 gold, 1 silver)
Pairs: 1st (2007, 2008, 2009), 2nd (2006)
The rage to win
The tiny but hugely talented Aliona Savchenko forms half of one of the world's greatest figure skating duos alongside Robin Szolkowy and the team are now chasing a first Olympic pairs gold for Germany since 1952.
Born in Kiev, the 1.53m blond skater first skated for Ukraine and was a world junior silver medallist wih Dmitri Boenko in 1998 before linking arms with Stanislas Morozov.
During a four year partnership, their greatest triumph was the gold medal in 2000 at the world juniors at Oberstdorf, ironically in Germany which would become her future home in 2003.
Introduced to Germany by coach and former world champion Ingo Steuer, her sporting destiny took a decisive twist when she decided to team up with German Robin Szolkowy who had a Tanzanian father and German mother and the couple have rarely looked back since.
They nailed their first German title under Steuer's guidance a man who also won Olympic bronze at the 1998 Nagano Games alongwith Mandy Wotzel.
The next season they won the Nebelhorn Trophy at Oberstdorf, Skate Canada and qualified for the Turin Game after Savchenko won German nationality on December 29, 2005.
Ahead of their time
For the Games, their preparations were disrailed by revelations surrounding Steuer who was suspected of having collaborations with East Germany's former secret police service Stasi.
Initially discarded by the German delegation, Steuer finally obtained legal permission to go to Turin where the couple finished a very respectable sixth.
Fired by the German skating Federation, he continued to coach his proteges who have since gone on to win gold medals at European championships (2007, 2008, 2009) and the 2008 world championships.
Steuer-Wotzel himself was a European champion in 1995 and world champion two years later.
Savchenko and Szolkowy also won the 2007 ISU Grand Prix which means they have won every leg of the Grand Prix series apart from the China Cup where they finished third in 2006.
Their victories include Skate Canada (2005, 2007), the Russia Cup (2006), NHK Trophy (2007), Skate America (2008) and the 2008 Bompard Trophy.
Ahead of their time, the pair combine power and grace to perform innovative lifts and have also been influenced by the Russian and Chinese styles as well as adorning audacious costumes.
They rarely hesitate to take daring risks in order to land the gold that likely awaits them at the 2010 Vancouver Games.
Copyright 2008 Agence France-Presse.