Marit Bjorgen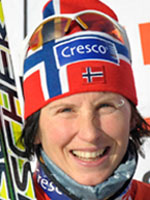 Marit Bjorgen
Date of birth

1980-03-21
Birthplace

Trondheim
Height

167 cm
Weight

65.0 kg
Olympic Games (2 medals - SILVER : 2)
Team sprint : 4th (2006)
10km classical : 2nd (2006)
Relay: 2nd (2002), 5th (2006)
World Championships (9 medals - GOLD : 4 - SILVER : 1 - BRONZE : 4)
Sprint (1.5 km): 1st (2003)
Team Sprint: 1st (2005 - with Hilde Pedersen), 3e (2007 - with Astrid Jacobsen)
30 km classical: 1st (2005)
10 km freestyle : 3rd (2005)
Pursuit: 2nd (2005)
Relay (4x5km) : 1st (2005), 3rd (2003, 2007)
Ski Tour (1 victory counts for the World Cup but not the overall rankings)
World Cup
Overall standings: 1st (2005, 2006), 2nd (2004, 2007)

Sprint: 1st (2003, 2004, 2005, 2006)

31 individual victories (18 sprints) - up to 29/12/2007 -
Iron Lady dreams of gold
For the moment the masterpiece of Norway's queen of the cross-country events is her colossal performance at the 2005 world championships, where she claimed five medals, three of them gold.
There have been no Olympic gold medals however and the Turin Games of 2006 remain a counterpoint to the 2005 success, after the great expectations vested in her a silver medal in the 10km classic has to be considered as a disappointing underperformance.
It's even more surprising when you consider she retained the World Cup in 2006, so this will make the woman from Trondheim doubly ambitious at Vancouver, where she will be 30 and never have a better chance to prove herself on the big stage.
Her fabulous 2005 hiatus began with tears of distress as she took an unbeaten run dating back to October 2003 into the sprint only to get knocked out in the qualifying rounds by an agonising nine hundredths of a second.
Then came tears of joy as against all odds won the gruelling 30km slog, collapsing in raptures at the finish line.
"I can't believe it," she said, after claiming her country's first gold over that distance in the women's event. "It's perhaps my greatest victory".
Nicknamed the "Iron Lady", it was her third gold of the competition after previous wins in the relay and team sprint, with Hilde Pedersen.
She also added silver in the pursuit and bronze in the 10km freestyle to complete a towering display.
World Cup hat-trick
By the end of the 2005 season the sprint queen was running at a canter, having taken nine World Cup wins in the short race that winter she proved to be untouchable in the overall.
The farmer's daughter had been on the rise for some seasons and won the sprint World Cup for three seasons between 2004-2006 before the 2007 world championships at Sapporo in 2007 where further deception awaited; two bronze medals in the team sprint and relay.
A year ahead of Vancouver at the 2009 world in Liberec she came home empty handed, her best performance a fourth place in the relay.
But a 31st career World Cup win at Beitostoelen in the 10km free suggests that Bjorgen's iron will may just deliver the goods in Canada.
Copyright 2008 Agence France-Presse.