Martin Brodeur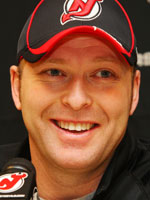 Martin Brodeur
Date of birth

1972-05-06
Birthplace

Montreal
Height

188 cm
Weight

96.0 kg
Olympic Games (1 medal - 1 gold)
World Championships (2 medals - 2 silver)
World Cup of Hockey
Winner (2004), finalist (1996)
Stanley Cup
Winner (1995, 2000, 2003)
Other honours
Vezina Trophy (2003, 2004, 2007, 2008)
All-star team (1996, 1997, 1998, 1999, 2000, 2001, 2003, 2004, 2007, 2008)
The best of Brodeur
Martin Brodeur has rewritten the NHL history books and stands alone as the goaltender with the most career wins in what has been an unprecedented stint between the posts of his only club, the New Jersey Devils.
The Montreal native has won three Stanley Cups, the 2002 Olympic gold and although now a veteran is still Canada's undisputed number one.
One of his more recent achievements was surpassing Patrick Roy's record of wins by a goaltender when he notched up victory 552 in March, 2009, one of a long list of milestones.
Brodeur who was born in 1972, the year Canada beat the USSR in the fabled Summit Series, has also reached 100 shutouts.
He led the Devils to Stanley Cup wins in 1995, 2000 and 2003 while the team only missed the playoffs once since he became first-choice starter in 1993.
Some other records include seven seasons with more than 40 wins, three shutouts in a Stanley Cup final and the distinction of being the only goalie to score a game-winning goal.
Fourth Olympic campaign
Set for a fourth Olympic campaign at Vancouver 2010 he was an unused player in 1998, a gold medallist in 2002 and featured in Canada's miserable tournament at Turin 2006 where they were beaten by Russia in the quarter-finals.
He was also a world championship finalist in 1996 and 2005 when Canada were beaten on both occasions by the Czech Republic.
It is probably no surprise that Brodeur came from a hockey family and his father Denis was also an outstanding goaltender, picking up a bronze medal for Canada at the 1956 Olympics at Cortina d'Ampezzo.
It was when the young Martin tagged along with Dad, who was a photographer for the Montreal Canadiens, that he fell in love with the game and idolised the great Patrick Roy which defined his destiny.
He made the switch from being a forward to a goaltender when his minor league coach asked him if he fancied being a backup and the following year, he made the switch to the pipes permanent.
After making a name in the Quebec Major Junior League, he was drafted 20th overall by New Jersey in 1990 and was a Stanley Cup winner five years later when the team won hockey's greatest prize for the first time in club history.
Known for his stand-up style, quick reflexes and great glove hand, Brodeur is now preparing for what will likely be his last Olympic appearance when the tournament takes place in his home country.
For the man who has won everything the game has to offer, few would bet against Canada lifting the gold medal in front of the hockey mad home fans.
Copyright 2008 Agence France-Presse.