Petra Majdic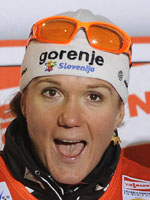 Petra Majdic
Date of birth

1979-12-22
Birthplace

Ljubljana
Height

176 cm
Weight

65.0 kg
World championships (1 medal - 1 silver)
World Cup
Overall: 2nd (2009)
Sprint: 1st (2008, 2009), 2nd (2007)
15 victories - at 14/12/2009
Queen without a crown
Slovenia's Petra Majdic, the best sprinter on the circuit since 2008, is still chasing after the Olympic gold she craves but missed out on at both Salt Lake and Turin.
And time is running out for the Queen of the cross-country whose record at the major events does little to reflect her talents, as a silver medal at the 2007 world championships at Sapporo is all she has to show despite her stunning world cup exploits.
She'll be 30 by the time Vancouver swings around, and a sixth place at Turin in the 10km looks to be a target she'll smash out in Canada after a stunning 2008-09 season on the world cup circuit.
This native of Lubjliana is in fact the big favourite to take gold this time out thanks to nine world cup wins in 2008-09, eight of them in the sprint, where her major rivals for the title are Norway's Marit Bjoergen and Poland's Justyna Kowalczyk.
But Majdic knows perhaps better than anyone that a bad performance on the big day, as with the 2009 worlds, is always a looming possibility for her, and a reputation as a bottler is growing after she crept home empty handed from Liberec.
Lessons learned
At Sapporo, when she was 26, the slender Slovene, who is 1.79m for 65kg, claimed a silver in the sprint, but only time will tell if the favourite tag suits her?
She won her first world cup race, a closely fought sprint March 9 at Drammen in Norway, and ever since the world cup wins have been coming thick and fast for this late developer.
The major challenge for her now is to get to grips with her own nerves, clear her mind and let her fabulous physique do the talking. But that was not the case at Liberec for the 2009 worlds where the tag of favourite weighed so heavily on her shoulders, paralysed her in fact.
So much so that in the sprint she ended in the, unlucky for some, 13th place. That is to say she was out on her backside after the quarter-finals. The pursuit was almost as bad with a poor 9th place and the whole disaster was rounded off with a demoralising 15th place in the 10km classic.
All this measures badly alongside the performance for example of Kowalczyk, who claimed the world title in both the pursuit and the 30km. The sprint, to general gasps of disbelief, was won by Italy's Arianna Follis, 31, proof if we needed it that the major events can easily be won by outsiders.
There's a lesson in there that needs to be learned for this queen without a crown.
Copyright 2008 Agence France-Presse.