Lindsey Vonn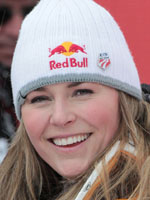 Lindsey Vonn
Date of birth

1984-10-18
Birthplace

St. Paul
Height

176 cm
Weight

77.0 kg
Olympic Games
Downhill: 8th (2006)
Super-G : 7th (2006)
Combined: 6th (2002)
World Championships (4 medals - 2 gold, 2 silver)
Downhill : 1st (2009), 2nd (2007)
Super-G: 1st (2009), 2nd (2007)
World Cup
Overall ranking : 1st (2008, 2009), 5th (2006)

Downhill: 1st (2008, 2009), 2nd (2006)
Super-G: 1st (2009), 3rd (2005)
Slalom: 3rd (2009)
Super-combined: 2nd (2008, 2009)

22 victories (up to 12/03/2009)

12 downhills
6 super-G
2 slaloms
2 super-combined
American speed Queen
Fanatical training, tunnel-visioned ambition and a burning desire to be as quick as the fastest man has brought American Alpine empress Lindsey Vonn to within reach of her lifetime goal of Olympic gold.
When she retained her World Cup overall title in 2009 helped immensely by winning the downhill and super-G globes as well as being second in the super-combined and third in the slalom (32nd in 2008), one rival described the sizzling Minnesotan native's form as depressing.
Vonn is a perfectionist whose downhill style is a balance between fearless non-stop acceleration and driving hard into turns. When away from the slopes, she's in the gym 6-8 hours per day: "I have no life outside skiing," she says.
The beautiful blonde has a constant companion in her frosty endeavours having married former American team giant slalomist Thomas Vonn in 2007. He is her personal coach and advisor and his presence appears to be key to Lindsey's irresistible rise.
Way before Thomas appeared on the scene, Vonn nee Kildow had a classic career.
She was taken to see former American champion Picabo Street at the age of ten, the die was cast.
By 15 she had joined the US ski team and by 17 was good enough for selection for the Salt Lake Games where she placed a respectable sixth in the super-G.
Ready for coronation at Vancouver
The 2005-2006 season proved her breakthrough, when she grabbed two World Cup downhill wins, marking her out as a potential Olympic champion for Turin 2006.
On the Italian slopes though Vonn was evacuated by helicopter after a spectacular downhill training crash. Testament to her grit, she climbed from that hospital bed to finish eighth, earning a special 'Olympic Spirit' award.
Are, Sweden was the scene of the 2007 world championships where a wobble saw her narrowly miss out on downhill gold to local hero Anja Paerson, also her nemesis in the super-G a week later.
Her mental poise has been strengthened by marriage to Vonn and the 2008 World Cup downhill and overall titles were the first signs she might attain greatness.
Val D'Isere France witnessed the confirmation of her top level status, the destruction of all comers led to the 2009 downhill and Super-G world titles by clear margins.
The night of her downhill triumph Vonn sliced open a thumb on a champagne bottle that had been opened with the side of a ski, meaning she needed surgery to finish the World Cup season.
But what a finish: 1788 points crushing Germany's Maria Riesch in second on 1359 points and Sweden's Anja Paerson in third on 1035.
Her steel gaze is now fixed on the resort of Whistler where the Olympic skiing will be held at Vancouver 2010.
"I've dreamed about winning an Olympic medal since I was a little kid so I'll definitely be ready." she boasted.
Few will doubt her.
Copyright 2008 Agence France-Presse.