Aino Kaisa Saarinen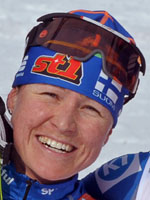 Aino Kaisa Saarinen
Date of birth

1979-02-01
Birthplace

Hollola
Height

167 cm
Weight

58.0 kg
Olympic Games (1 medal, 1 bronze)
World Championships (5 medals - 4 gold, 1 bronze)
Relay (4x5km): 1st (2007, 2009)
10km classic: 1st (2009)
Poursuite: 3rd (2009)
Team sprint: 1st (2009)
World Cup
Overall standings: 3rd (2009)
Long distance: 2nd (2009), 3rd (2007)
2 individual wins (at 22/03/2009)
Ski Tour
Liberated at Liberec
At the 2009 Nordic ski worlds in Liberec a new queen of the scene won three titles: Aino-Kaisa Saarinen, who until then had worked in the shadow of her compatriot Virpi Kuitunen.
Before that Saarinan had garnered just one world title, the 2007 relay, so to bag three more in just eight mad days in the last major event before the Winter Games was a veritable revelation.
"She's ready now," said her coach Magnar Dale.
"Last year she was competing for the podiums, this year for the victories. Newt up we're targeting the 2010 Games and the 2011 worlds before she settles down to start a family," smiled the lucky trainer.
Saarinen was already 30 out at Liberec and almost pulled off a historic quadruple, only missing out on the tough 30km free where she came home sixth.
Before that she had outclassed the field in the 10km classic, her first individual world title, the team sprint with seven-time world champion Virpi Kuitunen, and finally also the relay.
After the classic win a delighted Saarinen admitted she had been racing for victory from the very start, that she felt great during the race and that her skis had functioned woderfully. Adding with a wide smile that her gold quest had only just begun.
Out of control
So Saarinen has hit the form of her life heading out to Vancouver where this born competitor will carry the favourite tag at her second stint on the Olympic stage.
"She's like a rally car, sometimes burning and completely out of control," says coach Magnar Dale, who knows full well his athlete has the motor to deliver medals for Finland out in Canada.
It appears that her temperament, what Dale terms as 'out of control' has hindered the progression of her career somewhat and prior to the new found single-mindedness of the 2008-2009 season she had never taken a single podium spot in the sprint.
She had however taken a great deal of top three spots in the teams event including a bronze medal at Turin with Virpi Kuitunen.
Driven by a rage to win Aikku took part in her first world cup in the 15km free in March 1998 on home snow at Lahti. But it was five more years before she stepped on to her first podium in the world cup by coming third in the 30km classic at Oslo in March 2003.
That day she finally beat her great rival, compatriot and reigning world champion Virpi Kuitunen.
By the end of the 2008-2009, still single and living in her hometown of Hollola, she had 17 world cup podiums and two wins to her name.
All this is scant recompense, something the flying Finn should put right at Vancouver.
Copyright 2008 Agence France-Presse.