Anssi Koivuranta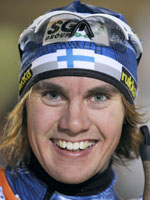 Anssi Koivuranta
Date of birth

1988-07-03
Birthplace

Oulu
Height

172 cm
Weight

55.0 kg
Olympic Games (1 medal - 1 bronze)
World Championships (2 medals - 1 gold, 1 bronze)
15km Gundersen: 3rd (2007)
Team event: 1st (2007)
World Cup
Overall standings: 1st (2009)
7 victories (up to end of 2009 season)
Top of the world at 19
Anssi Koivuranta has begun what could prove to be a long and successful career with the impressive record of becoming the youngest World Cup champion, taking the 2009 Nordic combined crown at 19 years and eight months.
The Finn never looked back after winning the second event of the season in his home city of Kuusamo and led the standings from start to finish in what was a highly consistent campaign that featured seven victories.
He builds his success on his strong ski jumping ability and if he can take his cross-country skiing skills to another level, the future looks bleak for his rivals.
Born at Oulu, on the banks of the Gulf of Botnie, Koivuranta competed in his first World Cup event in March 2004 at Lahti, where he finished an honourable 24th in the sprint.
It took only 10 months to nail down his first podium finish with a third place finish in the large hill event at Sapporo in January 2005.
One year later, the young prodigy took part in his first Olympic Games as a member of the Finnish team at the 2006 Turin Games and helped a quartet that included the four-time World Cup champion Hannu Manninen to the bronze medal.
On an individual front, the Games provided valuable experience as he settled for 11th in the sprint and 26th in the 15km event.
American threat in Canada
Olympic medallist at 17, Koivuranta was just getting started as he won his first gold at the 2007 world championships, again at Sapporo in the team event, and also took a fine bronze in the 15km.
In other events, he took fourth spot in the sprint and finished the 2006-07 season seventh in the World Cup standings.
He slipped to 11th the following season and was still looking for his first World Cup victory before setting the circuit alight in 2008-09 with seven wins and 15 podiums on the way to a stunning World Cup triumph.
Doubts remain over his nerve on the bigger stages and indeed he failed to win a medal at the 2009 World Championships at Liberec, suffering the agony of finishing fourth in the mass start and normal hill while the Americans dominated.
Todd Lodwick and Bill Demong took the lion's share of the individual honours for the US and this duo appear to present the main threat to Koivuranta's bid for Olympic gold at Vancouver.
Copyright 2008 Agence France-Presse.