Sven Kramer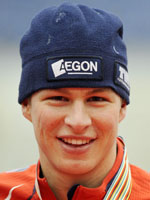 Sven Kramer
Date of birth

1986-04-23
Birthplace

Heerenveen
Height

185 cm
Weight

80.0 kg
Individual world records

6 (5000m and 10000m) - up to 15/03/2009
Olympic Games (2 medals - 1 silver, 1 bronze)
5000m: 2nd (2006)
Team pursuit: 3rd (2006)
World Championships (15 medals - 12 gold, 1 silver, 2 bronze)
All-around: 1st (2007, 2008, 2009), 3rd (2005, 2006)
1500m: 2nd (2008)
5000m: 1st (2007, 2008, 2009)
10000m: 1st (2007, 2008, 2009)
Team pursuit: 1st (2007, 2008, 2009)
European Championships (4 medals - 3 gold, 1 silver)
All-around: 1st (2007, 2008, 2009), 2nd (2005)
World Cup
5000/10000m: 1st (2007, 2009), 2nd (2006, 2008)
Team pursuit: 1st (2008)
The Kramer Express
The latest speed skating talent to emerge from the Netherlands is long distance specialist Sven Kramer who will take to the oval at the Vancouver Games as odds on favourite to land the 5000m and 10,000m races, events which he has dominated since 2007.
He was triple European all-distance champion in 2007, 2008 and 2009 which followed on from his ice breaking success at the Turin Games in 2006 when he took 5000m silver and a team bronze on the eve of his 20th birthday.
Those Games however remain a bitter sweet memory after Kramer fell during the pursuit semi-finals as the Dutch were leading Italy, sending their gold medal hopes up in smoke.
Since Turin, the Heerenveen native has taken his success to new heights with his domination of the European circuit and world titles in the 5000 and 10,000 races at the 2007, 2008 and 2009 competitions.
He also finished top of the heap in the 5000 and 10,000m World Cup standings in 2007 and 2009.
Along with his haul of gold medals has been an impressive list of world records as well with the best ever marks in the 5000 and 10,000m events as well as the pursuit record with the Dutch team.
Between November 2005 and November 2007, he smashed the 5000 and 10,000 marks three times and with Vancouver now on the horizon, he is still the fastest man on the planet in both disciplines.
The most decorated world championship skater
He is unquestionably one of the greatest talents to appear on the skating scene and looks set to dominate the sport for many years to come.
Like many top athletes, skating runs in the family and his father Yep as well as his brother Brecht are also top athletes.
Sven at 1.85 and 80kg has emerged as the family's star and in 2004 at just 18 he was national all-round champion and second at his first European championships.
The following year, he became world junior champion and bronze medallist in the all-round category at the world seniors.
His progress was swift and he set his first 5000m world record at just 19 in November 2005. The Kramer Express was off and running.
After a second bronze at the 2006 world championships and his Olympic podiums the same year, Kramer took his level to another dimension as he began to leave the competition in his wake with 5,000m and 10,000m supremecy.
He now has 12 gold medals (9 individual) which makes him the most successful skater at world championships and he is overwhelming favourite for his first Olympic titles at Vancouver.
Results
Speedskating - Men's 10,000m
Men's 10,000m
DSQ
Speedskating - Men's 1,500m
13
Men's 1,500m
1:47.40
Speedskating - Men's 5,000m
Men's 5,000m
6:14.60, Olympic Record
Speedskating - Men's Team Pursuit
Men's Team Pursuit Final
1
Men's Team Pursuit, Final 3-4
3:39.95
3
Men's Team Pursuit, Semifinals
2
Men's Team Pursuit, Semifinals, Heat 2
3:43.11
3
Men's Team Pursuit, Quarterfinals
Q
1
Men's Team Pursuit, Quarterfinals, Heat 4
3:44.25
Copyright 2008 Agence France-Presse.