Reinfried Herbst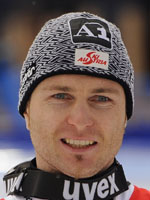 Reinfried Herbst
Date of birth

1978-10-11
Birthplace

Salzburg
Height

181 cm
Weight

81.0 kg
Olympic Games (1 medal - 1 silver)
World Cup
Slalom : 3rd (2008), 5th (2009)
9 victories (up to 31/01/2010)
Mozart of the slopes
Reinfried Herbst is the Mozart of slalom. As with the composer he was born in Strasbourg, and the silver medallist from the 2006 Turin Games is a very good bet indeed to go one better at Vancouver.
At 31 this ultra-talented slalomer does not have the bulging trophy cabinet to reflect the depth of his skills, mainly because of a long and painful series of injuries.
The Austrian is philosophical about it: "So far my career has featured many lows, with three injuries needing six knee operations. But there have been one or two highs too," he said at Garmisch in February 2008, his second World Cup victory.
He was at one time tempted to try his chance at football and is a self-confessed admirer of Manchester United and England forward Wayne Rooney. At 16 however, he chose the snow over the turf and has never regretted that decision.
Herbst made his World Cup debut in the 2001-2002 season but his minders had to wait several seasons before he began to live up to his potential. In a few brief months of the 2005-2006 season everything suddenly started to fall into place.
He placed second at Kitzbühel, took silver behind compatriot Benjamin Raich at the Turin Games and then won his first World Cup race at Shigakogen in Japan, with the same chrono as Finland's Kalle Palander. He was already 27.
A little night music
Unfortunately ill luck struck down in the summer of 2006 when he was playing football in a charity fund raiser.
But since his return to form at Garmisch in 2008, the Austrian has avoided any further injuries and has been racking up the slalom victories, nine World Cup wins in his discipline of predilection as he heads out to Canada. Notably he has won the nocturnal event at Schladming in both 2009 and 2010.
His great rival out in Canada ought to have been his compatriot and fellow slalom ace Manfred Pranger, with whom he has pulled off many a slalom double. But Pranger has had an awful, chaotic, Olympic season, the 2009 world champion having trouble even qualifying for Vancouver.
Herbst was third in the slalom rankings of 2008 and this season has won four races so far meaning he heads up the World Cup standings for the slalom, therefore making him one of the favourites - barring accident or error - to claim gold at Whistler Mountain.
Copyright 2008 Agence France-Presse.