Yu-Na Kim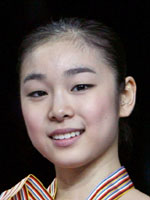 Yu-Na Kim
Known as

Kim Yu-na
Date of birth

1990-09-05
Birthplace

Bucheon
Height

162 cm
Weight

47.0 kg
Coach

Brian Orser
World Championships (3 medals - 1 gold, 2 bronze)
1st (2009), 3rd (2007, 2008)
Four Continents (1 medal - 1 gold)
The weight of expectation
To see the slight and elegant frame of teenage world champion figure skating prodigy Kim Yu-Na it is hard to imagine the South Korean's slender shoulders must bear the terrible weight of an entire nation's Olympic hopes at Vancouver 2010.
The Koreans have had their share of speed skating success at the Winter Games, and boxing or archery at the Summer Games, but Kim is the living embodiment of their 'step up' toward victory in the more artistic fields.
So Kim's outstanding and landmark performance at the 2009 world championships in Los Angeles, where she not only became the first ever woman to break the 200 point mark (207.71), but did so with routines of sublime and breath-taking beauty, that were greeted with a national wave of joy in South Korea.
Born in Bucheon in September 1990, she moved to Gunpo aged six where under the careful guidance of her dedicated mother she became South Korean champion in 2003 at the tender age of just 12-years-old.
Kim's measured rise continued with three further national titles and a semi-permanent move in 2006 to Toronto, Canada where noted coach and double Olympic silver-medallist Brian Orser has since been nurturing her budding talents.
Adding to the drama of Kim's rise has been the parallel arrival on the scene of Japan's Mao Asada, the 2008 world champion, who originally set the mark for her Korean rival.
Turning the tables
While Kim won very respectable bronze medals at the 2007 Worlds of Tokyo and the 2008 edition at Gothenburg she was long overshadowed by Asada, 20 days Kim's junior, who won silver and gold respectively.
The two then clashed at the ISU Grand Prix final at Goyan on the outskirts of Seoul. Kim took the lead in the short routine but, to a deafening silence, was blown away by Asada's elegance in the free, when the younger skater claimed gold by becoming the first woman to complete a triple axel, not once, but twice.
But Kim has turned the tables, first settling her account at the 2009 Four Continents, winning gold to Asada's bronze before her world championship virtuoso performance confirmed a solid grasp on the top step of the podium.
Kim's stock has shot through the roof in Korea, where her face is to be found in fashion and celebrity magazines as well as sponsoring a range of blue chip product lines. This is also fuelled by a perfectly symmetrical face, flashing smile and immediately obvious beauty and grace.
Funnily enough Kim says her own hero is American Michelle Kwan, a five-time world champion who never won an Olympic gold, rather than Japan's Shizuka Arakawa, who became the first Asian figure skating gold medallist at Turin.
Copyright 2008 Agence France-Presse.