Cross Country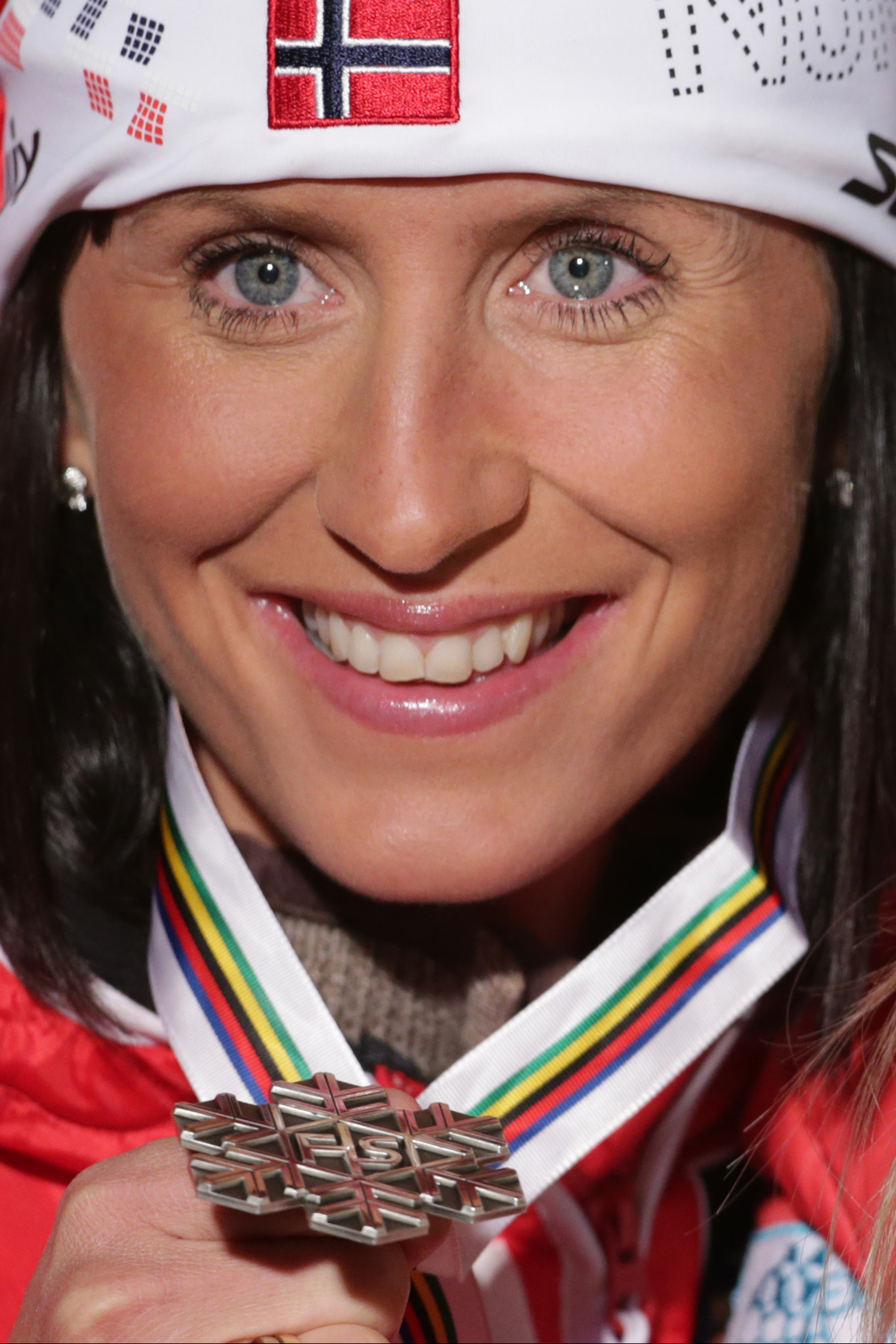 Marit Bjoergen
Age

33
Date of Birth

March 21, 1980
Highlights
The "Iron Lady" began her career as a sprinter and expanded her repertoire to include the distance events. In November 2011, Bjoergen broke countryman Bjorn Dahlies record of 46 individual cross country World Cup victories. By the end of 2013, she had increased the total to 63 in 191 starts since 1999. At Bjoergens first Olympics in 2002, she won a silver medal in the 4 x 5-kilometer relay. Four years later in Turin, Bjoergen was hampered by bronchitis and stomach trouble and won only one medal, a silver in the 10-kilometer. She came into the 2010 Olympics ranked behind Justyna Kowalczyk of Poland in the overall World Cup standings, but left as the most decorated athlete of the Games with five medals, three of them gold. However, she was also one of the most controversial, as Kowalczyk said Bjoergen "wouldnt have won without her medicines." The World Anti-Doping Agency gave Bjoergen special dispensation to use asthma medication then on the banned list, though it was removed in 2011. Bjoergen won a bronze in the 10-kilometer, gold medals in the sprint, 15-kilometer pursuit and 4 x 5-kilometer relay, and silver in the 30-kilometer, where Kowalczyk edged her by 0.3 seconds.
Runup
Bjoergen, a farmers daughter, was elected Queen of Nordic Skiing of the 2012-13 season by journalists based on her historic performance at the World Championships in Val di Fiemme, Italy. For the second World Championships in a row, she won four gold medals and one silver to bring her total to 12 individual and seven team gold medals. Bjoergen also posted six victories and three second places throughout the 2012-13 World Cup season. That feat is even more remarkable since Bjoergen was hospitalized with an irregular heartbeat at midseason, forcing her to miss the prestigious Tour de Ski. With the 2014 Olympics on the horizon, Bjoergen again established herself as the overall World Cup leader. She ran away to a victory in the 15-kilometer freestyle in Davos, Switzerland, then a day later edged Kikkan Randall of the United States in a photo finish in the 1.5-kilometer sprint. Making her return to the Tour de Ski in Oberhof, Germany, Bjoergen defeated teammate Astrid Jacobsen by 1.9 seconds to win her first 3-kilometer prologue in the multi-stage event. She placed fifth in the sprint the next day, then was forced to withdraw from the Tour de Ski because of a viral infection.
Prediction
The Norwegian team will again be strong in the 4 x 5-kilometer relay and Bjoergen is expected to add more individual medals to her collection.
Things To Know
Bjoergen lives with Fred Borre Lundberg, Olympic gold medalist in Nordic combined.
She is the 2011 roller ski world champion after winning a 10-kilometer uphill competition.
Bjoergen is known for her muscular arms and likes to flex her muscles in non-sports television appearances.
Copyright 2014 Associated Press. All rights reserved. This material may not be published, broadcast, rewritten, or redistributed.