LeBron James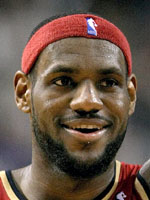 LeBron James
Date of birth

1984-12-30
Birthplace

Akron
Height

203 cm
Weight

113.0 kg
Sport

Basketball
Position

Small forward
Club

Cleveland Cavaliers (since 2003)
Olympic Games (1 medal -- 1 bronze)
World championships (1 medal -- 1 bronze)
NBA championship
Other NBA honors
Selected to All-Star Game (2005, 2006, 2007, 2008)
MVP of the All Star Game (2006, 2008)
NBA rookie of the year (2004)
Will King James rule the world?
He has already been compared to some of the game's greatest players and it is no coincidence that he wears the same No. 23 that Michael Jordan donned in his own glittering career, but LeBron James is now coming into his own as one of the most gifted players in the world.
He has said he wants to become sport's first billionaire and few would bet against him, with millions from contracts and sponsors deals already tucked away in his bank account.
He was already a star long before his NBA debut and when the Cleveland Cavaliers drafted him No. 1 in 2003 from St. Vincent-St. Mary high school, Nike was so sure King James would go onto greatness they offered him a $90 million shoe contract before he had even played a professional game.
When he joined the struggling Cavs, expectations were high but in only his fourth season he carried the team into the NBA Finals, overpowering the mighty Detroit Pistons before their dream campaign came to an end against the San Antonio Spurs.
A player who can play at guard or forward, he became the youngest player to score 40 points when he poured in 41 against the New Jersey Nets in his rookie season at just 19.
In his second campaign, he was selected to the All-Star team but although the Cavs continued to improve, their regular season record of 42 wins and 40 losses was not enough to sneak into the playoffs.
USA Olympic disappointment
At the international level, he was on the USA team that picked up Olympic bronze in Athens in 2004 in what was widely slated as a disaster and two years later, the American's again lost in the semifinals of the world championships -- again returning with just the bronze.
Much more will be expected of the always glamorous and talented USA team that will go to Beijing looking to restore their status as the world's best. But with the global game and international competitions regularly throwing surprises, James and his teammates must find a way to turn their great individual talent into a team that can win consistently.
Cavaliers finally reached a playoff spot in 2006 and one year later reached the conference finals for the first time in 15 years.
Game 5 of that series against Detroit will forever live in the memory after James scored 29 of the final 30 points scored by his team during an epic double-overtime win that was described by some as one of the greatest playoff performances ever.
Copyright 2014 Associated Press. All rights reserved. This material may not be published, broadcast, rewritten, or redistributed.