Lauryn Williams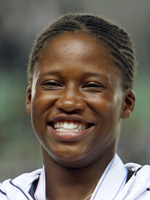 Lauryn Williams
Date of birth

1983-09-11
Birthplace

Pittsburgh
Height

163 cm
Weight

57.0 kg
Discipline

100m, 4x100m sprint
Olympic Games
World Championships
100m: 1st (2005), 2nd (2007)
4x100m: 1st (2005, 2007)
Baton charge
Lauryn Williams is the young woman who was supposed to take up the 100m sprint baton from Marion Jones, and if she failed physically it could equally be said she succeeded metaphorically.
Small and smiley Williams was still an amateur when she edged out both Jones and Gail Devers at the US Olympic trials, taking third to book a berth at the main event at Athens.
With world champion Kelli White and Jones under doping scrutiny, this 20-year-old with a Mickey Mouse tattoo was the future hope.
Such a hope that in fact Williams carried with her at those and subsequent finals a USA Today feature with photos of all time greats Wilma Rudolph, Evelyn Ashford, Florence Griffith Joyner, the under suspicion Sydney hero Jones and slap bang in the middle, her good self.
The fact her seriously sick father, in cancer remission and undergoing frequent kidney dialysis but in the stadium clasping his wife's hand with one and gripping a bottle of pills for his condition in the other, made sure she came under huge media scrutiny.
With great poise Williams ran ahead of the field for 70m before shock winner Yulia Nesterenko of Belorussia powered over the final 30 to edge Williams, who dipped slightly early, into silver.
"I'll see that girl in Beijing," said a smiling Williams, who had timed a personal best.
Conversely, Athens was also the scene of the notorious baton fudge between Jones and Williams in the 4x100m - four times Jones tried to pass the baton, each lunge more desperate than the last, but the pair had run beyond the changeover zone so the tearful Americans had to watch Jamaica sprint to gold.
Raining gold medalist
But in pouring rain at Helsinki at the 2005 world championships Williams proved she had the big tournament mentality, the then 21-year-old led from start to finish to clinch gold in 10.93sec ahead of Jamaica's Veronica Campbell in 10.95.
There was also the added bonus of the 4X100m gold, burying the bad memory of Athens. She also won the world indoor silver in 2006, a season plagued by injury, and leading into the 2007 worlds she was out of form.
But yet again on the big day the little woman showed guts to take silver by three thousandths of a second on Campbell after a photo-finish decision which took a gut-wrenching several minutes. She went home, however, with another 4x100m gold.
And with three silver and one gold medal individually from four major tournaments Lauryn Williams stands every chance of striking gold in the blue ribbon event at Beijing.
Results
Copyright 2014 Associated Press. All rights reserved. This material may not be published, broadcast, rewritten, or redistributed.