The concept of pattern fishing for bass was first defined by Roland Martin in 1969: "A 'pattern' is the exact set of water conditions such as depth, cover, structure, temperature, clarity, currents, etc., which attracts fish to a specific location and to other similar locations all over the same body of water." In Pro Patterns, we interview a top bass fishing expert to get insights and details of his favorite pattern that will help you catch more and bigger bass. Print these patterns to create a notebook that will help you catch bass anywhere and anytime.
The biggest stringer Kelly Jordon ever caught came in early December on a jigging spoon from Lake Fork in Texas. The five fish weighed 54 pounds, 11 ounces, one of which weighed just under 12 pounds. He idles over deep water while monitoring his electronics to search for wads of baitfish and schooling bass beneath them. The falling, flashing spoon emulates a dying or injured shad and signals an easy meal for a hungry fish.
Season
Winter
Water Conditions
Water temperature: Mid-40s or 50s, depending upon the part of country you are fishing
Water color: Clear or only slightly stained
Wind/current: Wind isn't a factor unless it prevents you from holding over a spot. Current can enhance the bite.
Structure/Cover
Structure: Flats close to creek or river channels or the bends of a channel, especially those at the mouths of bays and creeks. Points can help, but the channel is the key element.
Cover: Not required, although bridge faces and deep timber may hold the fish better.
Depth: 10 to 100 feet. The 20- to 45-foot depths tend to be the most productive areas on most lakes.
Tackle
Lure: Jigging spoons, 3/4 to 1 ounce, such as a Hopkins Shorty or the 5-inch Lake Fork Big Joe Spoon for a larger look. Best colors are anything shiny, such as chrome or white.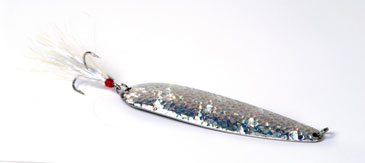 Rod: 7-foot heavy action Fenwick Techna AV
Reel: Abu-Garcia Revo fast retrieve
Line: 15- to 20-pound Trilene 100% Fluorocarbon.
Presentation
Cast/Flip/Pitch: Cast
Retrieve: Work the spoon in a vertical presentation, hopping the bait off the bottom with a fast tempo. Experiment with short hops of an inch or two to big sweeps that draw the bait 5 to 6 feet off the bottom until you determine how the fish want the lure.
Keys to success
Watch for birds working the water to determine where the bait is located. The bass will be close by. Stay mobile, as the schools of bait and bass move around and the depth to find them can change daily.