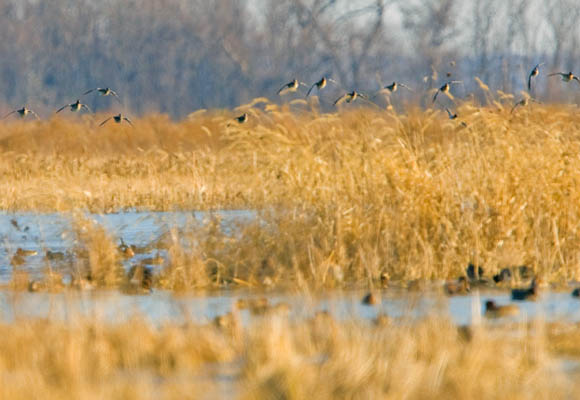 WAKENDA, Mo. — Duck hunting is all about choices. The hunter with the most choices — places to hunt, times to do it — usually wins. Winning in this case is defined generally by having the best experiences or specifically, at least in most cases, as killing the most ducks.
Fourteen degrees Fahrenheit limits your choices.
As our host, Royce "Bubba" Hudson of Jefferson City, Mo., moderated our game planning for the next stop on the ESPN Outdoors Duck Trek, we knew our choices were limited. Two duck hunters from St. Louis were also part of this trip — longtime friends Scott Bailey and John Schuh.
And if Bailey had any say in the matter — which he always does — we weren't going to the Missouri Conservation Department's Grand Pass Conservation Area, even though 90,000 ducks were inhabiting its 5,296 well-managed acres along the Missouri River.
He didn't have any trouble talking the rest of us out of that option. Bailey, 48, has been hunting in Missouri since he was 9 years old. He has a passion (or in this case, hate) for the way the MDC manages its public duck hunting lands. All are under some kind of draw system.
There are plenty of other hunters who like this plan. There were 46.5 million "duck use days" on the MDC's waterfowl areas last season — near the record of 47.6 million set the season before.
But it was midnight when the final stages of planning took place for this hunt. With the Grand Pass CA draw time set for 4:15 a.m. and a low of 14 degrees predicted, well, let's just say it was easy to choose private ground.
Hudson, 62, grew up in Macon, Ga., before joining the Army and serving for 20 years, the first of which included the Vietnam War. It wasn't until 1971, when Hudson was sent by the U.S. Army to finish his degree at the University of Nebraska-Omaha, that he developed a passion for duck hunting.
"My neighbor there took me several times, and I fell in love with it," Hudson said.
When he retired from the military in 1987, Hudson settled in Jefferson City, where he is 90 days away from another retirement as a training director for the Missouri Department of Corrections. He has managed to average three to four days of duck hunting over the past 20 years; that average will go up next season.
Hudson and a couple of friends own 150 acres 1 mile south of the Grand Pass CA. It was planted in corn this year, but, like much of the farmland in this area, some of it got wiped out in the three significant floods and a levee break that hit the Grand River this year.
The property still had a few acres of corn left, including some standing stalks that we could hide in using lay-out blinds.
Since we knew that typical duck habits would send them to the cornfields to feed a little later in the morning, this made for an easy choice.
We left the house in the first hour of daylight and, sure enough, the weather forecasters had hit the temperature right on the cold nose: 14 degrees. It warmed us slightly to put a few dozen standing duck decoys on the edge of the standing corn. And it was actually comfortable lying in these individual blinds, further insulated by the canvas zipped up around us.
But Hudson had warned us the night before that we were pushing the time in this north-central area of Missouri when cornfield hunting is best.
"About the first or second week in December, when it gets cold and everything freezes up, that's when it usually gets good," Hudson said.
We'd already limited our choices by then, so all we could do was hope that this Arctic blast would push the normal timetable up a bit. But that wish was hanging on thin thread; it had been 62 degrees three days earlier here.
Hudson also has a pit blind on these 150 acres, located between a creek and a small, shallow pond. The first ducks we saw that day wanted into the pond. A pair of mallards circled it a couple of times before realizing it was ice-covered, and our calls and decoys in the cornfield didn't entice them.
After assuming the full lay-out hunting position for an hour, when a couple of hunters in our party grabbed a quick nap while the others looked at clear blue skies, we stood up to stretch our legs. In the distance over Grand Pass CA, we could see a big cloud of ducks flying.
But they never came our way. The only ducks we saw that morning that flew close enough to make us crouch in the corn stalks were other pairs and singles looking at the frozen pond.
"There were 90,000 in Grand Pass, and we saw seven ducks," Hudson said. "That tells you how well they were working."
We stuck it out until noon. Then loaded up without anyone firing a shot. [NEXT PAGE]
Pages: 1 | 2