Previous on List | All 28 North American Big-Game Animals | Next on List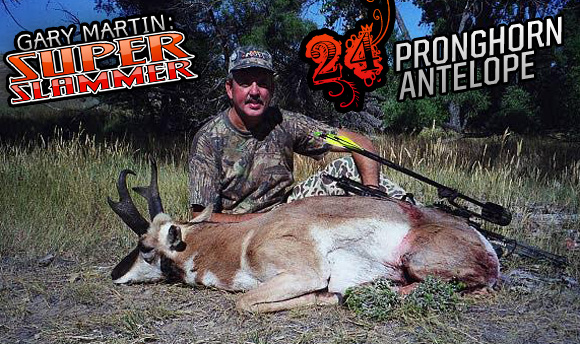 Pronghorn Antelope
ANIMAL: Pronghorn antelope
WHEN: September 2, 2002.
WHERE: Near Cheyenne, Wyoming.
METHOD: Ground blinds near waterholes.
MEASURMENT, SCORE: 67 inches. P&Y minimum is 67 inches.
OUTFITTER: Self guided with friends John MacPeak and Frank Noska.
SPECIAL CHALLENGES, DANGERS: Martin and a few friends drew Wyoming tags and paid a trespass fee to hunt ranchlands near Cheyenne in late summer. The hunters scouted for a few days, and chose six water holes to set up six Double Bull ground blinds.
It took awhile longer for the antelope to get comfortable with the blinds.
Martin nailed one nice buck at the waterhole he chose.
"It was awesome, especially a D-I-Y hunt," said Martin. "There is more of a sense of accomplishment. It's icing on the cake."
While it was a good hunt with good friends, this buck did not meet the P&Y minimum. Martin is planning a Montana hunt this summer.
Previous on List | All 28 North American Big-Game Animals | Next on List