Previous on List | All 28 North American Big-Game Animals | Next on List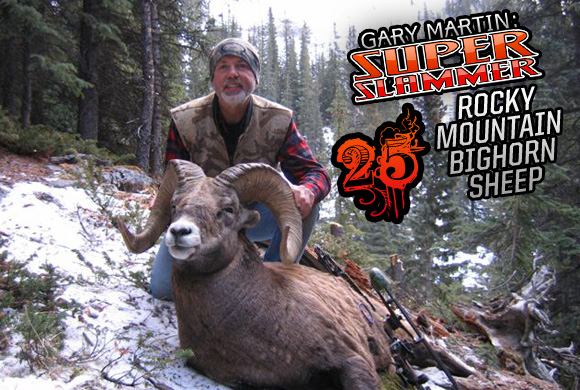 Rocky Mountain Bighorn Sheep
ANIMAL: Rocky Mountain Bighorn Sheep
WHEN: November 2008
WHERE: Canmore Bow Zone, Alberta.
METHOD: Spot and stalk.
MEASURMENT, SCORE: 157 5/8 inches. P&Y minimum is 140.
OUTFITTER: Frank and Cindy Simpson and Flint Simpson
SPECIAL CHALLENGES, DANGERS: The last animal on Martin's list in 2008 was the Rocky Mountain bighorn sheep. If he could kill one with a bow, he would attain his long-time goal of tagging all 28 big-game animals. It would also be the completion of an Archery Grand Slam.
"This hunt began as an emotional roller coaster, and it ended the same way," Martin said.
Martin had been hunting whitetails in Missouri with friends when he heard there was a space open on a sheep hunt in Canmore, the best place in the world for a chance to harvest a P&Y ram in a bow-only zone.
He felt bad leaving his friends, but they told him it was the right thing to do. A few days later, he was on a plane for Calgary.
Within the first two hours of being in the mountains, Martin and guide Steve Zednai spotted a nice ram. Martin took a shot, but it was a poor one, in his words. They watched that ram and stalked it for two more days before it finally headed into a preserve and they had to let it go.
On Day 8, they glassed a nice one and made a stalk. At 40 yards, Martin missed.
"My 'excuse' was a strong wind, and that the ram was walking," said Martin, in a self-effacing way.
But the ram didn't spook. It actually walked a little ways, and lay down.
They waited for an hour, and discussed a strategy. It was getting late, but Zednai and Martin figured there was time for one more stalk.
Martin got closer, and made a long shot. The arrow cut the inside of the ram's leg, entered the stomach and exited on the ram's left side. It lay down right away. In order to avoid driving him, they backed out and came back later.
The ram was dead.
"This hunt was very much a mental and physical trial for me," Martin said. "But it was worth it."
With this bow kill, Martin achieved his Archery Super Slam, the first Wisconsin hunter to do it! The ram also completed the coveted Archery Grand Slam, killing all four North American wild sheep. Fewer than 40 archers can claim that distinction.
Previous on List | All 28 North American Big-Game Animals | Next on List