Previous on List | All 28 North American Big-Game Animals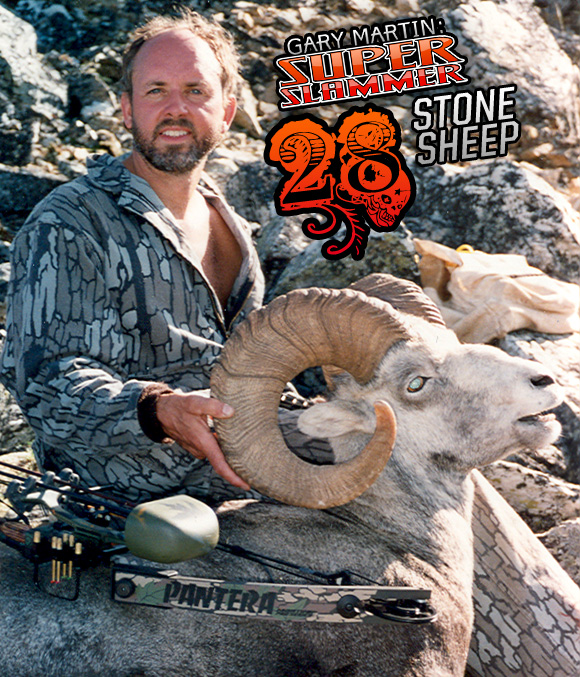 Stone Sheep
ANIMAL: Stone Sheep
WHEN: August 2, 1994.
WHERE: Muncho Lake, B.C.
METHOD: Spot and stalk.
MEASURMENT, SCORE: 155 3/8 inches. P&Y Minimum is 120.
OUTFITTERS: Arthur and Crystal Thompson, Gundahoo River Outfitters.
SPECIAL CHALLENGES, DANGERS: Stone sheep is a subspecies of Dall sheep. Both like high alpine peaks, ridges and meadows. The true Dall sheep is white to gray, while the stone sheep is a slate color with white patches on the hind legs. Both offer one of the ultimate challenges to North American big-game hunters.
The stone sheep especially is a difficult target because its range is so limited, and it lives far from humans. Martin sought his stone in the northwestern corner of British Columbia near Muncho Lake with Gundahoo Outfitters.
He took a bus up the Alaska-Canada Highway, and outfitters picked him up at Fort Nelson. After gearing up at the Gundahoo Lodge, Martin and Indian guide Alfred Stone left with two riding horses and two pack horses and headed for the tallest mountains around.
They set up a tent camp, tied off the horses and climbed higher to enter the realm of the stone sheep. After a lot of glassing, they spotted a big ram — and what might have been a world record.
Stalking in the vertical environment was difficult; these sheep are the masters of this terrain. Martin got to within 70 yards and took the shot. It hit low and grazed the brisket. The ram took off, and they followed. They watched him go from ridge to ridge, but he never slowed down for Martin to get a second shot. The ram seemed to be doing OK.
They continued to watch him for two days, before they felt confident enough to leave him alone and look for another target.
They saw another sheep, but it wasn't the caliber of the first. Martin and the guide glassed it and tried to figure out if it was more than the provincial minimum three-fours curl and seven years old. They decided it was. Martin stalked it, took it and was happy with the result. It was more than 35 inches above the minimum P&Y score.