EDITOR'S NOTE: Knowing that a lot of what happens at live events ends up on the cutting room floor, ESPNOutdoors.com has decided to bring some of the more interesting points via our site. In our new series STIHL Scrapbook you'll see photos and learn more about the competitors and places that make up our event schedule. Feel free to leave a comment in the ESPN Conversation module at the bottom of the page.
---
Scrapbook:
Page 1
|
Page 2
|
Page 3
|
Page 4
|
Page 5
|
Page 6
|
Page 7
|
Page 8
---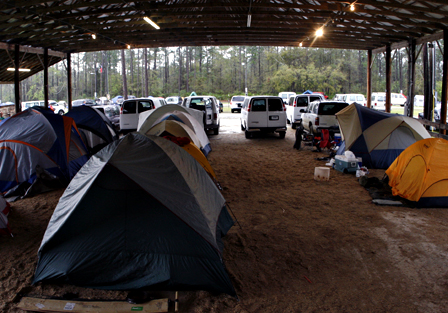 College kids being, well, college kids,- these guys had to travel cheaply and their collective idea of how to do that turned out to be a makeshift tent village within a short and rainy walking distance of the main competition hall at Alachua County's fairground pavilion.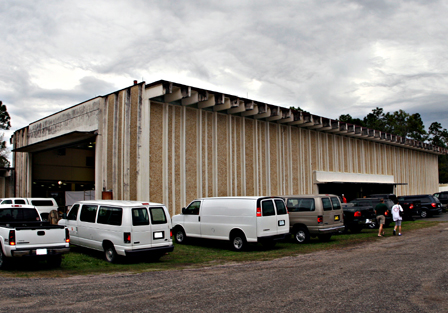 Competitors had to make their way out of their tents and down a muddy embankment to the Alachua Fairgrounds, where the Southern Conclave would be held and where an unparalleled crowd response awaited them.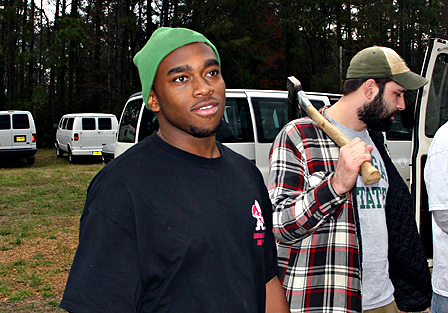 Ayikwei "Kwei" Perry from Alabama A&M was admittedly "really really nervous" about competing in his first STIHL event. He likened it to what he imagined "skydiving was like" because he'd never done that either. "Kwei" was in week three of his fledgling Timbersports career on Southern Conclave competition day, though he did say he'd been using a chainsaw all his life, just not in races against other people.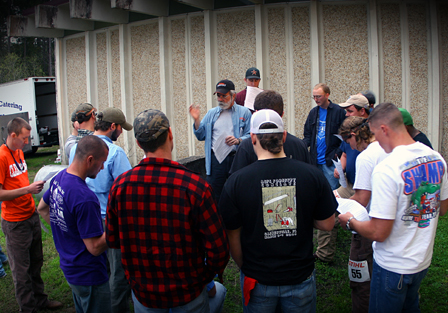 Representatives from Granite State hold the Competitors meeting, letting the collegiate athletes know what the rules are and what to expect. They're told here that the winner of the competition on that day would be going to Columbus to compete in the STIHL Collegiate Challenge World Championships.
---
Scrapbook:
Page 1
|
Page 2
|
Page 3
|
Page 4
|
Page 5
|
Page 6
|
Page 7
|
Page 8
---