BASS Fantasy Fishing | 2009 Classic Archive |
Unofficial Standings Page
Fifth-place Fitzpatrick says it's cool to be recognized
BOSSIER CITY, La. — Terry Fitzpatrick is taking it all in stride. Calm. Understated.
He said it was a "rush" to enter the arena for weigh-in in front of about 8,000 fans.
And it is "pretty wild" he stands fifth after his first day fishing in a Bassmaster Classic.
Not much to be excited about. Oh wait. He got rather animated that a writer from Alexander remembered him from his baseball playing days some 20-odd years ago at Louisiana-Lafayette.
"I actually had a guy interview me yesterday that interviewed me 22 years ago when we played LSU," the former center fielder and leadoff hitter for the Ragin' Cajuns said as he sped up his speech and opened up. "He remembered me.
"That was kind of neat to meet that guy. He recognized the name. That was kind of cool, I thought."
The speedy Fitzpatrick, a switch-hitter, had a promising baseball career. Said he was scouted.
"I hit pretty good," he said of the LSU game. "We lost. My senior year we actually made it to the regionals and we were a couple games away from going to the (College) World Series. We ended up like 21st in the final polls."
A hamstring injury ended his baseball career.
"I fished a lot but baseball was what I wanted to be in," he said. "I would have had a shot at (pro baseball)."
Now, the Federation Nation angler, who at 18 pounds even is 2-3 behind leader Boyd Duckett, has a shot at winning the prestigious Classic title and a $500,000 payday.
"I'm happy to be as high as I am," he said. "To be sitting in the top 5, that's pretty wild. I was hoping going in it if I could probably come in with 20 pounds for two days. I'm only two away from that."
The 8 extra pounds are gravy. Alone much of the first day, the 43-year-old from Waukon, Iowa, who brought 10 family members to the Classic, had two spectator boats show up halfway through the day. He said he might be followed more closely Saturday. "I'll just block that out. They won't even be there in my mind."
He did admit to being nervous fishing his first Classic, but he thinks playing before big crowds in baseball has helped him.
"I get nervous in the morning, but once I get out there and actually start fishing, I come out of it," he said. "Once you get the first fish in the boat, then I really relax. Just to get away from the hype of the takeoff seems to help me calm down."
And if he's in the top five heading in Sunday's final day?
"That'd be alright," he said.
5:09 p.m. ET
The first flight has started making their way to the check in and for the most part the biggest bulk of the leaders are headed toward the ramp.
Last-minute heroics or cross your fingers, cast and hope for the best type things could happen. But it looks as if, for the most part, we have all the information we can gain without an official weigh-in.
Right now that means Scott Rook is leading, followed by Boyd Duckett and Jami Fralick.
This is how the standings are shaking out: Unofficial Standings Page
Of course, you have to remember that observers and cell service are the things that make this work. Either one of them is faulty and it makes it difficult to get even close.
And even if everything went perfectly with the technical side of things, and the observers guessed each fish within an ounce of their actual weight (anyone who can do that should be in the circus), the margin of error is still sizeable.
So, there's no way in the world that those standings are absolutely accurate. Anyone who thinks they are could be living in la-la land. Anyone who thinks the absolute best effort wasn't made to get them as accurate as possible could be living in la-la land.
Either way, we will be back tomorrow about take-off time, trying once again to give you as good a look as can be had on what's going on at the Red River.
4:19 p.m. ET
Ike's weight is actually closer to 15 or 16 pounds. I just got off the phone with the observer.
Earlier in the day, the observer was replaced by one of the ESPN cameramen. During the switch the GPS device stayed in Ike's boat.
While Ike was fishing, the observer's boat made a tape switch and Ike was in too sensitive an area to allow another boat to come in and retrieve the GPS. It stayed that way until they were in the lock.
At that time, the device was retrieved and the info added. Somehow, a 7-pounder was keyed in. No such fish exists. The true weight is much lower, putting Ike in the top 10 but not in the lead.
3:53 p.m. ET
Everyone who was talking about sandbagging totally missed Michael Iaconelli. We had him stuck on one fish for most of the day, then Iaconelli sits in the lock for about 20 minutes and comes out with 20 pounds.
One of those is a 7-pounder, and if all his weights are correct he has taken over the unofficial lead with 20-10. Rook is sitting behind him at 20-5 and Fralick and Duckett are tied for third at 17-10.
3:30 p.m. ET
Folks at the expo in downtown Shreveport are mesmerized by the live leaderboard on the bigscreen behind the ESPN Outdoors booth. I heard one or two guys marvel at the zeros by KVD's name, but I have to assume that whatever he's caught simply hasn't been relayed yet.
A couple of the Elite Series guys are here with their happy faces on, signing autographs and making the rounds for their sponsors, but in the words of the inestimable Kevin Short: "Nobody wants to be here."
To be here means you're not fishing right now. He told me he's not leaving Shreveport without a swatch of the artificial turf he was standing on outside the Costa Del Mar display. He wants to tape it to the back of his windshield for motivation next year.
Chris Lane and his brother Bobby both fished the Classic last year; this year, only Bobby qualified. I asked Chris how he was holding up here at the expo.
He expressed his distinct displeasure with having to work the expo. Not that he doesn't take it seriously; when he excused himself, he said, "Gotta get back to my job."
He did have a question, though: "What's the latest? How's Bobby doing?" I said I didn't know any more than what was on the big board.
3:14 p.m. ET
Just got off the phone (3:08 p.m. EST) with KVD's cameraman. It's official, no sandbagging.
KVD has two fish that weigh around 2 pounds. VanDam is still struggling, but still capable of doing something in the last hour.
Of the 51 anglers, there are 28 limits at the moment. Everyone is on the board except Bryan Hudgins, Dustin Wilks, Rick Morris and Scott Parker. All of those guys have been off the map during some time of the day.
Those zeros may be accurate, but I expect a couple of them to have some meat in their livewell by the time they hit the check in.
Duckett has moved into second, tied with Jami Fralick with 17-10.
Everything else is pretty much the same. It's taking about 12 pounds to make the top 15 and 10 pounds to be in the top 25.
3:04 p.m. ET
Everyone who started in Pool 5 has shaken into their final stops of the day. The Pool 4 guys are still in the lock.
The most compelling group is Aaron Martens, Boyd Duckett, Randy Howell, Mike McClelland, Brent Chapman Rick Clunn and Alton Jones, all fishing within sight of each other.
Most of those guys are in the top 15. One of them will certainly make another move.
Kim Bain-Moore has added a keeper to her creel, totaling 2-5.
I know she won't be happy with that. But she can take some solace in knowing, at least at the moment, that she sits above the standings above KVD, Byron Velvick and Iaconelli.
2:47 p.m. ET
Hackney may be on the attack. He just added to his total. He has a limit, totaling 11 pounds, the last three of which were keyed in rather quickly.
If I didn't know what I know about Hackney, I would say he was stroking them all of a sudden. I know he's capable. But I also know the guys in Pool 4 are locking up.
That means Hackney is just now getting the info keyed in. So there are a few scenarios to consider.
Looks like one observer has been asleep for a day or two; Hackney was sandbagging a little, and talked the guy out of keying in the info. Or the equipment has been out of range.
The top two allows me to guess that if Hackney has a limit, it's heavier than 11 pounds. That sucker will poor-mouth his weight until the scales start rolling.
We'll see how that works out. Currently he's in the top 20 in the unofficial standings.
2:34 p.m. ET
You should be able to see the unofficial and ever-changing standings of BassTrakk by clicking the link at the top of the page.
It's being updated fairly regularly.
Some interesting changes you will see are a couple of nice moves.
Rook just hit the 20-pound mark. Boyd Duckett is fifth with 14-10 and Alton Jones just jumped into the picture in 11th place with 13-6. It's about time we started seeing Alton make a move.
Alton is Pool 5 about midway down. Like Aaron Martens he has a lot of company.
Kim Bain-Moore is now on the board. She has one keeper for 1-3, sitting firmly above KVD and Byron Velvick.
2:27 p.m. ET
Bayou Cop wants to know if some of these guys will sandbag a little, holding something back for Day Two.
In some respects, I certainly think they will at some point. I'm not sure many of them have reached that point yet.
Too many folks expect 20 pounds to lead after Day One. A very big component in winning any tournament is knowing what it will take to win and doing everything to fish to that point. It could be 17-pounds a day or 18, but every knows to be near or on top you have to have 20.
Rook has a really good average and watching the catches go up, he's got one that's in the 2-pound range. Rook and I were team partners for several years, so I know him pretty well. I would think he's trying to cull that fish.
Once done, if he has to, he will start protecting his water. No need to let the afternoon bite turn on for someone else.
If a couple of these guys like Aaron Martens think it will take 17 pounds a day to win, he may have started sandbagging hours ago or to more accurate protecting his water.
Establishing yourself in an area is very important on Day One. Typically if you are good enough to make the Classic, the sportsmanship level is well above average. But you want to fish the water that you think you will need to win. If you don't, and someone busts an 14-pound sack, even though they don't have a shot, it's not good form to move into that area without a former claim.
I had this same conversation with Alton Jones this morning. And I can remember in 1990, with Mark Davis. He had too many great areas to fish and by the time he needed them, Randall Romig was there and at the top of the standings. Davis being the gentleman he is, didn't move in.
If he had fished those areas on Day One, it would have been a completely different story.
2:05 p.m. ET
Ish Monroe and Shaw Grigsby are out of Pool 3 and into Pool 4. Shaw has four fish for about 6 pounds and Ish now has two fish for about 6-9. Both are in the middle of the pack.
Of those in Pool 4, none have started moving toward the lock. My guess is there is about an hour left before they have to make a move.
Rook may wish they could move now. He's in the Sullivan's area with a few boats — Kenyon Hill (6-9), Jay Evans (4-10) and Michael Iaconelli (1-4).
I'm actually surprised there aren't more boats in there. Some thought the area would produce the champion. I guess it still might.
KVD is finally on the board. He just boated his first keeper. He has two hours left, which is plenty of time for him to make a big move. We'll be watching this closely.
1:55 p.m. ET
We are going to take down BassCast. I personally had no idea it wasn't working.
I'm trying to keep up with 51 anglers and wasn't checking the comments as frequently as I would like.
As for BassCast, hopefully those who work on that project will get the kinks worked out. Sorry for that. But there is a huge effort going on to bring you the best, most timely info possible.
Having covered 21 of these events, and remembering what was available 5, 10 and especially 20 years ago there's a lot of info coming your way.
Love the passion for wanting more. As to the BassTrakk info, during the coming Elite Series events that info should be available to everyone, you can look at the map, watch the catch rate and weights. Enjoy the whole deal.
We're getting there.
1:40 p.m. ET
The top 10 have all caught their limit with the exception of Bobby Lane. He still has four for 12 pounds. Like Rook an hour or so ago, Lane has the potential to really leap frog if that final bite is one of the 4- to 5-pound heads that are common around here.
He's no longer a rookie, not that he ever was, so my guess is he adds to that total fairly soon.
I'm watching these following guys with a particular interest:
—Aaron Martens (3rd place, 17-1), because he hasn't caught anything that's helped him in a while. But he keeps grinding it out in the same area. Again, he's the most creative angler in the field and understands how to tweak his way to more fish.
—Boyd Duckett (6th place, 13-10) has just been quiet. That's the way he always is. He may be the sneakiest sucker in the field. He knows river systems really well, and he's especially dangerous because he just doesn't seem to give a damn. That's why he won the Classic in 2007 and followed that up with a huge year. He could relax his way into yet another title.
—Bill Lowen (5th place, 14-0), who, along with Rook, is recognized as one the top river anglers in the country. He's quiet too. He cut his teeth on the Ohio River, one of the toughest river fisheries in the land. He did it with success, too. My guess is he's in a little piece of heaven on the Red River, and he knows how to catch them.
—Dave Wolak (5th place, 14-0) is fishing in a little lake you can't even find on the map. He's the guy who mentioned spawning fish in practice, making the rest of them think that the Yank' went crazy. Obviously, he has a little something going for him.
And of course there's Hackney and Klein and KVD.
1:30 p.m. ET
I hate to even admit to it, considering Pete Rose and all, but after we did a story on SportsBet.com, several of us decided to pool our money and make a few bets on the Classic.
For the record, it didn't work out. Seems that's not exactly legal in this country.
Still, Fred Roumbanis was going off at 80 to 1 odds. That's a dang good long shot, and one of the guys we had a little pile of money dedicated to.
Didn't work out for us — too bad for us. Roumbanis is now in fourth and in a position to make that a decent payback.
1:25 p.m. ET
It's actually taken a lot longer than I expected, but Day One of this Classic is starting to take shape.
The 20-pound sack will likely happen. I'm guessing that one of those on the board now will probably reach that. Nobody poor-mouths a fish like a pro when it comes to judging weight — unless of course he's fishing with a sponsor.
Currently, 10 pounds puts you around the top 15. And one can expect that, by the end of the day, it will take closer to 12 pounds to be in that group, maybe heavier.
The top 25 cut, which will be really important on Day Two, is around six pounds at the moment. My guess is that will wind up closer to 10, if not heavier.
Of course, I may be as full of it as a Christmas goose, but hey, somebody has to crawl out on a limb sometime.
The big surprises have been who has the zeros. The biggest of those is Kevin VanDam and I'm told that is accurate info.
But, I also know he had trouble getting bites in practice. He got his first bite at 1:15. By 1:45, he had about dozen or more bites. We've learned through the years to never count out KVD.
Kim Bain-Moore still has a goose egg. I never expected her to do really well in this event. I did expect her to be around the middle of the pack. Classic pressure is something no one can really prepare. I bet she picks up the pace, if not today then tomorrow.
Ish Monroe went for broke this morning and he obviously didn't hit what he hoped. He's at zero.
Then there's Hackney. He's at about 4 pounds. There's a reason they call him the Hack Attack. You can't count him out; he's put on bigger shows than he needs right now in less time, same with Klein who is near the back of the pack with 1-12.
The scary dudes are Dustin Wilks and Rick Morris. Their trackers haven't made a peep all day. We can't find them. Both are excellent anglers, both like to get away from the crowd and it wouldn't surprise me if each were deep in the bowels of some little out-of-the-way spot where a cell signal couldn't get to them.
So a lot of changes can take place. No, a lot of changes will take place. And they will be important changes.
They probably won't come in the top few, but in that middle range. They say you can't win the Classic on Day One, but you can lose it on Day One. The win or lose changes will start shaking out here soon.
And if our info is correct on a few of these guys, time is running out.
12:55 p.m. ET
It was just a matter of time before Scott Rook finished out his limit. It appears as if that final fish was in the 3-pound range.
He's now in the lead with 18-5, bumping Fralick to second (17-10) and Martens to third (17-1).
No other big moves taking place at this time.
12:50 p.m. ET
Jami Fralick has slipped into the lead with a limit totaling 17-10, pushing Aaron Martens down to second with 17-1.
Rook, though, is still hovering. He has four fish weighing in around 15-4, he keeps up his average and boats his last keeper, then he leap-frogs them both.
Still, there are just eight anglers in the double digits, with several hovering around that mark. Pool 4, though, seems to have taken over as the hot spot.
Those anglers in Pool 3 will soon have to start heading back. It took 1 hour, 45 minutes minimum to get there and they will likely have to allow 2 ½ hours to get back because of lock schedules, etc.
Unless the info isn't coming through, that gamble hasn't started paying off just yet, and time is running short.
Those guys in Pool 4 will have to cut their time a little short as well. Most feel that the afternoon bite has been the best, so Pool 5 could start reclaiming its position while everyone else is trying to get back.
I mentioned info coming through. The way this works is an observer, or marshal as they are being called these days, rides in the boat with a cell phone that has a GPS tracker in it with the ability to record catch and weight information.
Everybody out there has had dropped calls on a cell phone. That can be common in what we are doing today.
That alone makes this is an inexact science. Add that to the fact that some poor soul in the back of that pro's boat is trying to guess the weight and punch it in and the inexact science really starts stretching.
But this is as good of information as there is for what's going on with the whole field, even with the possibility of it being not completely accurate.
Since it affects my fantasy team, I'm hoping that the quietness we've received from Hackney and Klein are technical difficulties. That sort of thing can and will happen this week.
At the end of the day, the scales will be the final deciding point, as it should be. And I would bet we will be pretty close.
12:30 p.m. ET
Here's a look at the top 20 and the pools they are fishing at the moment.
Check out all the unofficial standings on our Unofficial Standings Page
12:20 p.m. ET
It's close to mid-day and the anglers aren't moving around much, so you have to assume they've found their home.
The biggest part of the field is in Pool 5. There are about 20 boats in Pool 4 and two boats in Pool 3 (Ish Monroe and Shaw Grigsby).
Last check, Ish is still at zero but Grigsby has three fish for about 4 pounds. Because they are so far away, the cell coverage in that area is a little weaker, so their results are a little slower getting in, kind of like those small polling places on election night.
The leaderboard is shifting some to favor Pool 4.
Rook just added another keeper. He now has four fish weighing in at 15-4 and good enough for second. In that pool with him is Fralick who now has a limit totaling 14-12 and Bill Lowen is down there with 12-8 as is Wolak and Evers, who are in 7th and 8th place.
12:00 p.m. ET
No sooner than I sent that last blog and Rook blows up with a third fish that gives him 14-3 total. We will verify that shortly. But if it holds up that's a pretty strong average.
And then the other accepted river specialist in the field, Bill Lowen, is starting to make a showing. Lowen now has a limit weighing 11 pounds and is in fifth.
In the stroke of a few keys the whole standings took a little jiggle.
1. Martens: 17-1
2. Jamie Fralick: 14-12
3. Scott Rook: 14-3
4. Mike McClelland: 13-8
5. Bill Lowen: 11-00
6. Dave Wolak: 10-8
7. Edwin Evers: 10-5
That type of shake up will be more prevalent as the day wears on. Four and 5-pound just have a way of doing that. All total 35 anglers have boated fish in this event. Still noticeably missing are Hackney, Klein, Kim Bain-Moore and KVD (what?).
11:50 a.m. ET
Aaron Martens evidently has something figured out. He's still in a crowd of anglers and he just finished his limit giving him a total 17-1.
We'll know more about what he's doing later in the day. But the double-digit stringers are starting to show up.
The top five looks like this:
Aaron Martens: 17-1
Jami Fralick: 14-12
Mike McClelland: 13-8
Dave Wolak: 10-8
Edwin Evers: 10-5
The interesting thing to watch is how that top weight starts growing, and how a few anglers you just know are going to do well in this event are starting to build their day.
None of these guys know they are chasing Martens; not that it would matter. They think they know what they can produce, and it's cool to watch them put together their day.
For instance, Scott Rook is a river specialist. He looked to be struggling early, now he has 8-11 in 10th place. The same for Boyd Duckett in 11th with four fish totaling 8-7.
Still nothing from Klein and Hackney, but you have to believe they have something working. In the next three hours, this thing will likely change completely. At least that's the expectation. The sun is still stoking the water and the fishing should start getting better, even though it's not been so bad to this point.
Most of the action is still in Pool 5, with some good things starting to happen in Pool 4 for guys like Wolak. And Pool 3 the ball is still in the air on that Hail Mary.
11:30 a.m. ET
Of the top 20, most are in Pool 5 and a good portion of those are in the middle of the pool stacked on top of each other — obviously in a community hole.
The interesting thing will come tomorrow. One of the concerns is how beat up many of these places will get after a day or so of fishing.
Aaron Martens is leading that group and the tourney, but can it last for the next three days?
How the answer to that question plays out will be something worth watching. I'm sure it's like a merry-go-round in some of those areas. But after each pass, these fish get smarter, more aware and that means these anglers have to react to that.
Martens is simply the best at coming up with new ways to catch fish on any pond. So he's in pretty good shape. But what can't be counted on is how many fish, if any, will continue to move up. All of these fish are being caught shallow and the weather continues to warm.
My guess, though, is these guys who have squirmed their way into one of these small places or have other areas to themselves will likely build a weight to carry them to the top or near the top of the standings.
Then it becomes a ball game of timing and who actually catches the right kicker fish.
Jami Fralick is one of those guys who has a seemingly-special spot to himself. He just jumped into second with a limit totaling 14-12. Aaron Martens is still on top with 14-13, but I expect him to drop to second (I apologize for that, just couldn't help it).
There's still not a lot of limits. Fralick, McClelland, Jordon, Rojas, Mark Davis and Brent Chapman are the only limits on the board. Most of the standings are still the same from last report.
More than half the field has a reported catch.
11:05 a.m. ET
Aaron Martens is the new leader with four fish totaling 14-13, and Dave Wolak has jumped into the mix with three fish weighing 10-8 in third. And even Rojas is making a move. He's now in fourth with 9-8.
They are all in Pool 5, except for possibly Wolak who is in Pool 4.
11:05 a.m. ET
I just wanted to take a minute to address some questions we've been getting from the readers:
Right now, KVD is without a fish.
Clunn is running his aluminum boat and is on the south end of Pool 5 fishing very close to the Big Show and Peter T. No fish yet.
Ike has one fish and is at the bottom of Pool 4 with nine other anglers.
Nothing yet for Brian Snowden.
Kennedy wrapped his small aluminum boat yesterday and ran it down to the crowded Bobo's hole.
The lone woman angler, Bain-Moore has an empty livewell as of 10:45 a.m. ET.
Keep those comments coming!
10:55 a.m. ET
Just watching the information come in from the observers, it's interesting to note that the bigger fish (4 to 5 pounds) haven't started showing up. It's pretty much expected by these pros that 20-pounds plus will lead the day.
For that to happen, those bigger fish won't start showing up until much later.
No sooner than I typed that, and Aaron Martens obviously boated one of those better fish. He just jumped into the lead with 11-13, up from the 6-pounds he had a few moments ago.
And no sooner than that was typed, and Mike McClelland took his lead back with 13-8.
Interesting to note that Martens is credited with only three fish. McClelland has a limit.
Updated standings coming soon.
As to the question of fishing around Alexandra from BayouCop, there's simply not enough time for one of these guys to get there and make it back.
10:40 a.m. ET
Just watching the information come in from the observers, it's interesting to note that the bigger fish (4- to 5-pounds) haven't started showing up. It's pretty much expected by these pros that 20-pounds plus will lead the day.
For that to happen those bigger fish won't start showing up until much later.
No sooner than I typed that, and Aaron Martens obviously boated one of those better fish. He just jumped into the lead with 11-13, up from the 6 pounds he had a few moments ago.
And no sooner than that was typed Mike McClelland took his lead back with 13-8.
Interesting to note that Martens is credited with only three fish. McClelland has a limit.
Updated standings coming soon.
As to the question of fishing around Alexandra from BayouCop, there's simply not enough time for one of these guys to get there and make it back.
10:15 a.m. ET
A lot of folks wondered if anyone would take the gamble and go into Pool 3. Most said it was too far and if you got all the way down there you wouldn't have enough time.
Ish Monroe didn't listen. He's in the lock and headed down to lower end. Still no fish, but it will be interesting to see if his Day One Hail Mary will work.
I think everyone is starting to establish their water. Hackney, the favorite, is at the bottom of Pool 4.
Mike McClelland has just taken over the lead with 9-6, Jordon is second with 9-3.
10:10 a.m. ET
Trying to keep you guys updated as quick as possible. A couple of tips: it takes a while sometimes to clear your cache on this site, so keep refreshing.
Meanwhile, we are monitoring the comments section at the bottom of the blog. So if you have questions, feel free to fire away and I'll try and get to it.
Thanks to Super36 for calling me out on Kevin Wirth missing in my top 10. Be aware, I can be an idiot, too.
In real news, 22 anglers are now on the board. Jordon still leads but he's upgraded with 9-3. Aaron Martens is in second with 6-5.
The catch rates are really starting to pick up. Besides Jordon's weight the top 10 is pretty much the same.
10:05 a.m. ET
Bryan Schmidt didn't last long on top of the leaderboard. That's not to say he won't jump back in there, but Kelly Jordon is the new official leader.
Jordon has five fish that weigh around 8 pounds, 13 ounces. And he's currently fishing within sight of the take-off in Port Lake. He's not alone, either. Bernie Schultz, Waine Pittman and Fred Roumbanis are in sight as well.
I followed Jordon on the official practice day, and he promised me he would be able to catch a limit in the area, possibly some bigger ones before moving on.
At the time, he was planning on casting a small crankbait around shallow cover and then every once in a while casting a drop bait way back and over log jams. It's an exciting way to fish. Right now it looks like it's working for him.
He has the first limit and he's not burned a tea cup of gas. Maybe a recession-style pattern could win this thing.
Clunn, who started the morning in Port Lake, has moved down river to the Clark's Marina area. Across the river there are about 12 anglers stacked up in what is known as Bobo's Hole. That name comes from Dalton Bobo's win in the Federation Nation Championship several years ago.
You may recall, Bobo almost won the Classic that year as a Federation Nation angler, losing by a few ounces to Dion Hibdon. Bobo would have won if not for a dead-fish penalty.
Regardless, that Federation Nation championship was one of the first big tourneys in this area. The spot he won has become a community hole and several of these guys are trying to take advantage of it, including Wirth, Aaron Martens and Randy Howell, who are in the top 10 at the moment.
9:30 a.m. ET
The anglers opting to lock through to Pool 4 have made it and are currently spilling out in every direction. All of the catches so far have come from Pool 5, and I expect the catch per minute ratio to start going up.
This will happen mainly because more of these guys will be wetting a line, but also because the sun is beaming and starting to warm things up. We've all known that the afternoon bite will be the most important part of the day.
Water temps are in the 50s, teetering on the edge of hitting the 60s and going over in some places. Dave Wolak said he found a small backwater area that was in the mid 60s and could see several "toads" cruising in schools.
That's an exciting part of a pre-spawn tournament, especially one that could see things bust wide open with every sun ray that hits the water.
Currently our Federation Nation angler still leads the first hour of action with three fish weighing around 6 pounds and we have a couple of anglers like Wolak who are totally off the board at the moment.
9:25 a.m. ET
The first few hours of every Classic is an exercise in herding cats and kicking turtles. It always seems like it takes a little bit to get everything ginning just right.
That especially goes for the observers, who actually went to school the other day to learn how to use the BassTrakk system. I can only guess the guy observing for Kevin Wirth was sleeping during the part that explained how to punch in weight.
Wirth's 6-11 pounder was exciting for the moment. But that fish actually weighed in much closer to 2-0 pounds. As the day goes on we'll get those little things shaken out and on the right path.
Current unofficial leaderboard has a Federation Nation angler on top.
9:00 a.m. ET
The Federation Nation seems to have started well of the seven anglers with fish, two of those Schmidt and Pittman are representing the Nation well.
8:45 a.m. ET
Edwin Evers is on the board, with the unofficial first keeper of the day. According to BassTrakk he's boated a 3-pounder and has taken the unofficial lead in this event.
Evers is fishing close to Alton Jones, the reigning champ. Both are more or less across the river from Clark's Marina.
I visited with Alton Jones before takeoff, after hearing that he may have found one of those little hidey-hole places full of fish. He said he had, and expected to have that little spot to himself.
But he also said he wouldn't be going there for some time, opting instead to hit some of the community holes first. He took off Boat 2, so he felt he could get a head start and not leave any of the good, easy bites for anyone else. We'll see how that works out.
Since writing this a few other catches have come in. Again these are unofficial.
But Kevin Wirth's observer is reporting a 6-pounder and Mike McClelland has a 2-pound keeper.
We'll see if the observer is big eyeing that 6-pounder later. Or if he just made a mistake while punching in the keys.
8:25 a.m. ET
The 39th Classic is officially underway and for the next couple of hours every angler in the field is still full of hope that this event is theirs to win.
As the day wears on, some of those will start to see that hope fade away.
Some of the hard-headed ones won't start feeling that until sometime tomorrow.
Currently, though, there's no denying that every one of them is tied for the lead in the Classic.
I will be rooting for the hard-headed ones. Those are the guys who are exciting to watch.
Of the 51 boats that took off this morning, 50 of them took a hard left and headed out to the main river. Rick Clunn, though, turned right and slipped toward the back of Port Lake near Cooley's Lake. For those of you who follow these events, Cooley's Lake is where Dean Rojas was DQ'd several years ago.
Clunn is a sneaky dude. Don't know if that's where he got stuck last week in practice. But it's always interesting to see what he will do. The rest of the anglers boated down river. Having polled the anglers before take off we expect almost half of them to lock out of Pool 5 to Pool 4, and possibly one or two of those to make it to Pool 3.
Won't know those details for another hour or so. By then I expect some of those anglers in Pool 5 to start catching a few.
7:55 a.m. ET
It's still some time before the take-off, but as I look out the window from my little hidey hole by the river, the day is starting to look more and more like a Bassmaster Classic day.
Throngs of folks are bundled up and lining the barrier between them and the anglers in this event. It's cold, 30 degrees according to BASS's official clock. Thank God it's not nasty like last year, but I don't think it would matter much.
This is my 21st Classic and it still blows my mind at the number of people who show up to see a bunch of boats getting ready to go fishing. It's hard enough watching someone fish. Shouldn't it be double hard to watch someone getting ready to fish?
In a few minutes this event will be underway. And if you are reading this I can assume that you are much warmer than the folks sitting out here by the river. I can also assume, or at least hope, that you will also become more informed on the day's activities by tuning into this blog on a regular basis.
Just like in years past, we will be watching BassTrakk, a computer-tracking program that records every move of the anglers and their catches. As that info comes in we will try and break it down, analyze it a bit and try and keep a finger on the pulse of the day.
Like always, the information we get is sometimes perfect, sometimes not-so perfect. Observers are punching in the catch/kept info and they are guessing at the weight of the fish. I've never met too many anglers who knew how to guess the weight of a fish and get it right.
If you want to start an argument, catch a 3 1/2 pounder and insist it's a 4-pounder. Someone will know it's not that heavy and insist back that it's only 3 pounds, while another will think it is 5 pounds. If you tournament fish, you know so well the truth I speak.
Still, we'll have a lot of fun. Maybe I can start a few arguments. Maybe I can answer a few questions and add a little insight into the day.
I hope you stick around, I'd hate to think I'm all by myself in this deal.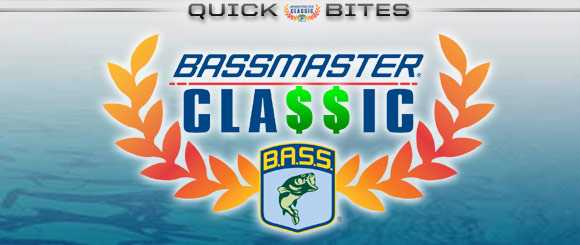 Love of fishing has brought Bain-Moore here
Kim Bain-Moore simply loves to fish, and if the Cards are right, she could make some noise in the Classic.
On the eve of becoming the first woman to compete in bass fishing's top event, Bain-Moore's greeting smile turns to full-toothed elation when told two of her fishing friends in Bermuda wish her well.
Ian and Alan Card, the focus of an ESPNOutdoors.com >survivor feature, both say the Aussie has the fishing chops to do well.
"She's got a darn good chance of placing real well in that tournament," Capt. Alan Card said.
Both Cards echoed this. "If she gets on the fish, she will catch them."
They know because Bain-Moore has fished with the Cards several times, inclulding landing a 600-pound marlin.
"They're aweseome. We speak all the time," Bain-Moore said. "My marlin was the first once he wired after his accident."
Ian Card was taken overboard when a marlin jumped, speared him through the chest and took him into the Atlantic.
The Cards know Bain-Moore is a focused angler, and not just when chasing those "little green frogs," Alan's term for bass. She and husband Andre were on the winning team of the last >Key West Harbour King Mackerel Tournament.
"Kim is a lot of fun. Great angler, Great angler," Ian said. "She was at it all day. She was concentrated. She made up her mind to do whatever it took, that she was going to catch a fish.
"And she was not afraid to listen. If she was doing something a little wrong, she would listen and correct it. Great to be with."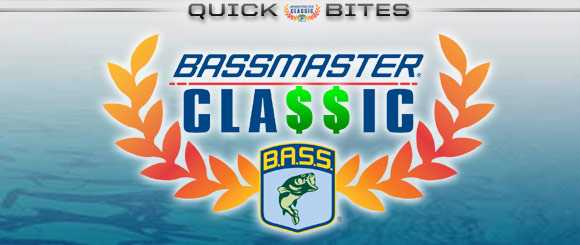 The most expensive line at the Classic
Think you know more than some limey bookies about who's going to win the Classic? Care to put your British pounds where your mouth is?
The Internet wagering site sportingbet.com has listed odds to win for each Classic competitor. No surprise are Greg Hackney (10-to-1) and Kevin VanDam (12-to-1) at the top of the list. Scott Rook and Matt Herren each check in at 14-to-1, while Todd Faircloth, Kelly Jordon, Gary Klein, Mike Iaconelli and Bobby Lane all are listed as 16-to-1 shots.
A dedicated observer of bass fishing may see some flaws in the ordering of the full list.
It's curious, for instance, that perennial Classic contender Skeet Reese is a 25-to-1 while Byron Velvick, who is famous for appearing on ABC's "The Bachelor" but who is making his first Classic appearance, is a 20-to-1 shot.
Likewise, it's hard to see how anything but her sudden notoriety justifies Kim Bain-Moore's 28-to-1 odds while former Classic winner Mark Davis is 33-to-1.
There may be a couple of other sleepers down the list. Find your own faves.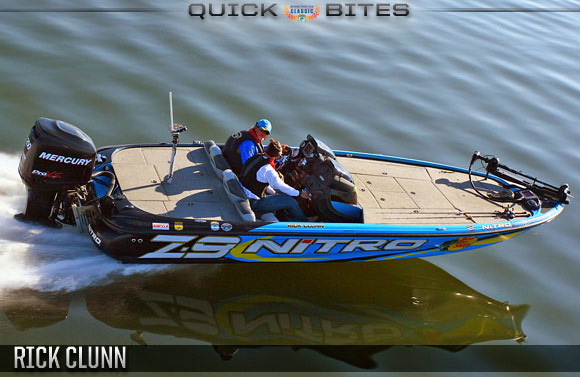 My Name is Mud
BOSSIER CITY, La. — You'd think that after fishing 31 Classics and winning four of them, both records, Rick Clunn ought to have this thing down pat. Or at least have practice down pat.
But it's still fishing, in which even the masters falter. Even in practice.
Clunn was in his v-hulled aluminum jet boat exploring some of the many backwaters that the Red River's meandering has left over the years. The water's low enough right now that some of those pockets and ponds are inaccessible with anything but a light aluminum craft. Others are just barely reachable even with a light boat.
Clunn thought he'd found one of the latter, with only a stretch of perhaps 30 yards of shallow water to traverse. No sweat. He floored it. The boat slowed, slowed and stopped across before planting its nose into the muddy silt and, as a v-hull is wont to do, tilted to one side.
It was at that point that Clunn remembered he had left his cell phone in his truck.
The first tournament of the year is that way — discombobulated. He got out of his boat and into the ankle-deep water to survey his predicament. Pretty soon he found he couldn't budge the boat. "I knew nobody would ever come by," he said. "I knew I had to wade out to the river."
He put on his life preserver and grabbed his push pole. The water went to knee deep. "Then," he said, "the sand broke and I stepped in quicksand."
It was at that point that Clunn sank in all the way to his thighs.
If not for his life preserver and push pole, which he held perpendicular to his sinking body, he might have gone in deeper — and could have stayed there for quite a while. "If I couldn't have gotten out, it could have been 12 to 13 hours for them to send a search party," he said. "It might have been all night. That spooked me. That was the only time I felt a little more than just stupid."
The push pole saved him. With the hook at the pole's end, he reached a willow tree on a nearby island and dragged himself to safety. Then he waved his life preserver to flag down a boater from the main river channel.
The boater didn't recognize his hitchhiker until they returned to the marina.
"When I got out of the boat, he asked, 'Are you fishing the tournament this weekend?'" Clunn said. He thought briefly about saying no. Then he fessed.
"I said, 'Yeah, actually this'll be my 32nd,'" Clunn recalled. The man freaked out — he'd just saved Rick Clunn.
Clunn told him, "You can't tell a soul."
Click here to pick a fantasy team for the Bassmaster Classic.