December, 9, 2011
12/09/11
12:28
PM ET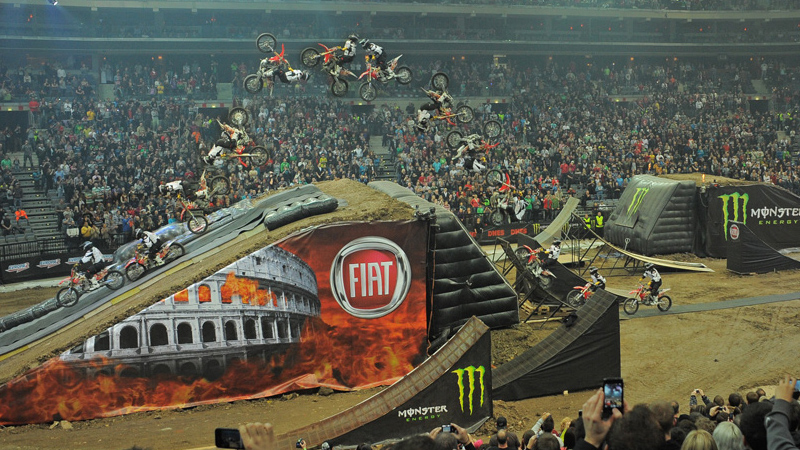 Ricky Monti"As soon as I left the ramp I knew it was good and that I'd be able to stomp the landing," said Murray following the landing.
Footage of Scott Murray's stomped double backflip at the Gladiator Games in Prague over the weekend prompted us to catch up with the rider, who is an anomaly in the world of FMX in almost every way. Murray lives in Perronville, Mich. -- far from the core of the FMX scene in Southern California -- and has never had a financial sponsorship paying his way. He almost never enters traditional freestyle competitions, and doesn't spend much time keeping up with the latest tricks in the sport. Instead, he says, he's been perfectly content to make a living doing demos around the world and cashing in on his one main claim to fame: six years after Travis Pastrana first landed the double backflip in the Moto X Best Trick competition at X Games, Murray is still one of just four riders in the world who can land the trick.
"Travis is still the only one out of all of us who is 100 percent -- I think he's six-for-six now -- and I'm more like 50 percent, so it's not something I'm ever confident with," Murray says. Cam Sinclair has also landed the trick, and has been working on variations like the double nac backflip he won silver with at X Games 17 this summer, and Josh Sheehan double flipped his way to a bronze medal with his first-ever double, but you can still count them on one hand and Murray says it's always a big gamble. "I go to a double backflip show and I look at my numbers and know it's literally a 50-50 chance for me. I'm thinking, 'Am I going to stomp this thing or crash?' It's always very nerve wracking."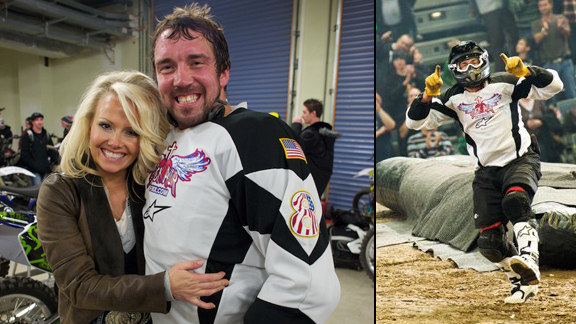 Ricky Monti/Gladiator GamesScott Murray celebrates after landing his smoothest double backflip to date at the FMX Gladiator Games last Saturday night.
Last Saturday, he landed what he says is his cleanest double yet, on a brand new Honda CRF 450 he built in Czech rider Libor Podmol's shop just one week before the event.
"The people all stood up and the place went silent," Murray says. "It was the first time I'd done the trick without a song in my headphones, and it was almost creepy because it got very, very quiet. I heard my bike roaring because I was wrapping it out, as I do on the 450, and as soon as I left the ramp I knew it was good and that I'd be able to stomp the landing. The crowd just erupted, and it was a lot of fun."

Am I going to stomp this thing or crash?' It's always very nerve wracking.
--Scott Murray
Murray says he's dreamed of flipping and flying through the air since as far back as he can remember, and still recalls the moment when those dreams first shifted from fighter jets to motorcycles.
"I've had this infatuation with flying through the air for some reason ever since I was a little, little guy, and it's awesome to be able to chase your dream and live your dream," Murray says. "I just love riding my bike. I don't want to sound corny but & it completes me, in a way, and it makes me happy, and I can't believe I'm so blessed to be able to do this."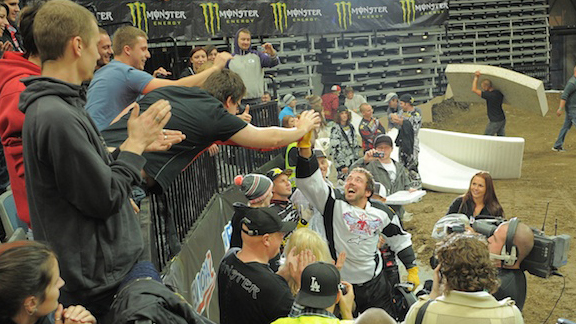 Ricky MontiMurray is congratulated by a sold-out crowd in Prague after capping off the night with a clean double backflip.
Although Murray has competed in Best Trick at X Games three times -- in 2007, 2008, and 2009, with five gnarly crashes on double backflip attempts to show for it -- he says he's not big on the freestyle contest scene and prefers to just ride and put on a good show. Still, he was miffed at not getting an invite to compete at X Games this year because he'd been landing his doubles consistently on the the X Pilots World Freestyle Motocross tour; Josh Sheehan got a Best Trick invite despite never having landed the trick before. "No disrespect to Josh, because he's an amazing athlete and I wish I could do half of what he does on a bike, I'm still stumped at that and I'm coming to learn that it can be a little more political these days, especially for someone like me who really isn't sponsored by anybody who has my back and is pushing me in there. But I've made my peace with it: I'm perfectly content with what I'm doing now, being able to travel the world and ride with many of the world's top riders."
And while he says it can be stressful to rely on demos (and the double backflip) for his paychecks, he knows he could have it even harder.
"There are times when it's very difficult, very stressful and nerve wracking, and you start asking yourself, 'Why am I doing this?' But then I go back and I think about my life before all the freestyle opportunities came about for me, driving pulp trucks and running a chainsaw for a living, and cutting brush. I don't think anybody really dreams of cutting brush or cutting pulp wood in the woods with a chainsaw! That's a lot of hard, backbreaking work, and my family has done that kind of work for generations. To be able to go out and make a living doing what I love to do, riding my bike, it's like I never work a day in my life. I love what I do, and if you're blessed to have that then you've got it made. I wouldn't trade this for the world."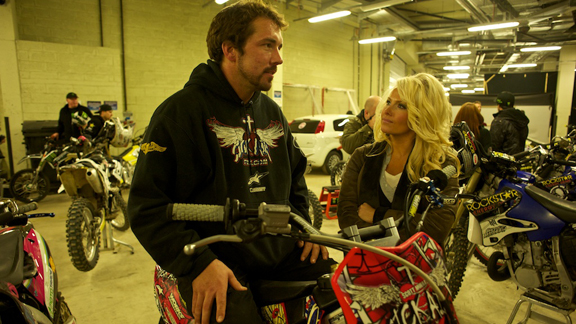 Ricky MontiMurray focuses prior to the FMX Gladiator Games in Prague.
This week he's headed for the X Pilots event in Mexico City, where the higher elevation could mean problems getting enough power to his bike to complete the double.
"Lord willing I'll be able to stomp this thing and go home in one piece," Murray says. "I've crashed so many of these doubles that I'm almost as comfortable crashing as I am landing them. I do wear a lot of padding on my body, because I know I'm going to hit the ground, and I try to prepare myself and train my body as much as possible."
Murray says he's also working on some double variations, and admits he's holding out hope for another turn at X Games.
"Don't get me wrong, if I got the invite I would love to get that monkey off my back, but now Cam is doing nac double flips and you know Josh is going to come out with a double variation. Do I see myself getting back there? Maybe, but I'm not holding my breath. I'm a firm believer that the good Lord's going to put me where he wants me. If he wants me at the X Games, well, maybe I'll be there, and if wants me at demos all over the world being a good ambassador for the sport -- and for Him -- then that's what I'll do."
January, 4, 2009
01/04/09
11:54
AM ET
The end of the line came quickly and unexpectedly this week for an sIndianapolis racing industry landmark when the Indianapolis Motor Speedway announced it was closing the Brickyard Crossing Inn immediately. Around 15 jobs were eliminated.
Informally known as the Speedway Motel, the 96-room structure was built in 1963 and was rechristened Brickyard Crossing in 1993 when an upgraded Pete Dye-designed golf course of the same name was opened on the IMS property. Over the years, a variety of celebrities ranging from the Beatles to James Garner stayed at the facility -- not to mention dozens of famous racers.
The Speedway Motel was also featured in several scenes of the Indianapolis 500-based movie "Winning," which starred the late Paul Newman and Robert Wagner.
In May 2008, during his last visit to the Speedway, Newman paid tribute to the humble on-site accommodations at IMS.
"My favorite tradition was that it took a whole month," Newman said. "Indy started at the first of May, and you had your reservation at the Speedway Motel. If you wanted a room for two days, you took it for the whole month or you wouldn't get it."
IMS president and chief operating officer Joie Chitwood said the hotel buildings will be razed immediately. The lobby, which houses a restaurant, bar and pro shop for the Brickyard Crossing golf course, will remain operational.
"To bring the motel up to the standards and quality of what guests expect at the Speedway would require significant capital expenditures," Chitwood stated. "After reviewing the alternatives, we have decided to discontinue its operation."
Speedway officials are considering several options, including the construction of a high-end hotel in line with the quality of the other offerings at IMS.
Dallara offers up savings: Dallara Automobili, the sole chassis supplier for the IndyCar Series, has projected an 11 percent savings for teams resulting from restructured spare-parts pricing.
Dallara says it is dropping its prices by 8 to 20 percent; it equips the full IndyCar Series field at every race except the Indianapolis 500, where a few Panoz chassis occasionally qualify.
"If we can help the teams go through this difficult economic time, it is in the best interest of the manufacturers, the series and the teams," said Andrea Toso, Dallara's IndyCar Series program leader. "If we don't do anything now, maybe one year from now it's too late. We hope that all suppliers and partners will understand this initiative and follow suit."
IndyCar Series officials welcomed the news. "In light of the current global economic crisis, to see the effort Dallara has made to help all of our teams with an across-the-board cost reduction is truly the definition of a partner," said Brian Barnhart, president of competition and operations for the Indy Racing League.
In truth, there was probably plenty of margin for Dallara to work with. The current IndyCar chassis has been in production since 2003 without major changes. Some new bodywork components will be introduced this year to accommodate a mechanical silencer system that is expected to quiet the Honda V-8 engines by up to 9 decibels.
Viso back with HVM: HVM Motorsport confirmed that E.J. Viso will return to the team for his second season of IndyCar Series competition. Team principal Keith Wiggins also all but confirmed that the Indianapolis-based organization will field a second car, likely for former Champ Car race winner Robert Doornbos.
"This is a natural progression and a sensible move for both team and driver," Wiggins said. "It will actually be the first time since 2004 that we have the continuity of retaining the same driver for a second season. That in itself shows a positive picture for our team and the single open-wheel series.
"We are delighted to continue with E.J. going into our second IRL season and believe that together we can make big strides in 2009," Wiggins added. "The addition of a second entry will further strengthen our program."
Viso, a 23-year-old Venezuelan, scored seven top-10 finishes during his rookie IndyCar campaign. It was a bumpy ride at times as Viso riled veterans with a lack of oval track etiquette, but by the end of the season he emerged as a regular top-10 runner.
"We had a good season in 2008 given that it was our learning year, and having continuity is a good thing to pursue our progression towards the top," Viso said. "The team is working on upping our game, and our plans to enter a second car are very close to being completed. This obviously will be a big plus."
John Oreovicz covers open-wheel racing for National Speed Sport News and ESPN.com.
September, 27, 2008
09/27/08
3:32
PM ET
It was one of those snapshot moments that I will never forget -- my mother meeting Paul Newman. Many years ago during the Detroit Grand Prix weekend, I decided to take my mother to a party hosted by Ford. This was a risky move, of course. After all, who mixes moms with work?Not long after our arrival, she decided she HAD to meet Paul Newman.No, no, no, I told her. Paul Newman was off-limits. I had always been told he wasn't keen on fans coming up to him, and there was absolutely no way I was going to allow my mother, charming though she may be, to disturb Paul Newman's social outing.But when do mothers actually listen to their daughters?A Ford official who had been chatting with my mom and knew that I was not going to participate in the mom-Paul Newman meeting volunteered to take her over to visit with Newman. I was mortified! Would she embarrass me? What would she say? Bad-idea alarm was going off in a major way.I snuck off to the side to watch. It was a fabulous moment.My mother, beaming, was introduced to Mr. Newman, and he graciously smiled. He actually looked pleased to meet her -- he took her right hand in his and then covered the handshake with his left hand. A happier woman I have not seen. Those blue eyes, that smooth demeanor. I would have called it an Oscar-worthy moment, but … he truly looked like he wasn't acting and was enjoying her conversation. Sigh. PAUL NEWMAN WAS SHAKING MY MOTHER'S HAND AND TALKING TO HER!Of course she sold me out, telling him that her daughter was absolutely horrified by this whole encounter. He laughed and reassured her that meeting her was HIS delight. Oh, so smooth. And those blue eyes. (Have those been mentioned?)My mother was bubbling with excitement when she rejoined me, and later she told all of her girlfriends about the encounter. It is a story we still enjoy sharing.The moment thrilled her. Maybe it thrilled me more. For that I will forever be a Paul Newman fan.
September, 13, 2008
09/13/08
4:32
PM ET
Max Papis is a bubbly, exuberant personality, an Italian race car driver who made his name in open-wheel racing but wants to make a bigger splash in NASCAR.Papis played a large role in testing the COT for Hendrick Motorsports, and now he's in the hunt for a Sprint Cup ride next season."My goal is to be the first Italian to run full-time in the NASCAR Sprint Cup series," Papis said by phone on Friday. "Now we're in the hunt for a ride. It's huge!"Papis said that Geico "definitely" wants to go Cup racing next season and there are three candidates for the seat -- Papis, of course, being one of them."It's something I really want," Papis said. "I know my personality. … Put it this way: I still have a lot to give as a driver. I'm so excited about this -- you don't know!"Papis has seen the struggles of his former open-wheel colleagues trying to make it in the Sprint Cup series. He doesn't care. Like he said, he still has a lot to give as a driver, and that also means he still has a willingness to learn.There's no doubt -- having dealt with Papis in open-wheel racing -- he would add a spice of life to the Sprint Cup garage. Count on that.
September, 6, 2008
09/06/08
7:55
PM ET
JOLIET, Ill. -- Last Saturday at Detroit, I talked with Dario Franchitti for almost an hour over lunch at the Honda hospitality coach. The conversation was very informal; Dario and I have known each other since 1997, when he drove for Hogan Racing during his rookie season in the PPG/CART Indy Car World Series. So we basically just caught each other up on what had been going on in our lives over the past year, since he left Indy-style racing for what turned out to be a short-lived NASCAR experiment.Given that Chip Ganassi's NASCAR team had a vacancy in the No. 41 car for 2009 and that Franchitti was still under contract to "The Chipster," it wasn't a stretch to conclude that Dario would end up in the 41 next year. Like almost everyone else, I was firmly convinced that his Indy car racing days were behind him, with the possible exception of running at the Indianapolis 500.It was, therefore, quite a shock to receive the news release Tuesday afternoon announcing that Franchitti will return to open-wheelers full-time next year in Ganassi's No.10 IndyCar Series team. I immediately dialed him up, and not surprisingly, he returned the call within a few minutes."I think Chip was more excited about getting one over on you guys [in the media] than he was about actually doing the deal," Franchitti said with a chuckle. "I told TK [Tony Kanaan] the night before they announced it, but I couldn't talk to anyone else. They would have read me the riot act."Kanaan, who is Franchitti's best friend on the circuit, said he felt "honored to know the news before everyone else" when Dario leaked word of his return."I kind of had a feeling at Detroit and he confirmed it," Kanaan added. "I think he was trying to enjoy himself in NASCAR, but look at his face now. He can't hide how excited he is. It was pretty obvious Dan [Wheldon] wasn't going to stay at Ganassi. The question was who was going to replace him, and now we all know."Danica Patrick said she didn't learn of her former Andretti Green Racing teammate's comeback until the news was formally released on Tuesday afternoon. But she added that she suspected something was up."[Dario] was supposed to stop by my motor coach for a beer at Detroit on Saturday night," she said. "When he didn't and we found out he was talking to Chip for a long time, I thought, 'What's going on?' "It's not as if this deal had been brewing for a long time, although Ganassi first broached the subject about a month ago. Franchitti said that watching a couple of IndyCar practice sessions from trackside at Detroit clinched his decision."Seeing the cars running at speed on a road course really got me charged up," he said. "The way the schedule has evolved to look a lot like the old CART days was pretty appealing to me as well. There's a nice balance of quality road and street courses along with some good ovals."One thing that has changed about Franchitti during his NASCAR sojourn is his appearance. After sporting a buzz cut for the past couple years of his IndyCar career, Dario's hair was back to the length he wore it in the late '90s. A request from his wife, perhaps?"Actually, I just wanted to prove that I could grow it back," he grinned.We should all be so lucky.
September, 2, 2008
09/02/08
6:16
PM ET
Kyle Busch 3, Tony Schumacher 0. In an unofficial battle between the two best racers in America this year, Busch can claim the crown. He earned a clean sweep over Schumacher on Tony's turf -- drag racing. The two drivers had some fun Tuesday in a head-to-head matchup as a promotional gimmick for the upcoming inaugural NHRA event at the new ZMax Dragway on the grounds of Lowe's Motor Speedway. It was the man who leads the Sprint Cup standings with eight victories against the five-time Top Fuel champion who set a record Sunday at Indianapolis with his sixth consecutive NHRA victory and his 11th win this season. Both drivers were racing identically prepared 2008 Toyota Camry pace cars. Their names were plastered across the sides of the machines. Busch easily won the first pass on the new track, but he got a freebie on the second race when Schumacher jumped the start and red-lighted. In Schumacher's defense, Sportsman's class starting lights were used, a much slower starting-lights progression than he's used to in Top Fuel. And Busch's car lost only once all day, including several media matchups. The show was supposed to be the best two out of three, but LMS president Marcus Smith didn't want it to end on a red light, so the two drivers lined up one final time. The last pass was close, but Busch beat Schumacher to the quarter-mile finish line. Schumacher should have insisted they race to 1,000 feet. Since the NHRA shortened the distance of the Top Fuel and Funny Car races, he's 24-0 in runs down the track. After the Cup race at Auto Club Speedway Sunday night at Fontana, Calif., Busch flew to Indianapolis and watched Schumacher win the U.S. Nationals for the seventh time in his career. Schumacher tends to get a little long-winded at times when answering questions, which Busch noticed."For a guy who goes 300 mile per hour in four seconds, he sure can talk a long time," Busch said. After the matchup Tuesday, Busch asked Schumacher if he would like to try it on Kyle's turf for 500 miles on an oval track."No thanks," Schumacher said. "I have a five-second attention span for racing."
July, 21, 2008
07/21/08
7:48
PM ET
Danica Patrick
is well on her way to earning a reputation as the biggest whiner in sports. Patrick was back at it last weekend, getting in the face of another driver and complaining the way she does all too often.Patrick felt
Milka Duno
wasn't paying attention in a practice session at Mid-Ohio Sports Car Course, almost clipping Patrick's faster car as Patrick came up behind Duno.So Patrick walked down to Duno's pit box afterward and started her rant. Duno didn't want to hear it and tossed a towel in Patrick's face.Patrick may have had a legitimate beef, but her act is wearing thin with the other drivers in the IndyCar Series. Her passion is admirable at times and it's part of the reason for her success. But one victory in four years doesn't make her the authority on driver etiquette.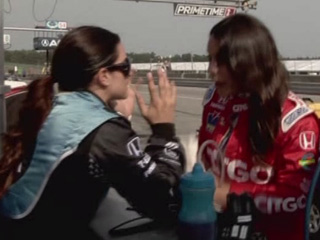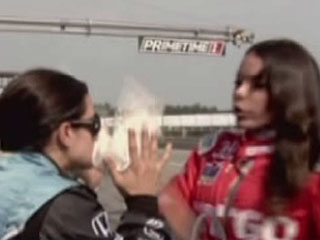 June, 23, 2008
06/23/08
11:35
PM ET
Two deaths in a 15-month period should show the NHRA that it needs to take a hard look at some of its safety issues and make major changes.When a racer dies in a crash, the first question most people ask is this: "Was everything done that could be done to avoid the tragedy?"In Scott Kalitta's case, the answer is no. It's clear that the speed and power these cars now have is more than many of the tracks can handle.Kalitta's death on Saturday brought to light how some facilities that host NHRA events do not have adequate runoff areas at the end of the track. Raceway Park in Englishtown, N.J., where Kalitta was killed, is one of the worst.The small sand pit and limited netting at the end of the asphalt had no chance of stopping Kalitta's Funny Car, which was traveling in excess of 200 mph when it reached the end of the track. The concrete barrier also curves back perpendicular to the track. At the very least, that part of the wall should have the SAFER barrier, tires or water barrels in front of it. Beyond that point are large trees and a forest. Other tracks have similar problems at the runoff areas. It's totally unacceptable in today's era of auto racing where so many safety advancements have taken place. The runoff areas must be lengthened and the retaining barriers vastly improved.It that isn't possible, then shortening the length of a run should be considered. Several drivers last weekend suggested the NHRA consider making a pass 1,000 feet instead of a quarter-mile at facilities where the runoff area is compromised.Obviously, this would require separate records for those events, so this change appears doubtful.Another area of concern is how easily these engines explode into a massive fireball. An explosion blew off the body of Kalitta's Funny Car, either knocking him unconscious or compromising his vision, which led to the massive collision beyond the runoff area.These explosions are happening far too often. Basically, NHRA nitro engines are a small bomb of combustion. Whatever it takes to control these explosions must take priority.Racing journalist Bill Wood, better known as "Statt Man" on the nationally syndicated SpeedFreaks radio show, did some research after Kalitta's accident and came with some surprising statistics: • The Space Shuttle lands at a speed of 215 mph on a runway that's 2 miles in length. Yes, the Space Shuttle is a much heavier piece of machinery, but Top Fuel dragsters and Funny Cars often are traveling 100 mph faster on a strip of pavement more than four times shorter.• Twelve of the 21 facilities where the NHRA competes are more than 30 years old. Many of them have undergone renovations. But most of those were creature comforts, not track improvements, aside from switching from guard rails to concrete barriers.• Thirty years ago, the top speed in NHRA competition was 250 mph. Today it's more than 75 mph faster on tracks that haven't changed much in three decades.
Significant track changes should become mandatory or the speed of the cars must be reduced.
June, 7, 2008
06/07/08
9:12
PM ET
FORT WORTH, Texas -- Even wind gusts of 34 mph didn't stop Robbie Knievel, the world's oldest daredevil, from doing his dangerous job Saturday night.
[+] Enlarge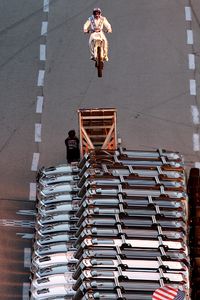 AP Photo/Matt SlocumIt's not the Snake River Canyon, but jumping 21 Hummers at Texas Motor Speedway is no easy task, either.
The second-generation motorcycle jump master thrilled the crowd at Texas Motor Speedway, clearing 21 Hummers in a high-flying, high-speed jump at the start-finish line.At age 46, Knievel admits he's getting a little long in the tooth for this stuff, but he easily cleared the Hummers, coming back to earth halfway down the landing ramp.Knievel had planned to increase his jump from 20 to 25 Hummers, but the strong winds forced him to reduce the number to 21. The final three Hummers were covered by part of the landing ramp, but Knievel easily cleared all 21 vehicles."I'm a grandpa now and I'm not going to be able to do this much longer," Knievel told the crowd before his jump. "But I'll outjump any grandpa you can find. The main thing I want to say is something my father [Evel Knievel] always said: a Knievel always keeps his word."Knievel kept his word on the gusty night, but it wasn't quite as smooth as he would have liked. The winds caused his motorcycle to drift to the left in the air. The bike landed awkwardly near the left edge of the ramp, but Knievel managed to control it and keep the motorcycle upright.The IndyCar Series drivers, who were to compete in the Bombardier Learjet 550 an hour later, were watching Knievel's effort. Helio Castroneves gave the biggest cheer, raising both arms and yelling for Knievel when he completed the jump.One daredevil showing respect to another. But Castroneves plans to limit his risky non-racing activities to ballroom dancing.
June, 6, 2008
06/06/08
11:43
PM ET
FORT WORTH, Texas -- Texas Motor Speedway president Eddie Gossage's recent remarks about the future IndyCar schedule -- as reported by Terry Blount on ESPN.com -- were certainly the talk of the IndyCar Series on Friday, and not only in the paddock at TMS.Gossage's belief that the IndyCar Series should feature at least 80 percent of its races at oval tracks was even a major discussion topic 1,000 miles away in Indianapolis, where all three sports talk radio stations debated the issue Friday afternoon.IndyCar Series officials say they are taking a clean-sheet approach to the schedule for 2009 and beyond, and most of the leading candidates among venues being considered for the future are road or street course events, including Toronto, Cleveland, and Houston.Now owned by Andretti Green Promotions, a race in Toronto is considered a lock. Cleveland has strong support as well, and the rights to that event and the Grand Prix of Houston (also a former CART/Champ Car World Series event) are held by Newman/Haas/Lanigan Racing co-owner Mike Lanigan.Being in the same state, I figured a street race in Houston would truly be the root of all evil to Gossage. So I asked him what he thought about the prospect."It depends on how far apart we're talking," he said. "I wouldn't be pleased by it, but it depends on when it's scheduled. If it's a couple months [from TMS' June IndyCar date], that's a problem. If it's five months, who cares?"I'm not worried about it," he added. "If you look at the history of street races, or parking lot races, it's a two- or three-year blip, and then it's gone."Gossage cited the way a pair of races in Florida about 200 miles apart at Homestead-Miami Speedway and downtown St. Petersburg are run a week apart as an example of poor scheduling."There's a reason that NASCAR doesn't have a west coast swing that hits Phoenix, California, and Infineon Raceway all at once," he said. "Running Homestead and St. Pete so close together makes no sense for either promoter."